New bus routes following the closing of Chevrier Tunnel

Public transit
Starting April 25, until the commissioning of the REM
South Shore
Nature of work
Eventually, the REM will run down the middle of Highway 10, where the reserved bus lanes are currently located. Beginning in the spring of 2019, work will begin in this central portion of the highway, which will lead to permanent closure of the Chevrier Tunnel on April 25.
Reserved bus lanes will be maintained in dense traffic areas, in order to ensure efficient service is provided to public transit users. Planning for the new bus traffic lanes is carried out in close collaboration with a number of partners, including municipal authorities, the Réseau de transport de Longueuil (RTL) and exo.
Detailed information on route changes is available on RTL website.
Impacts and mitigation measures during afternoon rush hour, weekdays
The new bus routes will use the following roads coming back from downtown Montreal, as presented below: Lapinière Boulevard, Broadway Avenue, Milan Boulevard between Malo Avenue and Broadway Avenue, as well as a small segment of Malo Avenue between Michel Street and Milan Boulevard.
A large volume of buses on these roads is to be expected.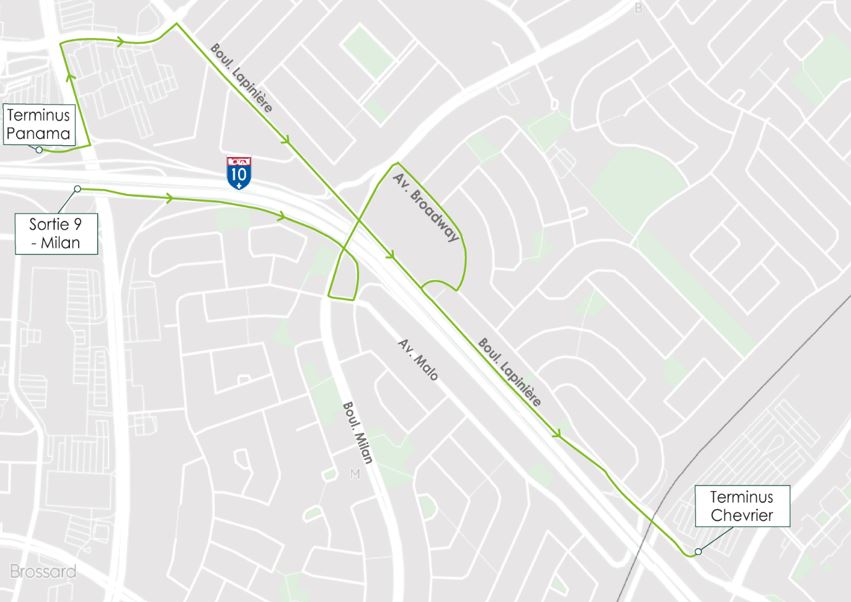 For all questions | 1 833 REM-INFO
Write us via the contact form of the "Contact us" page. You may contact us by phone on weekdays between 8:00 am and 5:00 pm.