Construction of the Rivière des Prairies railway bridge (RDP1, between Montréal and Îles Laval)

Construction activities
Starting in Spring 2020 From 7 a.m. to 7 p.m.* On weekdays and weekends
North Shore
Nature of the work
Construction work on the new railway bridge adjacent to the existing one will resume this spring in order to allow the REM to run above the Rivière des Prairies between Montréal and Îles Laval.
The work scheduled to begin in the spring includes the construction of the bridge approach abutment on the south shore of the river, followed by the assembly of the bridge deck, which will consist of prefabricated steel beams. The incremental launching method will be used to install these beams. Lifting equipment will be positioned on concrete blocks on the south shore of the river, from which the beams will be launched onto the foundations (piles and pierheads). Each subsequent beam will push the previous one until the installation is complete.
Work sequence and primary anticipated impacts
 
Schedule

  Work

Spring

Excavation and construction of the RDP1 bridge abutment – Pierrefonds‑Roxboro

The abutment of a bridge is the part located on the shore intended to support the weight of the bridge.
Material will be transported from access roads on Du Celtis and Perron streets.

Installation of wooden beams between the piles of the retaining wall – Pierrefonds‑Roxboro

Relocation of an Overhead power line along the railway and telecommunications lines (carried out by third parties - Laval)

Summer and fall

Construction of the new railway structure

Installation of the concrete structure and prefabricated slabs
Concreting of the bridge deck and prefabricated slabs
*The work will take place between 7 a.m. and 7 p.m. Work before and after this period may be necessary to mobilize and demobilize equipment required for the work, for deliveries and for site clean-up.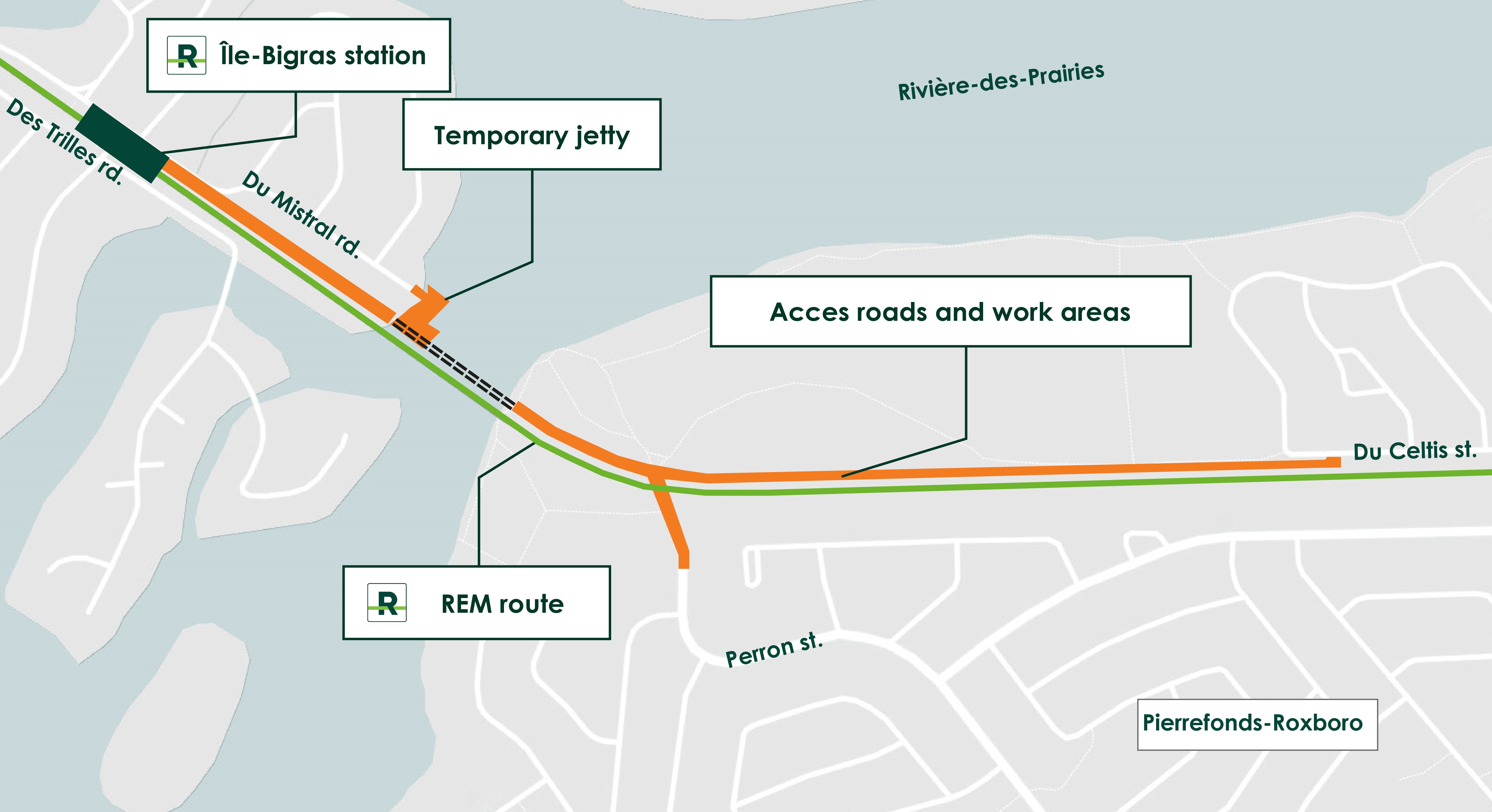 The map above shows the construction zones that will be set up
Mitigation measures
Special attention will be paid to controlling debris and dust caused by the work. Cleaning will be carried out by the work teams, as required.
For all questions | 1 833 REM-INFO
Write us via the contact form of the "Contact us" page. You may contact us by phone on weekdays between 8:00 am and 5:00 pm.