Construction work on the elevated structure of the Réseau express métropolitain near the Lachine Canal

Construction activities
Late October 2018 to early fall 2019. Mainly on weekdays, from 7 a.m. to 7 p.m.* Occasional night work**
Montréal (Downtown)
Where: Near the Peel Basin, in the Lachine Canal sector
Nature of the work
Work continues on the Réseau express métropolitain's (REM) elevated structure over the Lachine Canal Work in the coming weeks will include the following activities:
Installation of formwork between the beams 

Concreting of the deck for two non-consecutive nights

Complete removal of the north jetty  
⚠ The canal Lachine path will be closed underneath the track structure in the bassin Peel area on the north site on July 18 and July 19, from 7 p.m. to 2 a.m, and on the south side on uly 22 and July 23, 7 p.m. to 2 a.m.
Impacts and mitigation measures 
Work at night will be required to pour the concrete for the deck. This work will be carried in coordination with Canadian National (CN).
Work at night requires the use of lights for the health and safety of workers and to ensure work is performed properly. In order to minimize disturbance to surrounding residents and to prevent blinding the CN trains, the angle of the lights have been adjusted.
There will be a large number of trucks in the area to remove the jetties. Flaggers are present to ensure the safety of cyclists and pedestrians using the bicycle path.
This work will generate noise and dust. In order to ensure the project's noise and air quality criteria are met, monitoring by environmental experts will take place throughout the work. Mitigation measures will be implemented if necessary.
The work area is shown below: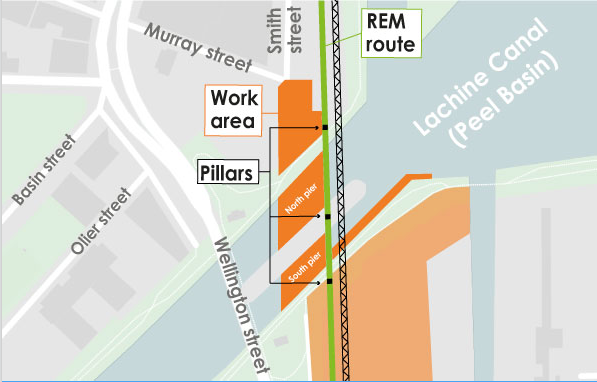 General work area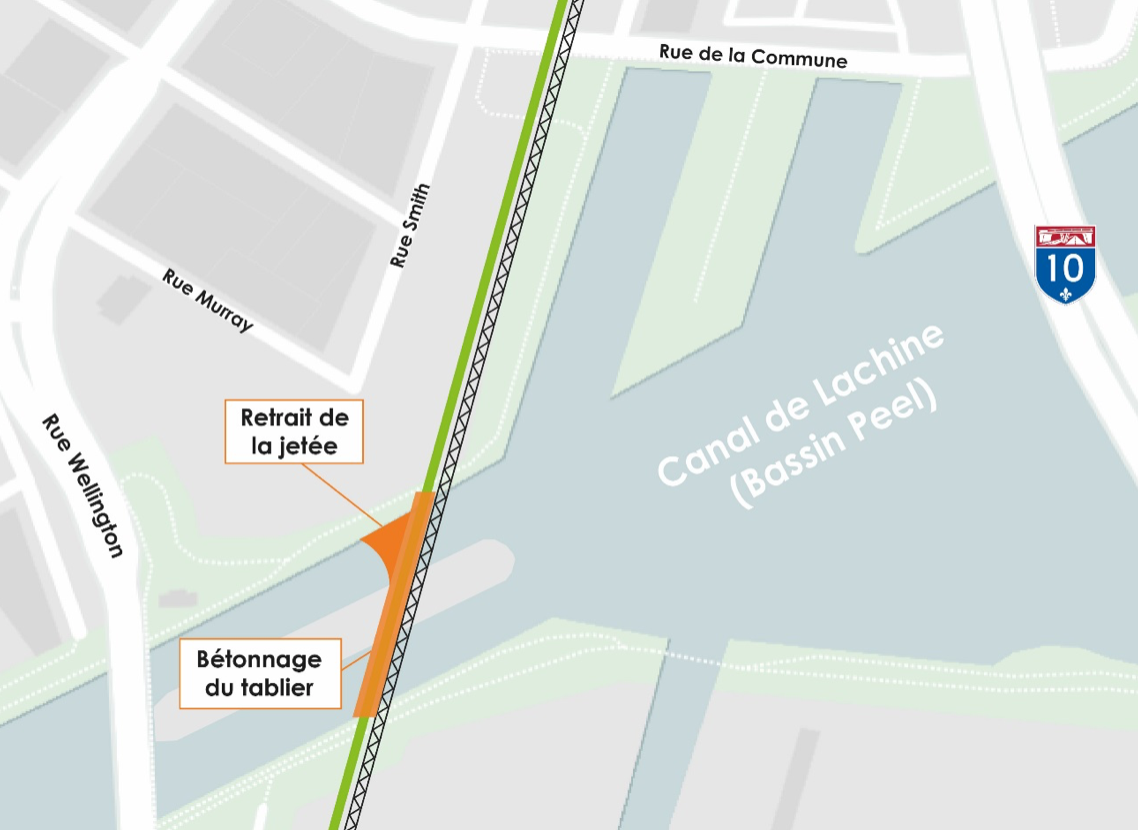 Work area for the concreting and removal of the jetty
Important notice
Beginning April 7th, the closed segment of the Lachine Canal path on the north bank will be reopened. As needed, signallers will be on hand to direct traffic near the construction area. However, the cycling link on the Wellington bridge will be closed until mid-September 2019. Users will be asked to use detours put in place.

* Due to the nature of the activities being performed, work cannot be interrupted while it is in progress, and must be completed to ensure integrity of the existing infrastructure is maintained. Should this situation arise, the work period will be extended to complete the work already begun.
** Concentrated noisy activity in the daytime and evenings. Some work will have to be performed at night because of constraints related to nearby railway activities.
For all questions | 1 833 REM-INFO
Write us via the contact form of the "Contact us" page. You may contact us by phone on weekdays between 8:00 am and 5:00 pm.