Construction of the elevated structure and Pointe-Claire station

Construction activities
Beginning in fall 2018 From 6:30 a.m. to 7 p.m., 7 days a week, depending on work progress
Montréal (West Island)
Nature of the work
The structure of the REM on the West Island will be elevated, from the Des Sources station to the Saint-Anne-de-Bellevue station. For work on the elevated portion of the route, pillars will need to be installed along the former Doney railway spur, as well as along Highway 40 at Fairview Pointe-Claire.
Work will take place from 6:30 a.m. to 7 p.m. Work outside this time period may be necessary to mobilize and demobilize required equipment and to clean up the site. 
In your sector, work will be carried out according to the following schedule:
Fall 2018 to summer 2019: relocation of public utilities
Fall 2018: brush clearing and tree cutting
Fall 2018: disturbance of first layer of soil, construction of access roads
Fall 2018 to spring 2019 then fall 2019 to winter 2020: construction of the elevated track superstructure (pile driving)
Winter 2019 to summer 2019 then spring 2020 to winter 2020: construction of the elevated track superstructure (columns)
Spring 2020: beginning of construction of the station
Spring 2019 to spring 2020 then summer 2021 to winter 2021: construction of the elevated track superstructure (installation of segmented beams)
Spring 2021 to fall 2022: restoration and final landscaping work
The current sequence is subject to change without notice.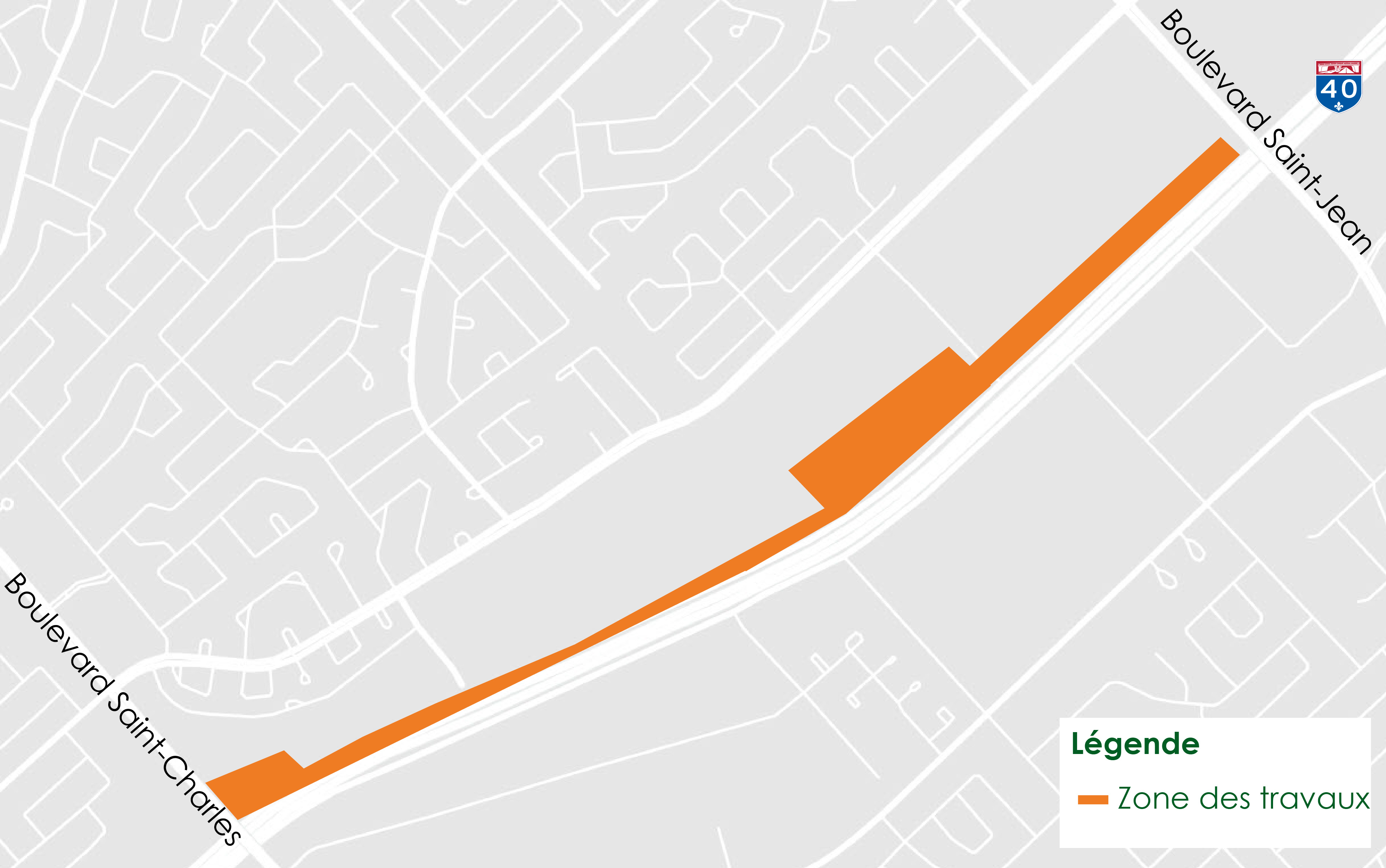 Work area near the Pointe-Claire station. Between Saint-Jean and Saint-Charles boulevards
Impacts and mitigation measures
Just as for any construction site, work will have an impact on residents in the vicinity; they will be affected by noise, vibrations, dust, frequent use of trucks and traffic hindrances. Mitigation measures will be implemented to minimize the impacts. The REM project office and NouvLR consortium's goal is to prevent or minimize impact on surrounding residents as much as possible and ensure safety by implementing all appropriate measures.
For more information about the REM, subscribe to our newsletters and SMS alerts:
For all questions | 1 833 REM-INFO
Write us via the contact form of the "Contact us" page. You may contact us by phone on weekdays between 8:00 am and 5:00 pm.