Preparatory work for the future Bois-Franc station

Construction activities
April to June 2019 From 7 a.m. to 7 p.m. on weekdays and weekends*
Montréal (Centre and Airport)
Nature of the work
The future Bois-Franc station will be built at the same location as the existing station bearing the same name on the Deux-Montagnes line. This spring, preparatory work will be carried out to set up the construction site and to begin foundation work on the future station.
The following work sequence may vary: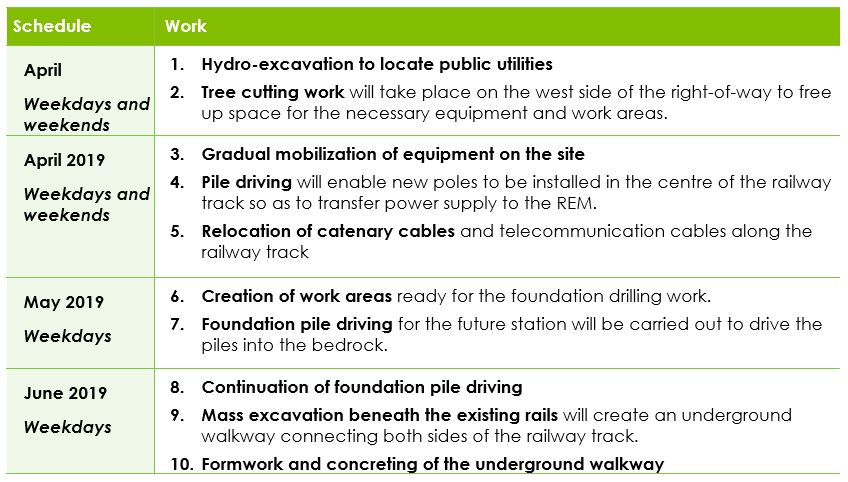 * Work is scheduled to take place on weekdays and weekends, from 7 a.m. to 7 p.m. Work before and after this period may be necessary to mobilize and demobilize equipment required for the work and to clean up the site, to ensure that morning train service is restored on schedule.
Impacts and mitigation measures
The goal of the REM project office and the NouvLR consortium is to mitigate the impact on surrounding residents and ensure everyone's safety by taking all appropriate measures.
This work will generate noise, vibration and dust. Mitigation measures will be implemented as needed to mitigate impacts at the source (acoustic enclosures, low-noise equipment, white noise vehicles), and environmental experts will monitor compliance throughout the work.
Tree-cutting work will be organized in keeping with industry best practices and applicable standards and regulations; a reforestation program has been planned under which the same number of trees that are cut in temporary construction zones, plus an additional 10%, will be replanted; and, through a voluntary partnership with Jour de la Terre, 250,000 trees will be planted to compensate for the GHG emissions produced during the construction phase.
Some of the work will require truck traffic in the neighbourhood; long-term traffic pattern changes are also in place to minimize construction traffic and secure the construction zones. Signallers located around the perimeter of the construction site will ensure pedestrian safety.
For all questions | 1 833 REM-INFO
Write us via the contact form of the "Contact us" page. You may contact us by phone on weekdays between 8:00 am and 5:00 pm.