Work in the railway right-of-way between the Du Ruisseau and Deux-Montagnes stations

Construction activities
From the end of January to the end of 2021, mainly on weekdays, between 7 a.m. and 7 p.m.
North Shore
Where : In the railway right-of-way
Nature of the work:
The Réseau express métropolitain (REM) is a new mode of light rail transit. It will include 26 stations and span Greater Montréal with 67 km of tracks. The REM will gradually replace the Deux-Montagnes line.
To upgrade the railway track to accommodate the future REM light rail system, various phases of work will be carried out in the railway right-of-way between the Du Ruisseau station and the Deux-Montagnes station:
Schedule

Work in the railway right-of-way

End of January – March 31, 2021

1. Preparatory work including cutting of shrubs, trees and small vegetation limited to what is strictly necessary within the railway right-of-way

Meticulous work to identify the vegetation to be cut is carried out by forest engineers and reviewed by our environmental experts.
Whenever possible, NouvLR's work method is adjusted to limit vegetation cutting to a minimum.
On the day of the work, field crews verify the need to cut the trees and shrubs previously identified in the deforestation plans.

Spring 2021

2. Removal of existing railway installations (electrical system, platforms, rails, ties, stone ballast)

3. Removal of the existing right-of-way fence and installation of the new intrusion-control fence delineating the REM right-of-way

Any objects installed on the fence (bicycle, toys, landscaping arrangements, etc.) must be removed by property owners before it is dismantled.
The work will be carried out in phases to ensure that the railway right-of-way remains safe at all times.

Summer – Fall 2021

4. Excavation, drainage, reconstruction and doubling of railway tracks

5. Gradual installation of the new REM rail infrastructure (see diagram below)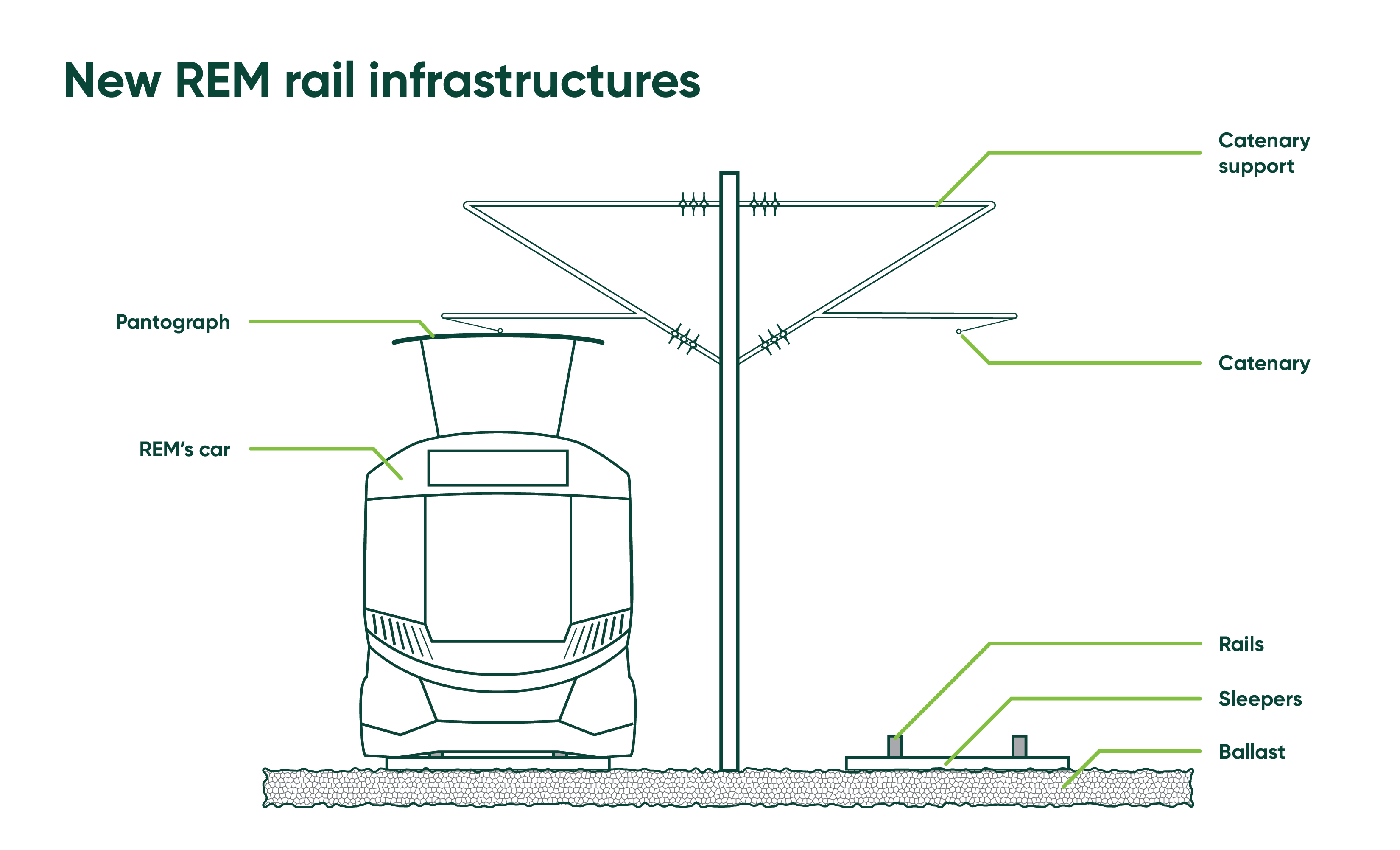 Impacts and mitigation measures:
The goal of the REM project office and the NouvLR consortium is to mitigate the impact on local residents and ensure everyone's safety by taking all appropriate measures.
The work in the railway right-of-way will generate noise, vibration, dust and a high volume of truck traffic.
Appropriate mitigation measures to minimize noise and dust will be implemented based on the work in progress.
Efforts are made to minimize the cutting of vegetation to what is actually required for REM work.
For all questions | 1 833 REM-INFO
Write us via the contact form of the "Contact us" page. You may contact us by phone on weekdays between 8:00 am and 5:00 pm.