Closure of Chemin d'Oka

Road
Ongoing until the end of summer 2022 - Opening of Oka Road to be confirmed
North Shore
Nature of work 
In order to complete the construction of the railroad bridge over Chemin d'Oka, work will be done during the month of July and August on street cutting, paving of the roadway and construction of curbs and sidewalks.
In order to do so, the complete closure of Oka Road, between 11th Avenue and 12th Avenue, will be extended to end of the summer -  Opening of Oka Road to be confirmed.
The map below illustrates the closure and the proposed detours: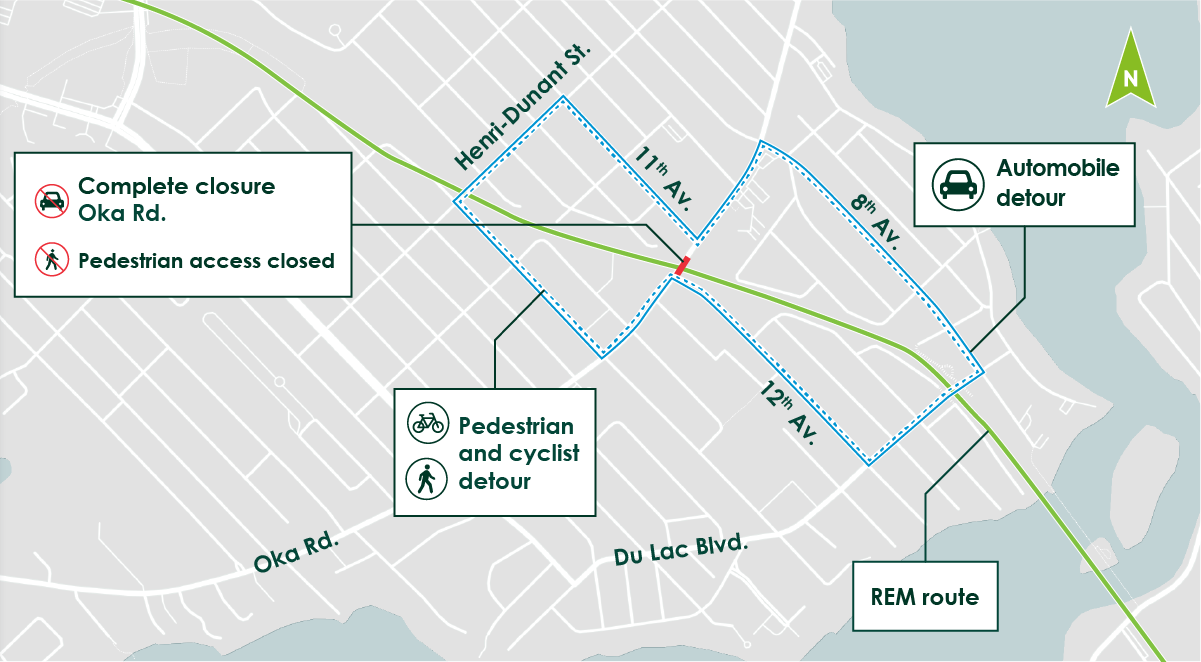 Maps illustrating available detours
Impacts and Mitigation Measures:
The goal of the REM project office and the NouvLR consortium is to mitigate the impacts on local residents and to ensure the safety of everyone by implementing appropriate measures. 
Noise, vibrations and dust could be generated depending on the nature of the work.

In order to ensure compliance with the noise, vibration and air quality criteria to which the project is subject, a follow-up is carried out by environmental experts. 

Complete closure of traffic lanes on a portion of Oka Road. A detour route will be put in place for motorists, pedestrians and cyclists via Boulevard du Lac and Henri-Dunant Street. Road users are invited to follow the signs that have been put in place.

Shops and businesses will remain accessible at all times.

Residences will remain accessible. 
For all questions | 1 833 REM-INFO
Write us via the contact form of the "Contact us" page. You may contact us by phone on weekdays between 8:00 am and 5:00 pm.