Rehabilitation work under the railway overpass and partial closure of Notre-Dame Street

Road
Beginning October 30 and carried out in two phases (north and south) for approximately two months From 7 a.m. until midnight on weekdays and from 7 a.m. to 5 p.m. on Weekend
Montréal (Downtown)
Where: Under the railway overpass, at Notre-Dame Street
Nature of the work
The rehabilitation work will entail sandblasting and applying a primer to the steel structures of the southbound railway overpass leading to Central Station.
Impacts and mitigation measures
Alternating one-lane closure for approximately one month each, under the railway overpass between Robert-Bourassa Boulevard and Mansfield Street. One lane will remain open;
Pedestrian access will be maintained beneath the railway structure on the side opposite the work;
A detour route for buses via West Saint-Antoine Street;
Police presence to ensure traffic moves smoothly;
The work zone will be sealed off to control the dispersal of dust and to minimize noise;
Noisy work will take place between 7 a.m. and 7 p.m.
Preliminary and subsequent work at this time may be necessary to mobilize all equipment required for the execution of the work and for the cleaning of the site. Some work can not be interrupted during execution and must be completed to ensure the integrity of the infrastructure.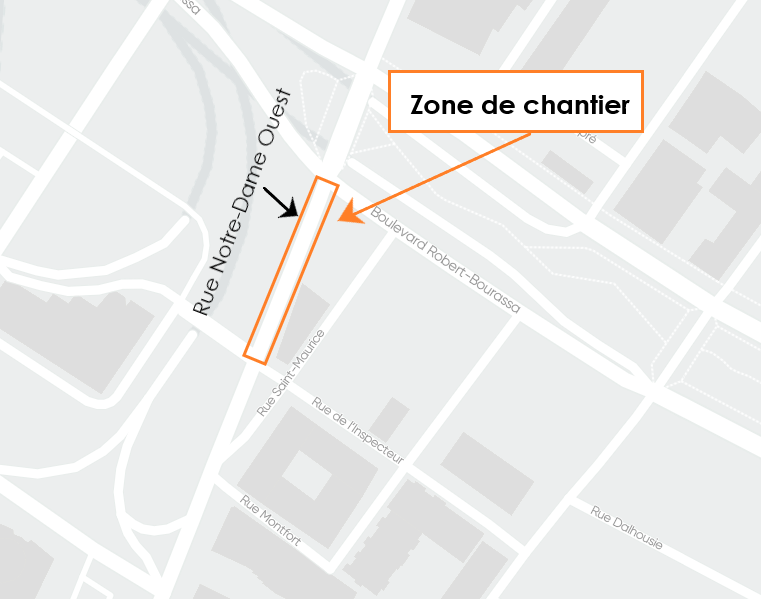 For all questions | 1 833 REM-INFO
Write us via the contact form of the "Contact us" page. You may contact us by phone on weekdays between 8:00 am and 5:00 pm.