Work to reinstall the rails at the Canora and Mont-Royal stations

Construction activities | Major
From May 7th to the 17th, 7 a.m. to 22 p.m.*
Montréal (Centre and Airport)
Nature of the work
Construction work on the westbound track of the future Canora and Mont-Royal stations is entering an important phase for the transfer of the EXO train service on May 21. Some work will be done alternating between the stations, while other work will be done simultaneously. 
Work must be done to reinstall the rails on the Western side of the tracks in order to maintain train service and switch traffic to the Western side on May 21st. Most activities will be executed during the day and in the evening to ensure that the Deux-Montagnes commuter train line is in service on the morning of May 21st.
Anticipated work sequence and primary impacts
The schedule below may vary according to weather conditions and work progress*. The sequence of work should be similar for the both the Canora and Mont-Royal stations.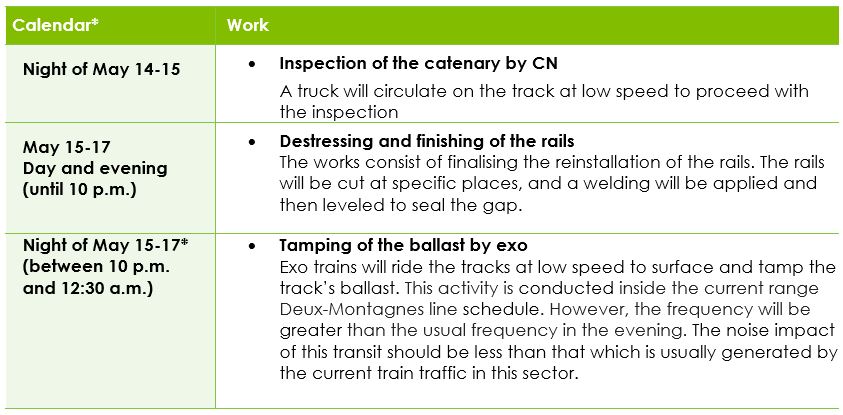 Impacts and mitigation measures
The REM project office and NouvLR partnership's goal is to mitigate impact on surrounding residents and ensure everyone's safety by implementing all appropriate measures.
This work will generate noise, vibration, dust and trucking. Mitigation measures will be implemented to mitigate impacts at the source (acoustic enclosures, low-noise equipment, white noise vehicle alarms). In order to ensure the project's noise, vibration and air quality targets are met, monitoring by environmental experts will take place throughout the work.
Light towers may be necessary to ensure the workers' safety during evening shifts.
Some of the work will require truck traffic in the neighbourhood; long-term traffic pattern changes are also in place to minimize construction traffic and secure the construction zones. Flaggers located around the perimeter of the construction site will ensure pedestrian safety.
*For more information about the REM, subscribe to our alerts.
For all questions | 1 833 REM-INFO
Write us via the contact form of the "Contact us" page. You may contact us by phone on weekdays between 8:00 am and 5:00 pm.