Road obstruction on Marc-Cantin Street

Road
Starting April 3, 2019, for approximately 4 weeks Day and night, on weekdays
Montréal (Downtown)
Nature of the work
The construction of the REM's elevated structure continues in the Marc-Cantin area. In April 2019, the structure's pillars at the intersection of Fernand-Séguin and Marc-Cantin Streets will be built, over about a four-week period.
Impacts and mitigation measures
Larrying out this work will involve a modification to local road and pedestrian traffic.
A complete closure of Marc-Cantin Street between Gaétan Laberge Boulevard and Fernand-Séguin Street is required.
For MELS Studios: a new lane will be created at the MELS exit toward Fernand-Séguin Street, to facilitate traffic toward downtown. And a new sidewalk will be built for pedestrians to use. Appropriate signage will be installed.
For 1555 Carrie-Derick Street: the parking spaces located on the east side of Fernand-Séguin Street will be moved to the west side.
The bus stop for the 74 line will be maintained on Carrie-Derrick at the intersection with Fernand-Séguin Street.
This work will generate noise and dust. Environmental experts will monitor noise and air quality to ensure that project criteria are met. Mitigation measures may be implemented if necessary.
*Please note that due to the nature of the activities being performed, work cannot be interrupted while it is in progress; it must be completed so as to maintain the integrity of the existing infrastructure. Should this situation arise, the work period will be extended to complete the work already begun.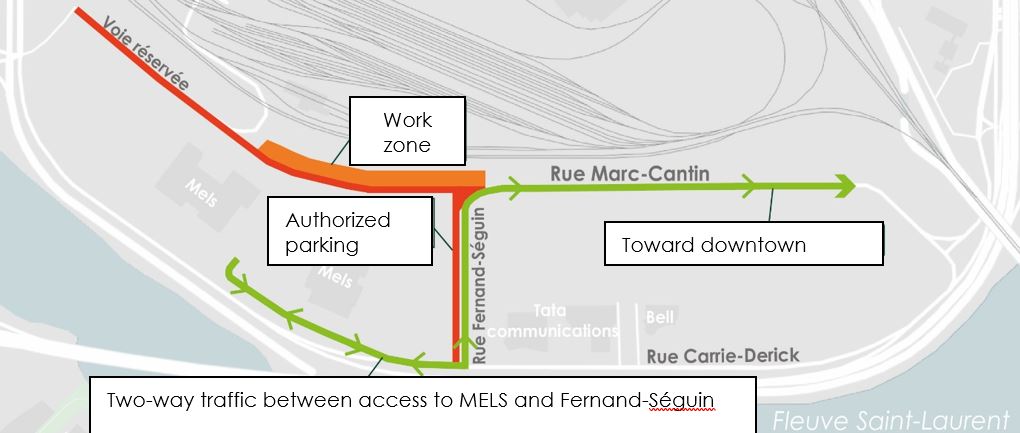 For all questions | 1 833 REM-INFO
Write us via the contact form of the "Contact us" page. You may contact us by phone on weekdays between 8:00 am and 5:00 pm.