An REM station at the airport
The REM will make it possible to get to the airport by metro, guaranteeing reliable, frequent service at all times, whatever the traffic! REM will also be connected to the STM's three main metro lines: the orange line (Bonaventure), the green line (McGill) and the blue line (Édouard-Montpetit). All stations in the network will be equipped with elevators to make life easier for passengers with their luggage.
Next steps
Aéroport de Montréal began work on the station in 2022 and construction will continue until 2026. The Alice Tunnel Boring Machine (TBM) has completed drilling the tunnel connecting the technopark to the airport. Following the end of the construction of the station, the systems integration and testing period will begin, to allow for the commissioning of the REM on this segment in 2027.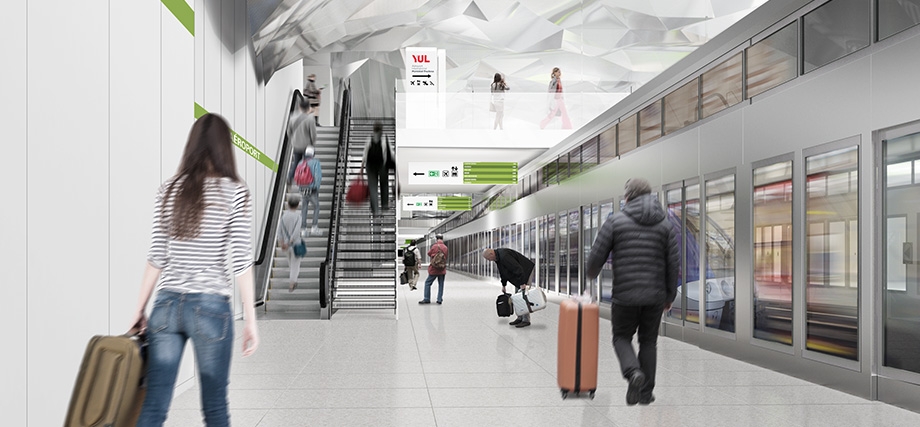 FAQ
Here are the travel times to the airport from the 25 other REM stations.

South Shore
Brossard: 41'

Du Quartier: 38'
Panama: 35'
Downtown
Île-des-Soeurs: 31'

Griffintown – Bernard-Landry: 27'
Central Station: 25'
McGill: 24'
Édouard-Montpetit: 21'
Mount-Royal and Saint-Laurent
Canora: 18'
Ville-de-Mont-Royal: 17'
Côte-de-Liesse: 15'
Montpellier: 13'
Du Ruisseau: 11'
Bois-Franc: 9'
Marie-Curie: 2'
West Island
Sunnybrooke: approx. 24'

Pierrefonds-Roxboro: approx. 26'
Des Sources: approx. 26'
Fairview-Pointe-Claire: approx. 30'
Kirkland: approx. 33'
Anse-à-l'Orme: approx. 36'
North Shore
Île-Bigras: approx. 29'
Sainte-Dorothée: approx. 31'
Grand-Moulin: approx. 34'
Deux-Montagnes: approx. 36'
* To get to the airport from this station, you have to make a transfer at Bois-Franc. We added a conservative 10-minute connection time in our calculations.