Work on Leduc Boulevard on the elevated structure

Construction activities
Spring/Summer 2019 During the day, and occasionally at night
South Shore
Nature of the work
The route of the future REM will run along the Highway 10 median, requiring the construction of an elevated structure between Leduc Boulevard and Malo Avenue. In order to erect this structure, work will need to be done on Leduc Boulevard, beneath Highway 10.
Carried out in phases from spring through the summer of 2019, the work will consist of the following activities:
Construction of the pillar (column and portal) on Leduc Blvd. 
Partial demolition of existing decks on Highway 10, and then reconstruction between Leduc Boulevard and Malo Avenue. 
Beam and deck installation
Restoration of existing infrastructures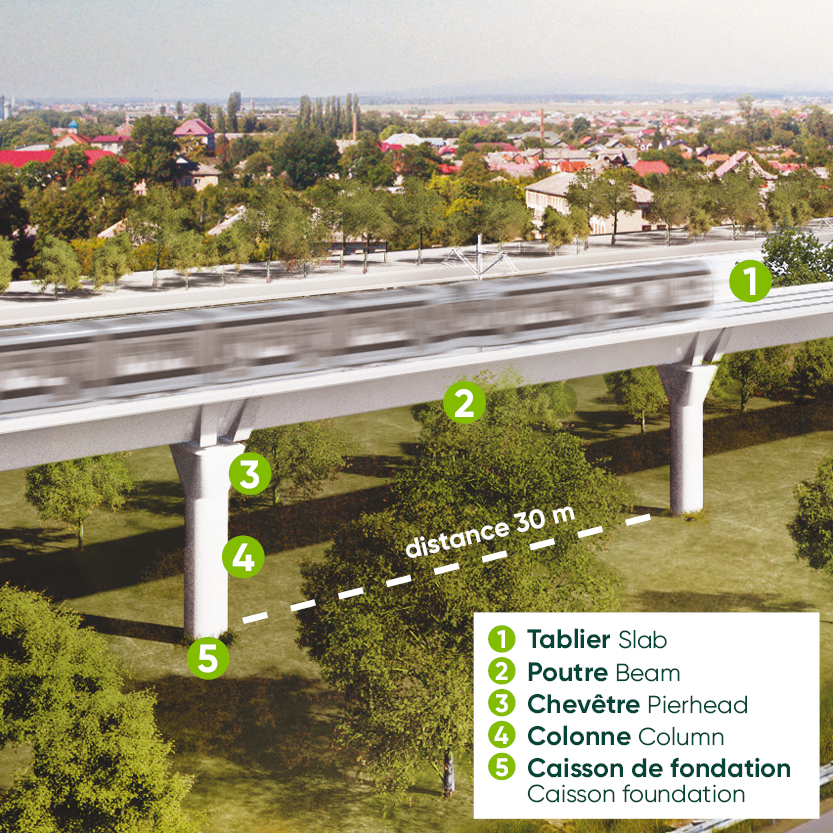 Impacts and mitigation measures
Vehicle traffic toward the DIX30 and Lapinière Boulevard will be maintained at all times during the day
One lane will remain open at all times for southbound cars heading toward the DIX30.
Two traffic lanes will remain open for northbound cars heading toward Lapinière Boulevard, for the majority of the work.
One traffic lane for northbound cars heading toward Lapinière Boulevard will be closed for approximately ten days. During that period, we recommended seeking an alternate route if at all possible.
Complete closures between 11 p.m. and 5 a.m. should be anticipated, in order to complete this work. The first series of nighttime closures will begin on Sunday, April 14 through Friday, April 19. Detours will be provided with appropriate signage.
The bike path will remain accessible, except during complete closures at night.
This work will generate noise and dust. Environmental experts will ensure project criteria are met. Mitigation measures may be implemented if necessary.
The map below indicates the proposed detours.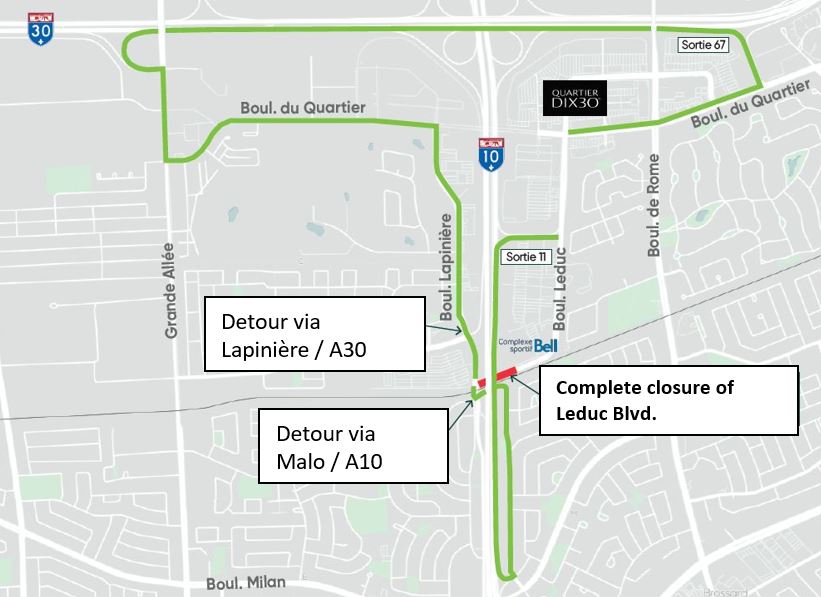 * Due to the nature of the activities being performed, work cannot be interrupted while it is in progress, and must be completed to ensure integrity of the existing infrastructure is maintained. Should this situation arise, the work period will be extended to complete the work already begun.
For all questions | 1 833 REM-INFO
Write us via the contact form of the "Contact us" page. You may contact us by phone on weekdays between 8:00 am and 5:00 pm.