Preparatory work in the Lachine Canal area

Construction activities
Starting in late October. Daytime, 7 a.m. to 5 p.m.*
Montréal (Downtown)
Where: Near the Wellington and Peel basins, along the Lachine Canal
 
Nature of the work**
The REM project aims to integrate harmoniously with its immediate surroundings, which is why more than 85% of the work will be carried out on existing road and railway rights-of-way. At the same time, however, some brush clearing and cutting of trees and shrubs will be necessary as the REM rail infrastructure, stations and access roads are constructed. 
Branch removal and tree and shrub cutting will take place near the Lachine Canal's Peel and Wellington basins to allow the subsequent construction of the REM's elevated structure in this sector. The area affected by the work is shown below.
Impacts and mitigation measures
This work may generate noise To minimize the impacts, acoustic screens will be installed, as required.
The brush clearing and cutting of trees and shrubs will be overseen and coordinated by our environmental experts and carried out in keeping with industry best practices and applicable standards and regulations.
The work will be performed outside the nesting season. At-risk plant species and trees will be relocated or compensated with new plantings.
A reforestation program has been planned under which the trees that were cut in temporary construction zones, plus an additional 10%, will be replanted in the same municipal territory or borough. A voluntary partnership with Jour de la Terre and the 375000arbres.org program will also be entered into.
Thanks to the program, 250,000 trees will be planted to offset the GHG emissions produced during the construction phase.
The work to prepare the site will be carried out inside the area shown in orange on the following map: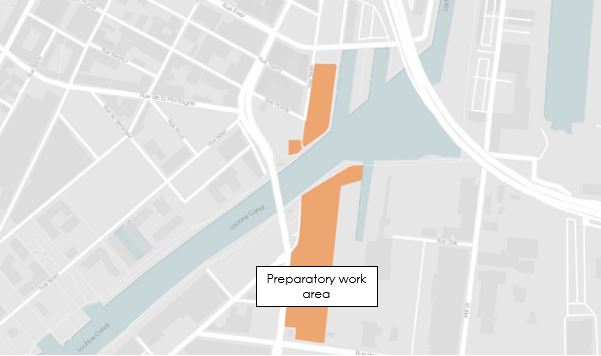 * Work will be carried out between 7 a.m. and 5 p.m. Work before and after this period will be necessary to mobilize and demobilize all the elements required to perform the work and to clean up the site.
** Please note that due to the nature of the activities being performed, work cannot be interrupted while it is in progress, and must be completed to ensure integrity of the existing infrastructure is maintained. Should this situation arise, the work period will be extended to complete the work already begun.
For all questions | 1 833 REM-INFO
Write us via the contact form of the "Contact us" page. You may contact us by phone on weekdays between 8:00 am and 5:00 pm.