Preparatory work on Leduc Boulevard

Construction activities
Starting March 18, for about four weeks Weekdays, from 7 a.m. to 7 p.m.*
South Shore
Where: Leduc Boulevard, under Highway 10
Nature of the work
The route of the future REM will run along the A10 median, requiring the construction of an elevated structure between Leduc Boulevard and Malo Avenue. This structure requires building a pillar on Leduc Boulevard. The work will be carried out in phases in 2019.
The first phase involves the preparatory work for widening Leduc Boulevard and will take approximately four weeks. Other Works Info notices will follow to keep you informed about subsequent phases.
Impacts and mitigation measures
Two traffic lanes will be kept open for northbound cars, toward Lapinière Boulevard. Southbound, toward Dix30, one lane will be removed closest to the work. Downstream of this zone, both traffic lanes will once again be available.
The bike path will remain accessible.
This work will generate noise and dust. Environmental experts will monitor noise and air quality to ensure that project criteria are met. Mitigation measures may be implemented if necessary.
The following map shows the area concerned: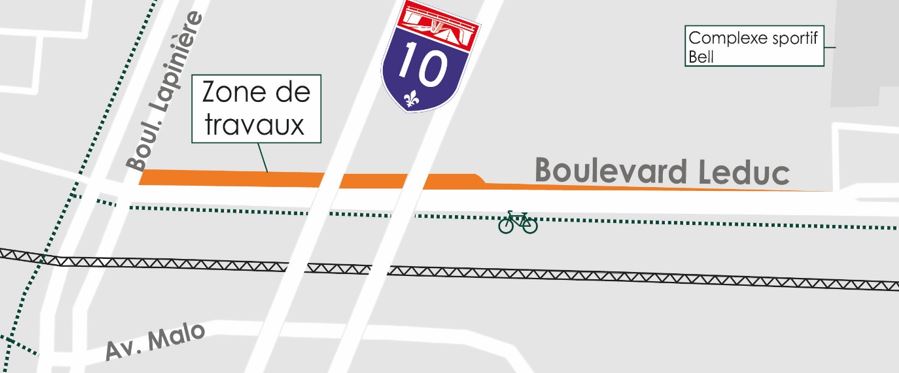 *Des travaux préliminaires et subséquents à cette plage horaire sont nécessaires afin de mobiliser et démobiliser l'ensemble des éléments requis pour l'exécution des travaux et au nettoyage du site. Certains travaux pourraient avoir lieu la nuit et la fin de semaine. En raison de la nature des travaux, ceux-ci ne peuvent être interrompus en cours d'exécution et doivent être complétés afin d'assurer l'intégrité des infrastructures existantes. Si cette situation se présente, la plage horaire sera prolongée pour finaliser les travaux entamés.
For all questions | 1 833 REM-INFO
Write us via the contact form of the "Contact us" page. You may contact us by phone on weekdays between 8:00 am and 5:00 pm.