Preparatory work near the Peel Basin and Smith Street

Construction activities
Du 11 octobre à la fin octobre 2018 De jour, en semaine, 7 h à 19 h
Montréal (Downtown)
Where: On Smith Street, neer the Peel Basin
Nature of the work
The route of the future Réseau express métropolitain will pass over the Lachine Canal, which will require the construction of pillars for the REM's structure in that area. Work will be carried out until late October in the area near the Peel Basin, the Lachine Canal and Smith Street in preparation for the next phase of work, which will run from late fall 2018 to summer 2019.
The purpose of the preparatory work is to protect existing facilities on Smith Street, and it will include the following activities:
Relocating urban furniture
Protecting the paving on Smith Street and Smith Place with steel plates, wood panels and granular materials
Setting up a fenced work site, will include work site trailers and a parking area
Impacts and mitigation measures
Smith Place will be closed until the work is completed.
The Wellington Control Tower will be monitored to ensure the building's stability and integrity while work is underway.
A minor traffic obstruction at the intersection of Smith Street and Murray Street is expected in order to install materials to protect the paving.
A light flow of trucks is anticipated during this phase of the work (approximately 10 trucks until late October).
The bike path along the Lachine Canal will remain open during the work.
The area impacted by the preparatory work is indicated in orange on the map below: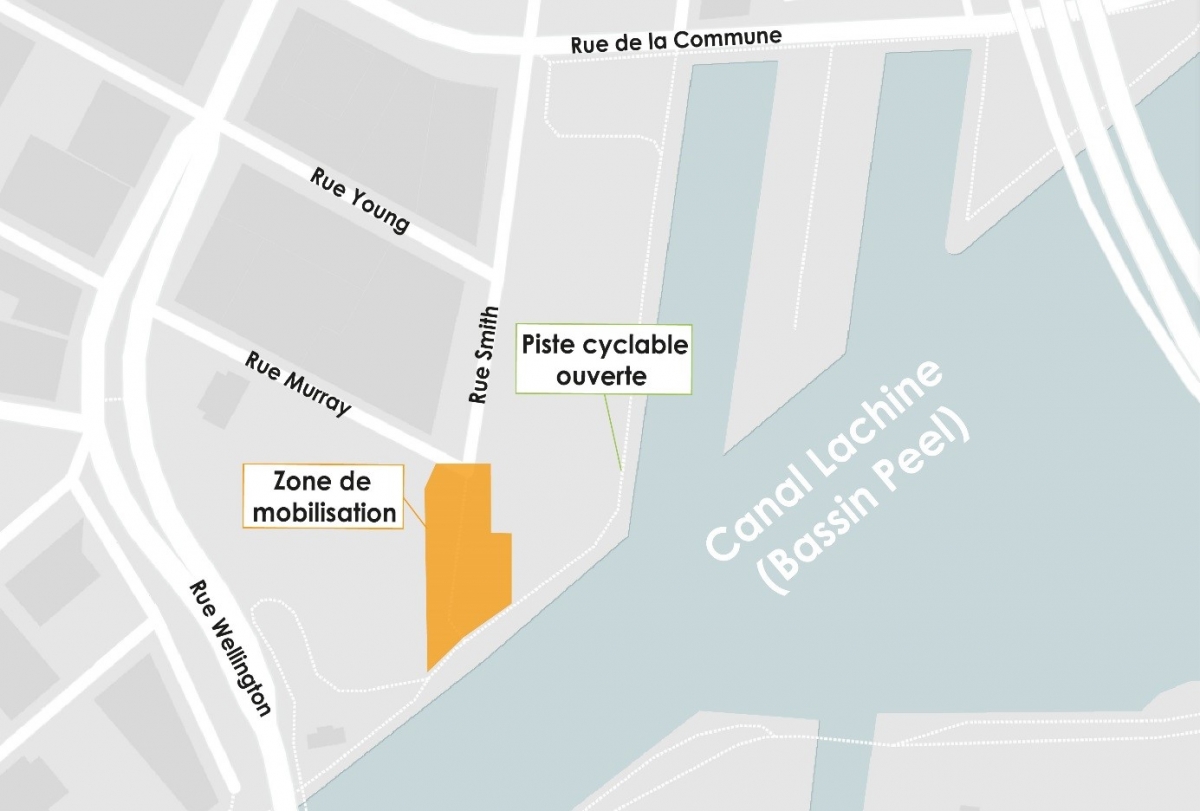 Work will be carried out between 7 a.m. and 7 p.m. Work before and after this time period will be necessary to mobilize and demobilize all the elements required to perform the work and to clean up the site.
For all questions | 1 833 REM-INFO
Write us via the contact form of the "Contact us" page. You may contact us by phone on weekdays between 8:00 am and 5:00 pm.