Construction of a trench at Technoparc Montréal

Construction activities
Beginning January 2019
On weekdays, from 6:30 a.m. to 6 p.m.
Centre of Montréal
Nature of the work
In the Technoparc area, the REM will gradually go underground to the north of Alexander-Fleming Street in order to avoid the wetlands to the south. The construction of a trench will create a transition towards the tunnel that will be excavated in the bedrock to connect the Technoparc and the airport. 
The work sequence includes the construction of retaining walls, soil excavation and steel framing work (the sequence below may vary).  
January to March

Construction of retaining walls in secant  piles

March to June

Excavation to reach the required level for tunnel boring

Erection, formwork and concreting of the steel structure of the retaining wall
Impact and mitigation measures  
Noise, dust and vibrations (planned mitigation measures)

A noise barrier will be installed to minimize the impact of noise on workers in the area and on the children of the Innovation daycare, and sound level will be monitored

Long-term traffic obstructions will be put in place to enable the work to continue (see map below)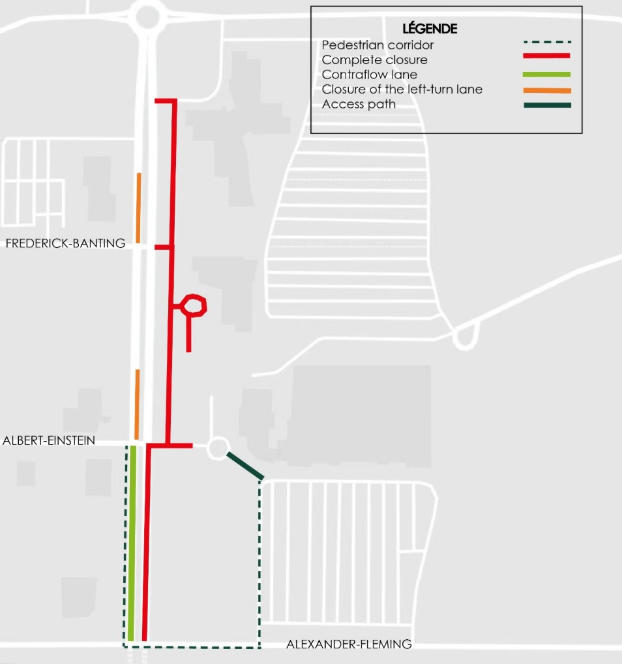 Obstruction details – Drivers
Complete closure of the northbound roadway of Alfred-Nobel Boulevard with the creation of a contraflow lane between Alexander-Fleming and Albert-Einstein streets
Closure of the left lane and left-turn lane on Alfred-Nobel Boulevard southbound near Albert-Einstein Street
Complete closure of the left-turn lane on southbound Alfred-Nobel Boulevard near Frederick-Banting Street
Parking is prohibited on northbound Alfred-Nobel Boulevard, between Albert-Einstein Street and Marie-Curie Avenue. 
Obstruction details – Bike path and pedestrians
Complete closure of the bike path and sidewalk of northbound Alfred-Nobel Boulevard between Alexander-Fleming Street and Marie-Curie Avenue
Creation of a pedestrian corridor along Alexander-Fleming Street
*Work will be carried out on weekdays. Preliminary and subsequent work will be necessary to mobilize and demobilize all the elements required to perform the work. Evening and night work may be required in order to complete a work sequence. 
For all questions | 1 833 REM-INFO
Write us via the contact form of the "Contact us" page. You may contact us by phone on weekdays between 8:00 am and 5:00 pm.