Work continues on the relocation of public utilities for the construction of McGill station on the Réseau express métropolitain

Road
November 5 to 9, day and night
Montréal (Downtown)
Where:         At the intersection of De Maisonneuve
Nature of the work
In preparation for the construction of the Réseau express métropolitain's future McGill station, work is necessary to protect existing facilities. As such, since September, work has been carried out to relocate the public utilities (sewer, water main, telecommunications) located underneath De Maisonneuve Boulevard West, at the intersection of McGill College Avenue.
To continue protecting these facilities, work must be performed now from November 5 to 9 .
Impacts and mitigation measures
The work will generate noise and dust. In order to ensure that the project's noise and air quality criteria are met, monitoring by environmental experts will take place throughout the work.
Vehicular traffic will be modified on De Maisonneuve Boulevard West, between McGill College Avenue and Robert-Bourassa Boulevard. The left lane will be closed and the right land will remain open.
A minor, marked, secure detour at the end of the bike path, on De Maisonneuve Boulevard West, will be set up.
Traffic will be allowed on the west side of McGill College Avenue between De Maisonneuve Boulevard West and Sainte-Catherine Street West.
All businesses and office towers will remain accessible during the work, as will the Montréal Eaton Centre parking lot and loading dock. L'Asie Resto Bar and 1801 McGill College Avenue will remain accessible via De Maisonneuve Boulevard West. Entrances to the Montréal Eaton Centre and to 1401 and 1501 McGill College Avenue will be accessible via Sainte-Catherine Street West.
The map below indicates the planned detours.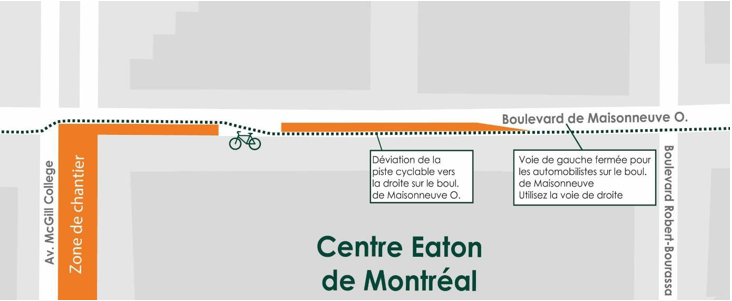 Please note that due to the nature of the activities being performed, work cannot be interrupted while it is in progress; it must be completed so as to maintain the integrity of the existing infrastructure. Should this situation arise, the work period will be extended to complete the work already begun.
For all questions | 1 833 REM-INFO
Write us via the contact form of the "Contact us" page. You may contact us by phone on weekdays between 8:00 am and 5:00 pm.