Réseau express métropolitain : Unveiling of the Griffintown – Bernard-Landry station
Today, Valérie Plante, Mayor of Montréal, along with Chantal Rouleau, Junior Minister for Transport and Minister Responsible for the Metropolis and the Montreal Region, and Harout Chitilian, Executive Director, Corporate Affairs and Development of CDPQ Infra, confirmed the location of the Griffintown – Bernard-Landry station and unveiled various renderings of this future stop on the REM. 
Set in the Griffintown neighbourhood between Ottawa and William streets, this station will be integrated into the southbound overpass railway structure, a bridge building allowing access to Central Station from the south. Griffintown and Cité du Multimédia will now be connected to an extensive light rail network covering 67 km and 26 stations. This station will also connect four universities, by providing an efficient link between Université de Montréal, the Polytechnique, McGill University and now the École de technologie supérieure (ÉTS). 
For residents in this sector, the arrival of a structured network will provide a brand-new way to get around the metropolitan region. Operating at a frequency of every 2.5 minutes, 20 hours per day, 7 days per week, the REM will breathe new life into the neighbourhood. Public transit remains the simplest, most economical and most ecological way to travel around Montréal.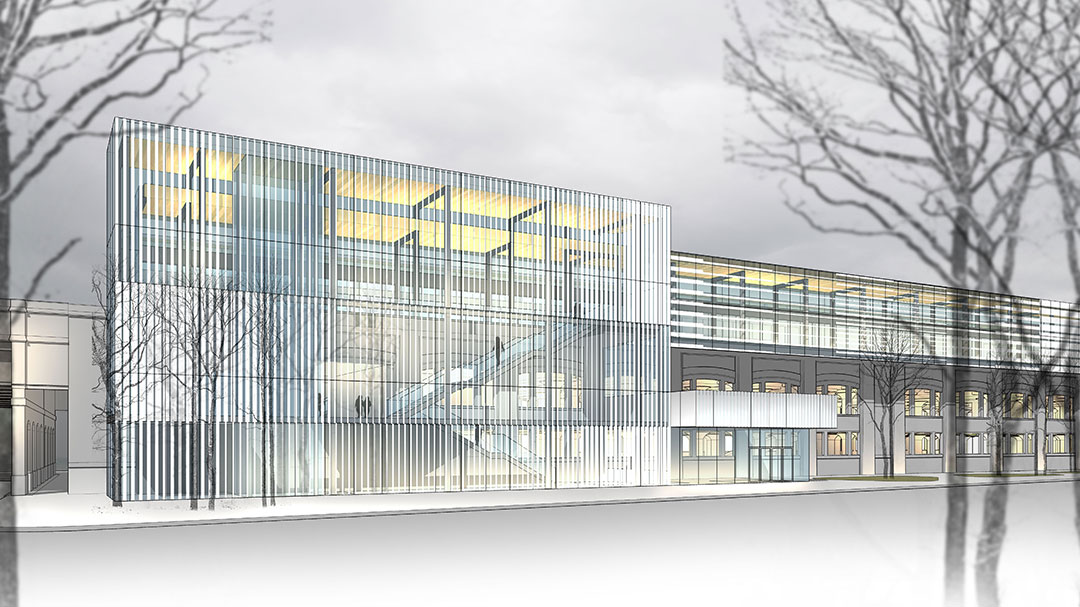 Architectural rendering of the Griffintown-Bernard-Landry station
Showcasing a historic rail link
A sturdy structure in keeping with the neighbourhood's industrial history, the railway bridge building (southbound overpass) was built in two phases between 1931 and 1943 under the aegis of Canadian National, to link Victoria Bridge with Central Station. This bridge building, which was brought up to standard as part of the REM project, offered an exceptional site for the Griffintown – Bernard-Landry station. 
The arrival of the REM will make it possible to showcase and sustain this structure by integrating it into a modern, forward-looking transport network. By adding a station, this historic rail link will play an important role in consolidating this dense and dynamic neighbourhood, which lacked a structured transit network. 
Preparatory work has begun
Preparatory work has already begun and construction work will continue for the next few years to ensure that this station opens by the time the REM is fully commissioned, toward the end of 2023. 
Note that the cost of the Griffintown – Bernard-Landry station is included in the project construction costs of $6.5 billion. The REM route is elevated in this sector, so a second station to serve the Pointe-Saint-Charles sector could be added in a subsequent phase. 
Quotations
"As the link between two districts that have seen phenomenal development in the last few years, the Griffintown – Bernard-Landry station will provide essential structured transportation for the sector. This station is also a tribute to the tremendous contribution made by Bernard Landry to our city's development, as it is located adjacent to the Cité du Multimédia, which has become a symbol of our former Premier's bold economic vision, the impact of which lives on today. I would like to thank CDPQ Infra for its collaboration on this major addition to the urban fabric of Montréal." 
Valérie Plante, Mayor of Montréal
"Today, we are announcing the location of the last of the 26 stations that are part of the current phase of the REM construction project. This station has a special character. Initially absent from the project in 2016, we have committed to adding a station to serve this high-potential area. This work could not have been done without the City of Montréal, which played a key role in choosing the location of this station. The arrival of an REM station will help maintain the momentum and dynamism of this neighbourhood by modernizing and democratizing a historic railway link. Almost 90 years after its construction, this link will be maintained indefinitely thanks to the arrival of the REM, a forward-looking transport network."
Harout Chitilian, Executive Director, Corporate Affairs and Development of CDPQ Infra 
"Recognizing the remarkable contribution of former Québec Premier Bernard Landry by associating him with the most significant public transit project of the last 50 years, in the heart of a neighbourhood he helped create by promoting the development of the Cité du Multimédia, was an obvious choice. The location of this REM station will contribute to the area's vitality and facilitate access to major employment and educational hubs."
Chantal Rouleau, Minister for Transport and Minister Responsible for the Metropolis and the Montréal Region
"Griffintown-Bernard Landry is more than just a station name that we're celebrating here—it's the culmination of a dream. It is the dream of Montrealers who make up a tightly woven fabric built on the city's culture, economy, know-how, and an unequivocal desire to live together. As Bernard Landry would often say: "Without a duty to remember, no nation can survive." Today we are fortunate that his brainchild, the Cité du Multimédia, finds itself at the centre of this fabric of which he would have been so proud. "
Chantal Renaud, Chair of the Cercle des ami(e)s de Bernard Landry
 
For more information
Geneviève Jutras
City of Montréal representative - Senior Press Secretary, Office of the Mayor of Montréal and Executive Committee
514 243-1268
Sarah Bigras
Press Secretary and Communications Officer, Office of the Minister of Transport and Minister Responsible for the Metropolis and the Montréal Region
418 446-5911
Emmanuelle Rouillard-Moreau
Advisor, Media Relations, Réseau express métropolitain
514 847-8068 | 438-881-1884