Consultation on the REM design
We want to know your opinion on the design of the future REM cars. Your comments are important. They allow us to see the trends and help us choose the design of the cars that will travel around Montréal for decades to come.
What do you think of the three proposed designs?
1. Saint-Laurent
A design with character, inspired by the architecture of the new Champlain Bridge and the crossing over the St. Lawrence River.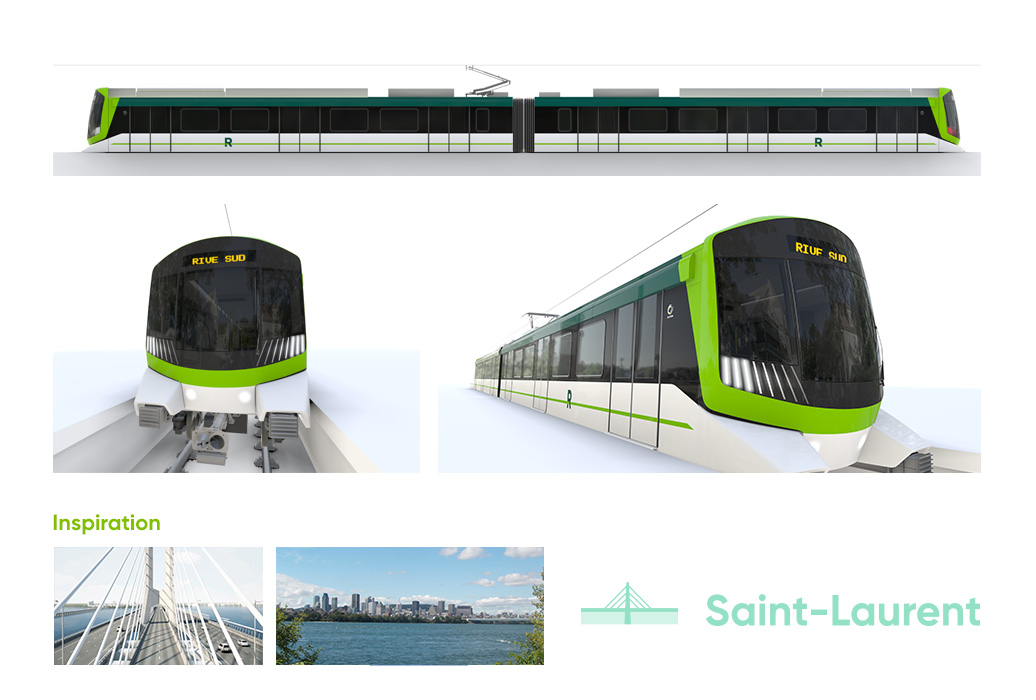 Characteristics:
The green line along the side

symbolizes the new bridge. The R superimposed over it represents the REM that crosses it.

The headlights are distinctive

and their diagonal lines are a reference to the cables on the new Champlain Bridge.

2.

Mont-Royal
A clean design along horizontal lines. Its completely green roof symbolizes Mount Royal, which is the lungs of the city and an iconic landmark crossed by the REM.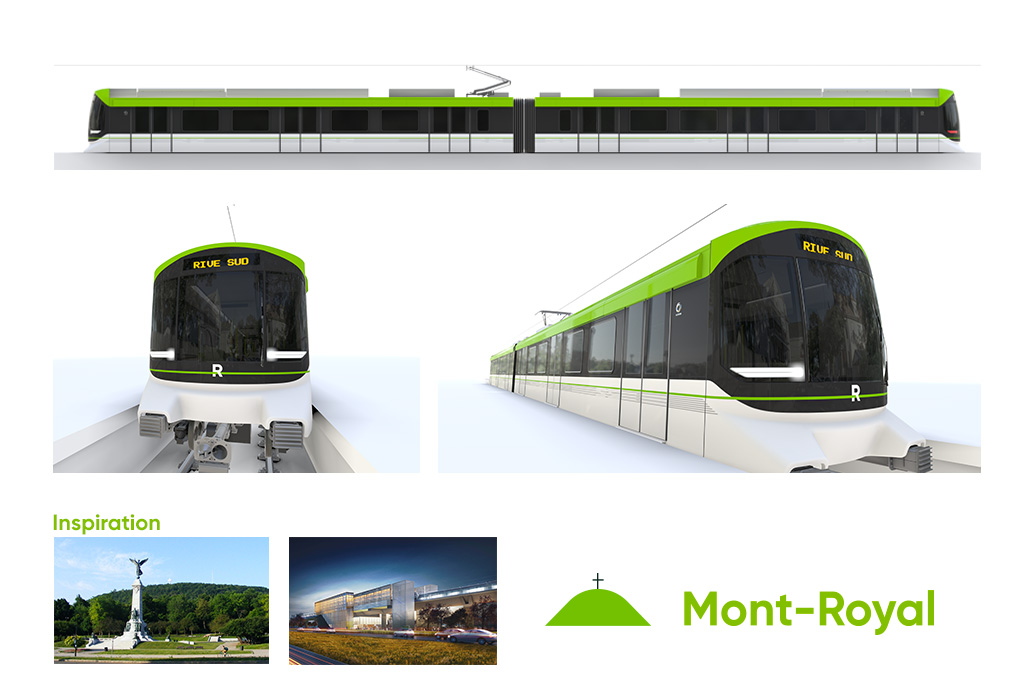 Characteristics:
The green roof

, inspired by Mount Royal

The lines 

on the side call to mind 

the architecture of future stations

 and the idea of movement

The headlights

 are inspired by the wings of the George-Étienne Cartier Monument at the entrance to Mount Royal, also called "the angel statue"

3.

Expo
A colourful design and chaotic geometric shapes: this model is a nod to Expo 67 and to the cultural vitality of Greater Montréal.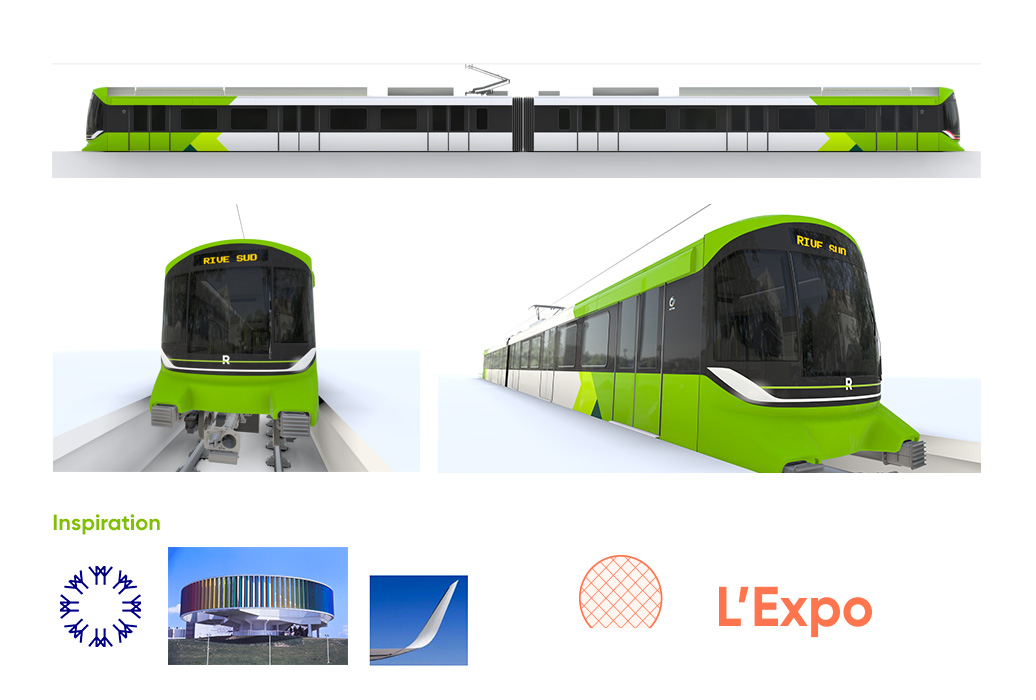 Characteristics:
The three shades of green and the geometric shapes

 are a throwback to the design styles of the era.

The

headlights are inspired by the wings of an airplane, a nod to the new link to the airport and Montréal's openness to the world.
Share your comments
Thank you for participating! The consultation is now closed and our team is working on the final design. We will unveil the option selected and the REM internal configuration in a few months.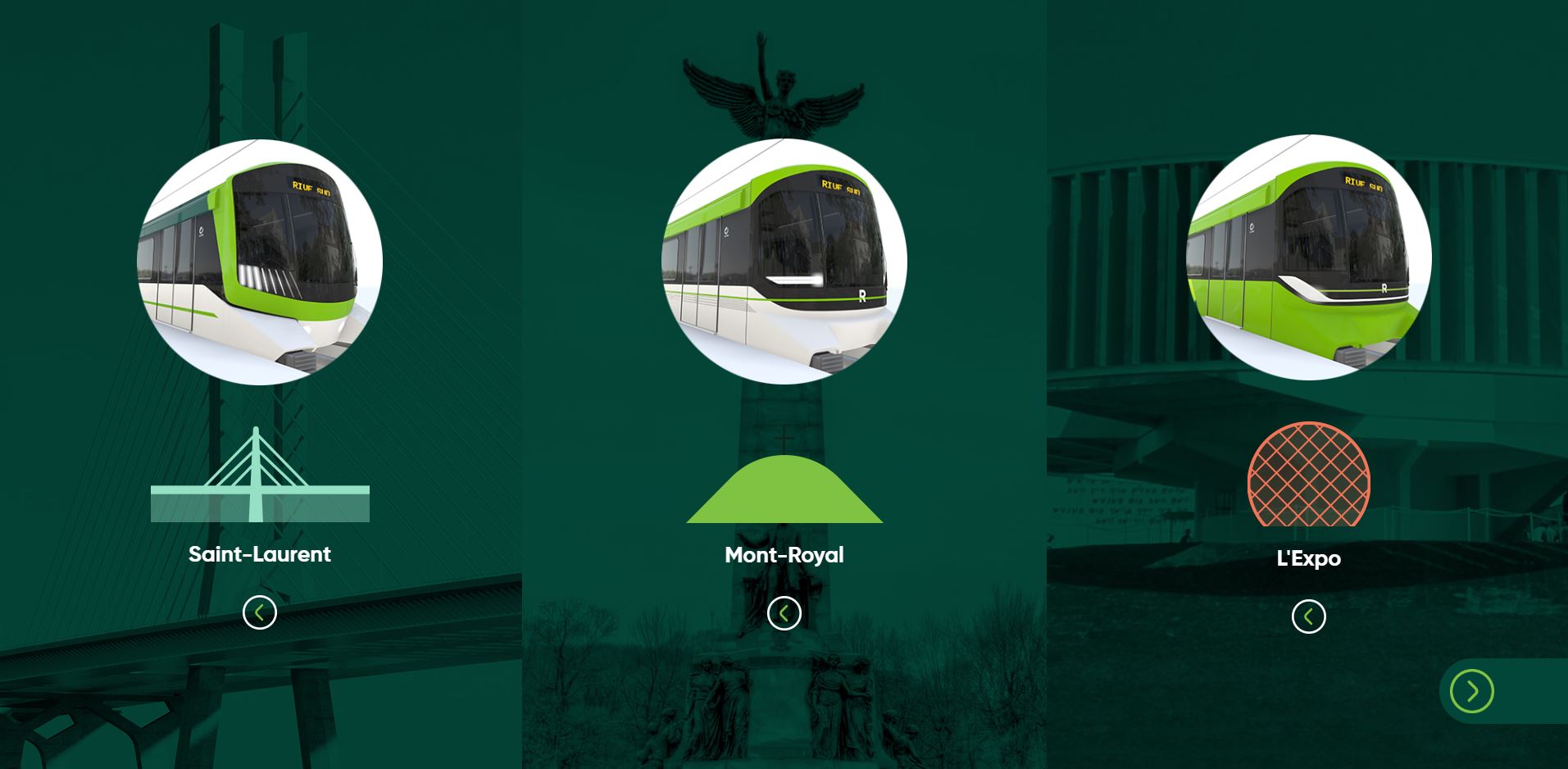 The REM by the numbers
3 connections to the metro (Bonaventure, McGill, Édouard-Montpetit)
3 minutes from McGill to Édouard-Montpetit
4 directions (South Shore, Montréal-Trudeau Airport, Sainte-Anne-de-Bellevue, Deux-Montagnes)
20 minutes from downtown to the airport
26 stations
67 km
100% electric
2021–2023: the REM's gradual entry into service
34,000 jobs created in Quebec during construction
4 billion dollars invested in Quebec.