Pile driving work for the McGill station

Road
From February 3 at 7 p.m. to February 11 at 5 a.m. Primarily during the day, from 7 a.m. to 7 p.m.
Downtown
Nature of the work
Pile driving work will take place as part of the construction of the pedestrian tunnel that will connect the REM's new McGill station to the existing metro station. The work will be carried out at the intersection of De Maisonneuve West and McGill College Avenue.
Impacts and mitigation measures
The work will generate noise, dust and obstructions on McGill College Avenue, as described and illustrated in red below.
Northbound: Vehicle traffic will be limited to the Montréal Eaton Centre parking lot entrance.
Southbound: Vehicle traffic will be limited to a single lane between President‑Kennedy Avenue and De Maisonneuve West.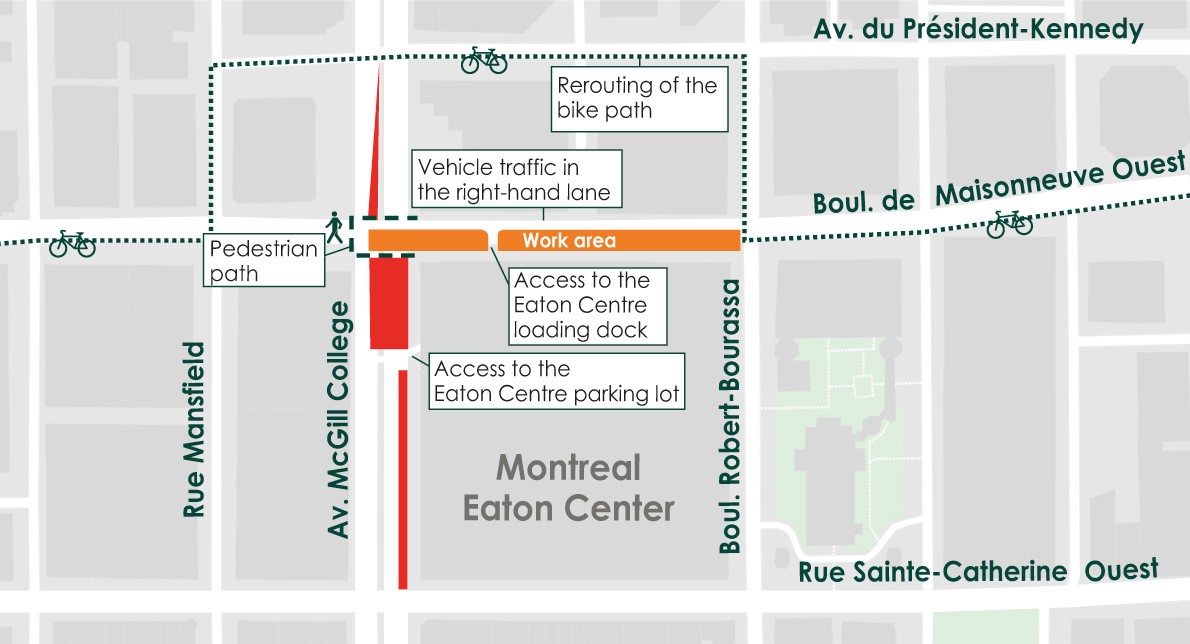 All businesses and office towers will remain accessible during the work, as will the Montréal Eaton Centre parking lot and loading dock. Entrances to the Montréal Eaton Centre and to 1801, 1401 and 1501 McGill College Avenue will remain open at all times and will be clearly marked with signs. 
*Work will be carried out between 7 a.m. and 7 p.m. Work before and after this time period will be necessary to mobilize and demobilize all the elements required to perform the work and to clean up the site.
For all questions | 1 833 REM-INFO
Write us via the contact form of the "Contact us" page. You may contact us by phone on weekdays between 8:00 am and 5:00 pm.