Work schedule
The REM will gradually replace the Deux-Montagnes line in 2024.
The work involves replacing the train with an automated light rail transit system. The tracks and power supply will be changed over 30 km, 12 enclosed stations will be built and 3 connections will be added to the McGill and Édouard-Montpetit stations and the Mascouche line. Existing infrastructure such as the tunnel under Mount Royal and the railway bridges are being renovated and all level crossings will be reconfigured.
The image below presents the planned work inside the Mont-Royal tunnel, starting May 11, 2020.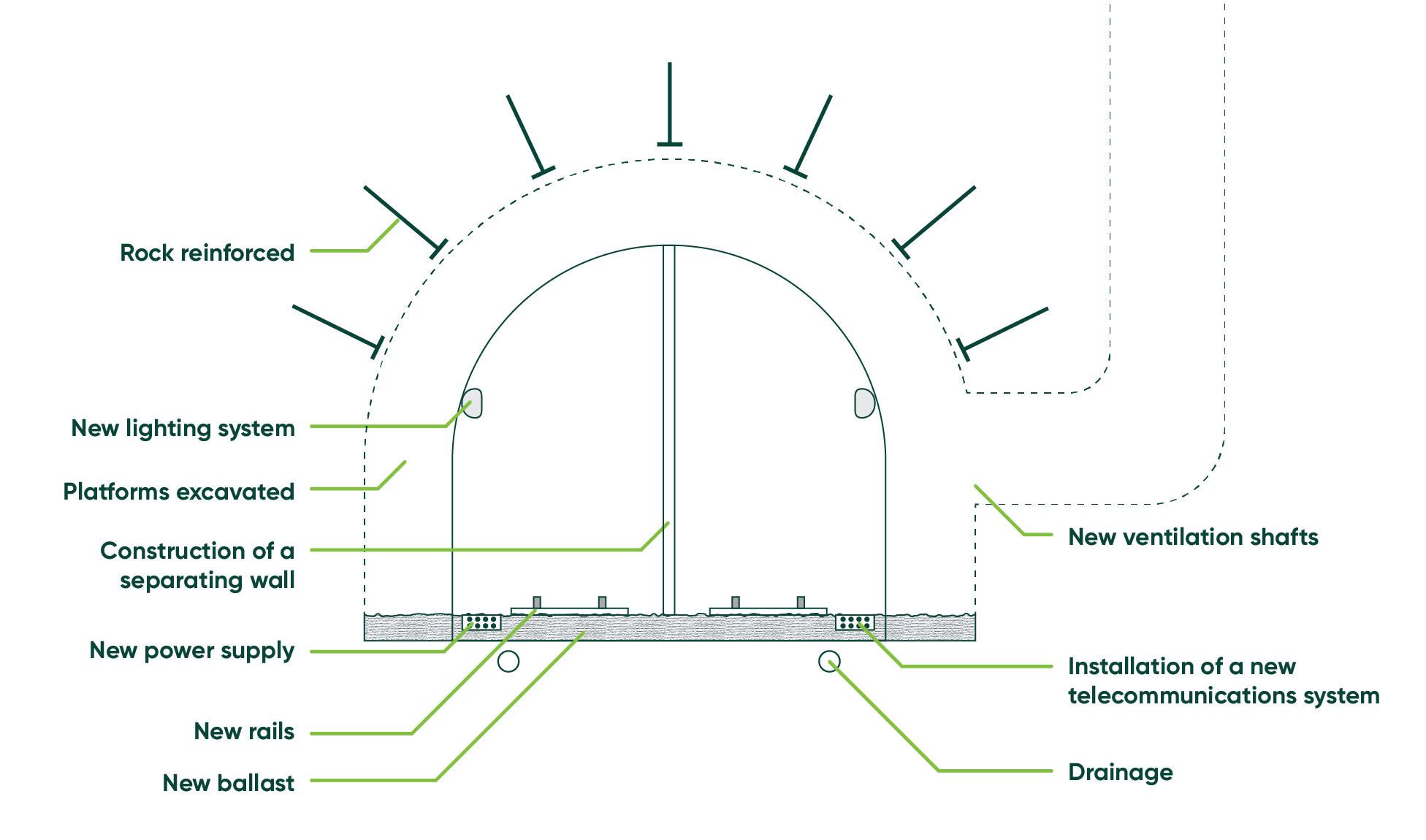 Service interruption sequence on the Deux-Montagnes and Mascouche lines: 
From May 11, 2020 to fall 2024: Closure of the Central station-Du Ruisseau segment (the Deux-Montagnes line stops at Bois-Franc, the Mascouche line stops at Ahuntsic) 
From December 31, 2020 to fall 2024: Complete closure of the Du Ruisseau segment in Deux-Montagnes 
Work explained
The closing of the Mont-Royal Tunnel starting May 2020 and the key modernization phases. 
Station model
Each station will be accessible to people with reduced mobility and will have an elevator. The modern architecture favors materials such as glass and wood to integrate well into their neighbourhoods.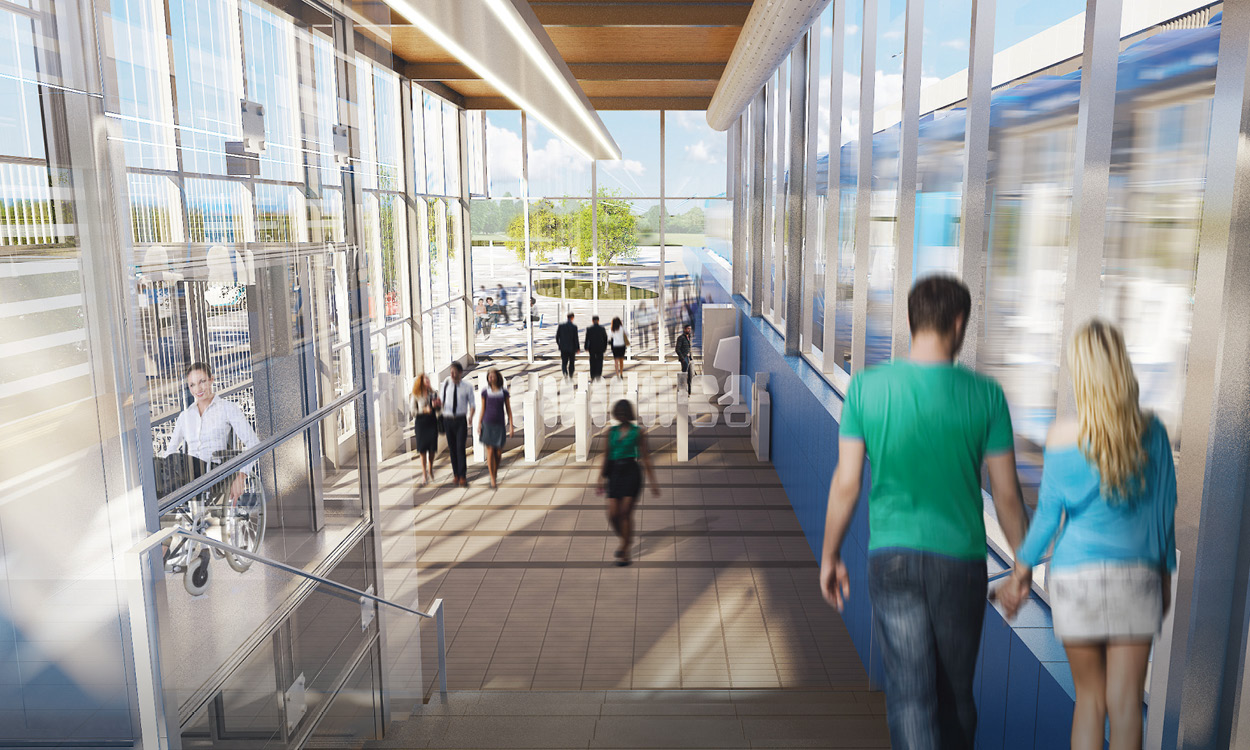 Transitional public transit network
The ARTM, Mobility Montréal and Greater Montréal transit authorities are working together to set up a transitional network during the construction period. Shuttle buses with preferential measures for buses (reserved lanes, priority traffic lights) will be set up and local lines will be improved as of May 11, 2020. 
For users of the Deux-Montagnes line: The measures put forward by all operators favour transfers at Côte-Vertu metro station (the terminus of the orange line's western branch), because of the high level of traffic on the eastern branch between Montmorency and Berri-UQAM. 
 
For users of the Mascouche line: As of May 11, three out of five trains (during rush hour) will be destined for Central station by bypassing Mount Royal. The transitional network also provides for the transfer at Radisson metro station (on the green line), with the implementation of preferential measures for buses.
Note: A trip planner including bus schedules and stops will be available soon on Chrono app.
Complementary measures
On October 7, 2019, the Chamber of Commerce of Metropolitan Montreal, in partnership with REM and the Ministère des Transports, hosted more than 200 representatives of downtown employers to raise awareness of the situation and invite them to explore solutions adapted to their employees that commute with the Deux-Montagnes or Mascouche lines. The forum helped providing an update on the deployment of mitigation measures, sharing best practices, and identifying solutions among small, medium and large companies.
FAQ
REM in service
Departure frequency. The REM will operate 20 hours a day, 7 days a week, with departures every 2 min 30 during peak hours and every 5 min in off-peak hours between Gare Centrale and Bois-Franc. Between Bois-Franc and Deux-Montagnes, trains will depart every 5 min during peak hours and every 15 min in off-peak hours.
Capacity. The capacity on the Deux-Montagnes line will increase significantly. For example, during morning peak hours between 6:00 a.m. and 9:00 a.m., the REM will serve 42,100 people (compared to 17,100 currently).
New connections. The REM will connect to Montréal's three existing metro lines: blue (Édouard-Montpetit), green (McGill) and orange (Bonaventure). You will also be able to get to the Montréal-Trudeau Airport, Technoparc Montréal on the South Shore and the West Island.
Different cars. REM trains are not commuter trains; their cars are more like metro cars from a technological standpoint. REM cars are smaller but will run much more frequently, which explains the significant increase in capacity. The space will be designed for smooth passenger flow at transfer station entrances and exits (poles, bars, wider spaces). Cars will be heated, air conditioned and connected to the Wi-Fi.
Equipped stations. REM stations will be enclosed, covered, climate controlled and sheltered from the elements. You will wait for the REM on a platform separated from the tracks by an automated screen door system (it will no longer be possible to drop objects on or to cross the track; safety and reliability will thus be improved). All stations will have elevators and be accessible to persons with reduced mobility.
The arrival of the REM means that users of the Mascouche line will have to transfer at the Côte-de-Liesse brand-new station, located just past Ahuntsic train station. This station will be expressly designed to ensure smooth transfer of users between the Mascouche line and the REM :
Station equipment will optimize traffic: wide corridors, elevators, shared platform (see the preliminary rending)

As soon as you leave the commuter train, you will walk on a covered platform, then enter a closed station, sheltered from inclement weather

The high frequency of the REM (2.5 minutes during rush hour) will mean fast boarding for users and reduced waiting times
Once aboard the REM, allow 6 minutes to Édouard-Montpetit (blue line), 9 minutes to McGill (green line), 10 minutes to Central Station (orange line) and 15 minutes to Montréal-Trudeau airport.
The Deux-Montagnes line is the busiest in the exo train network, with 30,000 trips daily. It would have required major investment to be able to meet demand satisfactorily. The advent of the REM provided an opportunity to change the line to an automated light-rail system.
The new technology will make it possible to substantially increase train frequency, and thus total capacity: at peak hours, 2.5 times the number of passengers will be able to travel. The REM was designed to handle traffic effectively for many decades to come. The route will also include 3 direct connections with the Montréal métro system. Commuters will have greater flexibility, since they will no longer be obliged to transfer via Central Station:
Deux-Montagnes to Édouard-Montpetit:

29 min

Deux-Montagnes to McGill: 32 min

Deux-Montagnes to Central Station: 33 min
Bois-Franc to Édouard-Montpetit: 12 min

Bois-Franc to McGill: 15 min

Bois-Franc to Central Station: 16 min
Yes, the capacity of the Deux-Montagnes line will be much higher.
REM cars are smaller than MR-90 cars, but run much more frequently due to the high frequency of the light rail metro line. Thus, the REM provides a higher capacity per hour and per day.
For example, during the morning peak period (from 6 to 9 a.m.):
With the REM
Maximum capacity of a metro: 780 passengers
Number of departures from 6 to 9 a.m. : 54 departures (36 at Deux-Montagnes, 18 at Bois-Franc coming from the airport)
780 x 54 = 42,120 passengers
With a MR-90 train
Maximum capacity of a train: 1,900 passengers
Number of departures from 6 to 9 a.m.: 9 departures (6 at Deux-Montagnes, 2 at Roxboro-Pierrefonds, 1 at Bois-Franc)
1,900 x 9 = 17,100 passengers
To learn more, read our article: The REM, seating and capacity
Alternative measures
There are several reasons for the recent service disruptions on the Deux-Montages line.
Since June 25, 2018, REM work has required exo to operate the Deux-Montagnes and Mascouche trains on a single track on a stretch of about 3 km between Montpellier station and the Mont-Royal tunnel. A double track allows trains to pass each other and contributes to smooth operational flow.
Operating on a single track gives exo less leeway in the event of a prolonged incident. Here is an example of the domino effect of a single track:
Medical intervention on July 13, 2018
3:35 p.m.: a passenger on train 939 heading to Deux-Montagnes collapses.

3:37 p.m.: the train has to stop on the single track. An exo inspector begins CPR to resuscitate the passenger.

3:38 p.m.: the departure of train 941 to Deux-Montagnes is delayed.

3:55 p.m.: emergency services arrive at the scene.

4:15 p.m.: emergency services leave the scene. Train 939 can resume operation after being stopped for 39 minutes.

4:50 p.m.: the departure of train 945 to Deux-Montagnes is delayed.

The departures of trains 947, 949, 951, 953 and 957 to Deux-Montagnes are also delayed. Train 946 (to Gare Centrale) is cancelled.

Between 3:00 p.m. and 12:30 a.m., 15 trains left Gare Centrale for Deux-Montagnes. Of these 15 departures, 8 were delayed because the times where they could pass another train on a double track train no longer matched. As a result, that day the order of train traffic had to be changed.

Some trains on the Mascouche line were also affected.
As well, the rail cars on the Deux-Montagnes line, the MR-90, have passed over half of their useful life and are not running optimally due to their advanced age. A mechanical and electrical upgrade of the MR-90 cars has begun. However, since the rolling stock is used to maximum capacity, the crews can only remove a limited number of cars at a time from service to perform the work. As a result, cars that need repairs must be kept in service. Equipment breakdown is one of the reasons for service disruptions.
Planning has evolved and significant constraints have been identified despite our wish to minimize impacts.
Over the past few months, many meetings between the technical teams of REM, exo and NouvLR (joint venture responsible for engineering and construction) were held to examine issues arising out of maintaining traffic while construction was carried out. It became clear that at a certain point in the progress of the work, the nature of the operations would require complete closure of a section of track in order to guarantee the safety of both passengers and construction workers.
The transitional network is managed by the Autorité régionale de transport métropolitain (ARTM) working closely with transit companies. In the summer of 2018, a committee of users of the Deux-Montagnes and Mascouche lines was created by the Trajectoire Québec organization to hear users' concerns and maintain constructive dialogue.
In parallel, together with the ARTM we have organized an ideas forum bringing together 125 public transit users, mobility experts and major employers. The aim is to identify ideas that complement the public transit measures and help users save time in their daily commute. We intend to work with downtown employers on initiatives to be launched shortly.