REM crossing over Saint-Charles Boulevard, Kirkland

Road
June 16, 1 a.m. to June 22, 5 a.m. June 25 to 29 and July 8 to 10, at night*
West Island and Airport
Nature of the work
Road obstructions are planned on and near Saint-Charles Boulevard as part of the construction of the REM's elevated structure on the West Island. This operation will involve installing the segments that will form the REM's deck over Saint-Charles Boulevard. 
Here are the three phases of traffic obstructions**
Phase 1
June 16, 1 a.m. to June 22, 5 a.m.
Complete closure of the ramp on Saint-Charles Nord Boulevard, leading to the 40 West Highway Service highway using the temporary ramp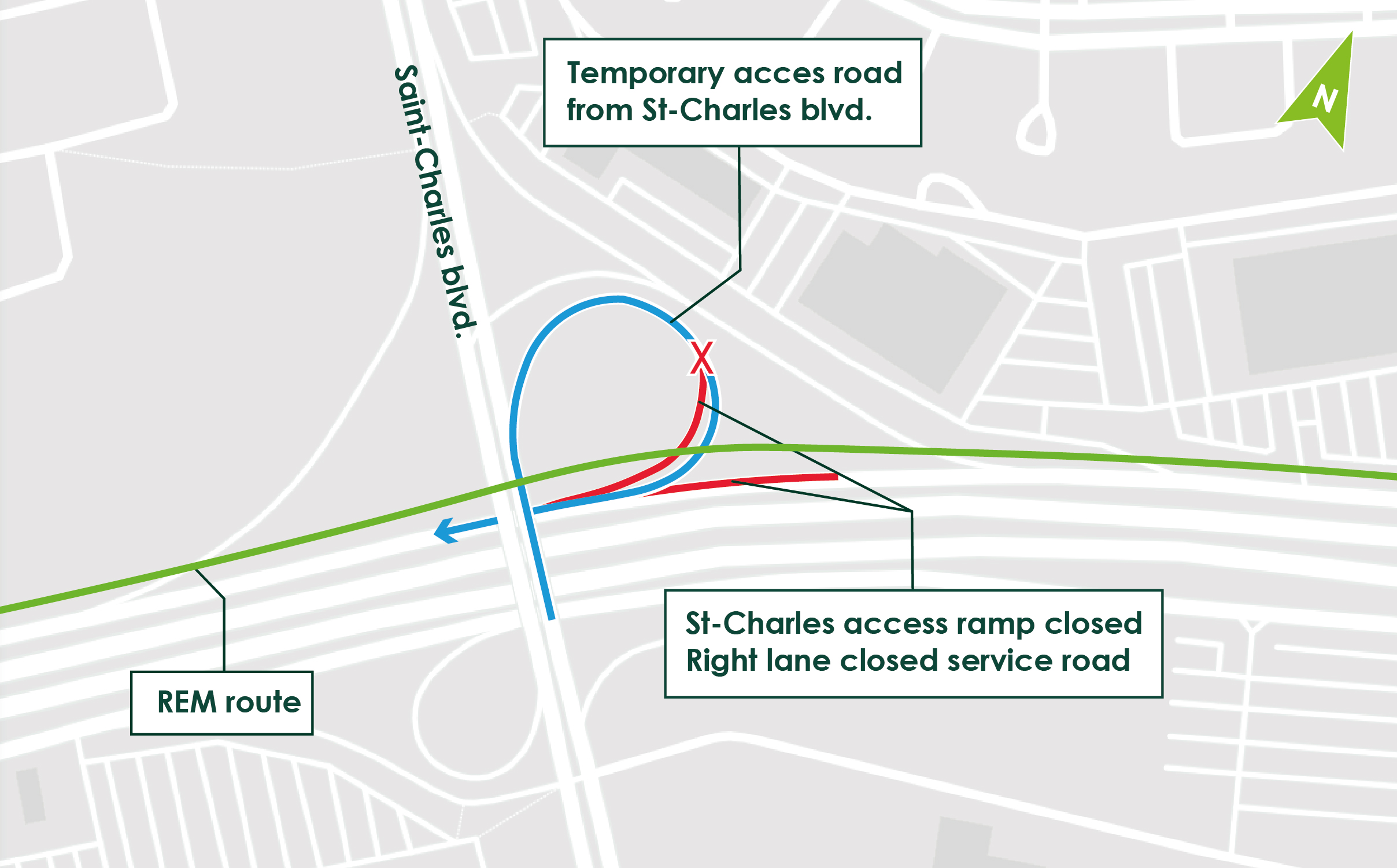 Phase 2
June 25 to 29, 10 p.m. to 6 a.m.
Complete closure of Saint-Charles Boulevard in both directions. Signs will specify the detour to be taken.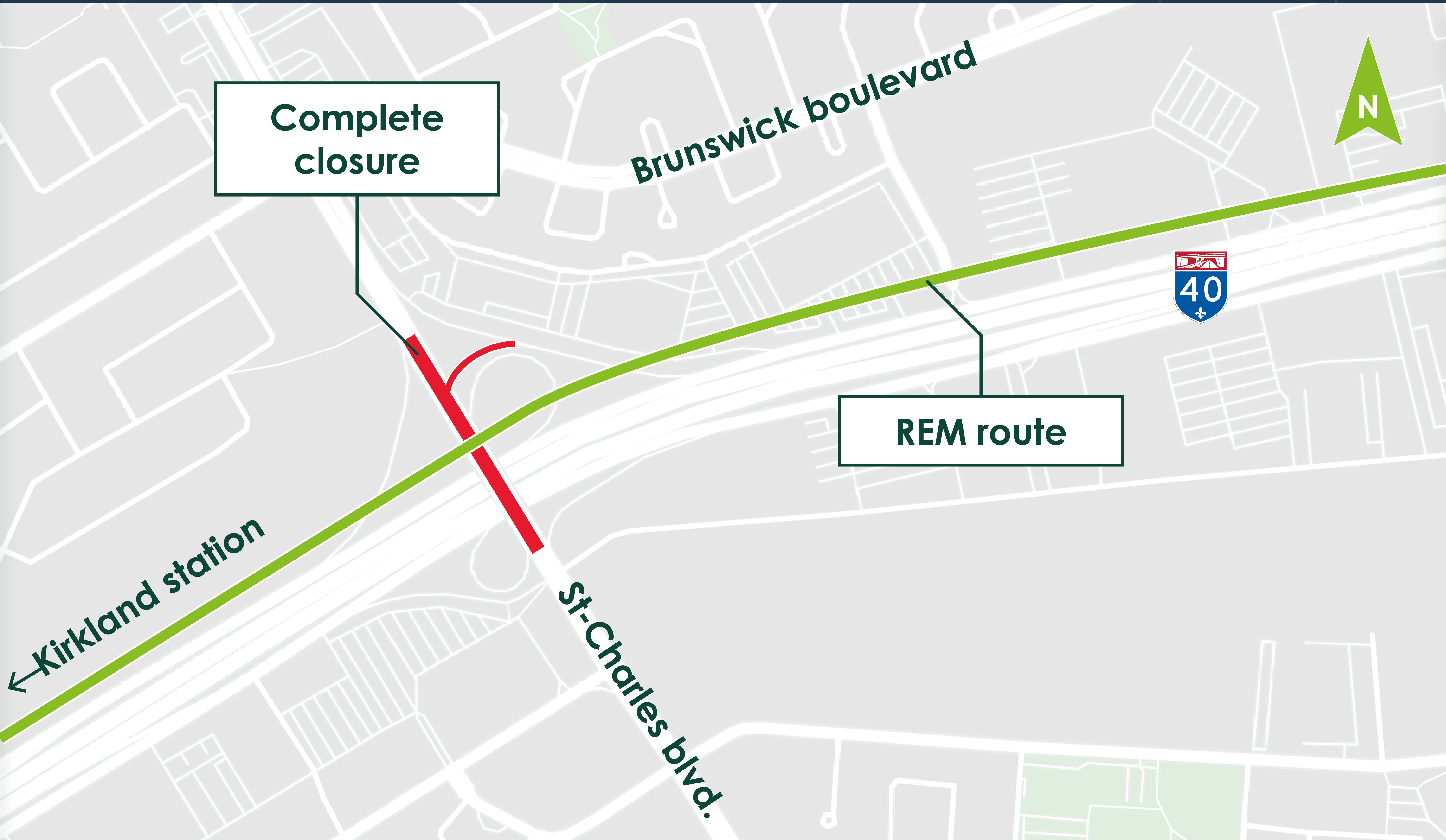 Phase 3
July 8 to 10, 10 p.m. to 6 a.m.
Complete closure of the service road ramp from Highway 40 West to Saint-Charles Boulevard North. Signs will specify the detour to be taken.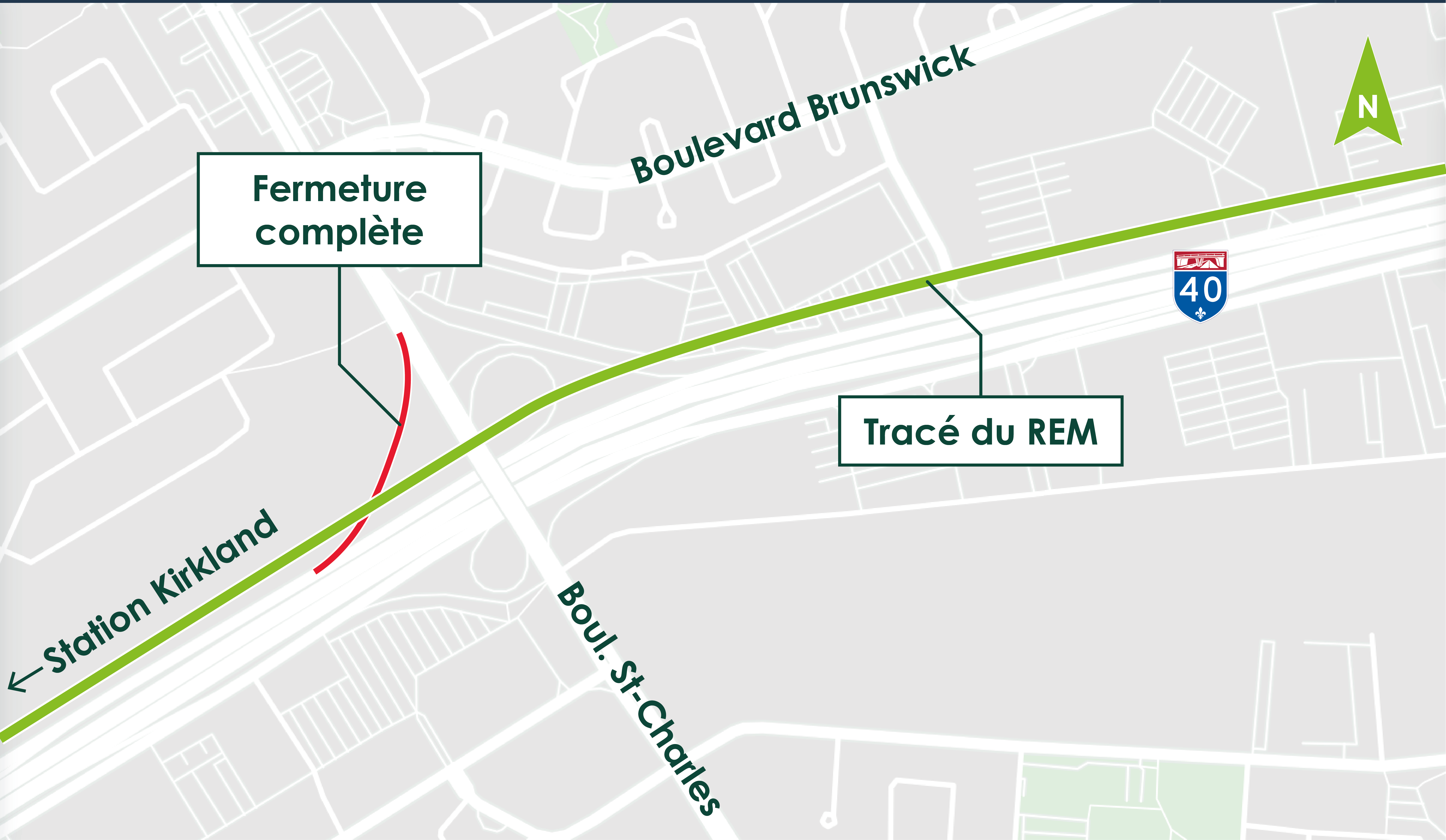 Anticipated impacts and mitigation measures:
Just as for any construction site, the work will generate noise, vibrations, dust, heavy truck traffic and traffic disruptions. Mitigation measures will be implemented to minimize the impacts. The REM project office and NouvLR consortium's goal is to prevent or minimize impact on surrounding residents as much as possible and ensure safety by implementing all appropriate measures
*Work will take place mainly from 11 p.m. to 5 a.m. Work before and after this time period will be necessary to mobilize and demobilize all elements required to carry out the work and to clean up the site. However, due to the nature of the activities being performed, work cannot be interrupted while it is in progress; it must be completed so as to maintain the integrity of the existing infrastructure. Should this situation arise, the work period will be extended to complete the work already begun.
** The current sequence and set dates are subject to change without notice.
For all questions | 1 833 REM-INFO
Write us via the contact form of the "Contact us" page. You may contact us by phone on weekdays between 8:00 am and 5:00 pm.