Complete closure of Highway 40 West service road

Road
July 31 to August 3, August 7 and 8, August 21 to 24, August 29 Day and night
West Island and Airport
Nature of the work
The Highway 40 West service road will be closed near Saint-Jean Boulevard for three consecutive weekends because of gantry installation work.
A gantry, a portion of the elevated structure supported by two pillars, will be installed to help support loads. The gantry will be installed on either side of the Highway 40 West service road in anticipation of further construction of the elevated structure.
Detour options
A detour will be possible via Tecumseh and Selkirk Avenues and Brunswick Boulevard.
Another detour route will be possible via Saint-Jean Boulevard, Labrosse Avenue, Selkirk Avenue and Brunswick Boulevard.
An optional route will also be accessible via Highway 40 westbound.
The work schedule is as follows*
Scheduled obstructions

Work

July 31 at 10 p.m. to August 3 at 5 am 

Phase 1
Mobilization of site
Lifting of gantry

August 7 at 10 p.m. to August 8 at noon

Phase 2
Concreting of structure

August 21 at 10 p.m. to August 24 at 5 a.m.

Phase 3
Removal of structure
Cleanup of site

August 29, 7 a.m. to 3 p.m.

Phase 4
Concrete finishing work
*The current sequence and dates are subject to change without notice.
The map below illustrates where traffic disruptions will occur as well as the detour routes during the complete closure of the Highway 40 West service road: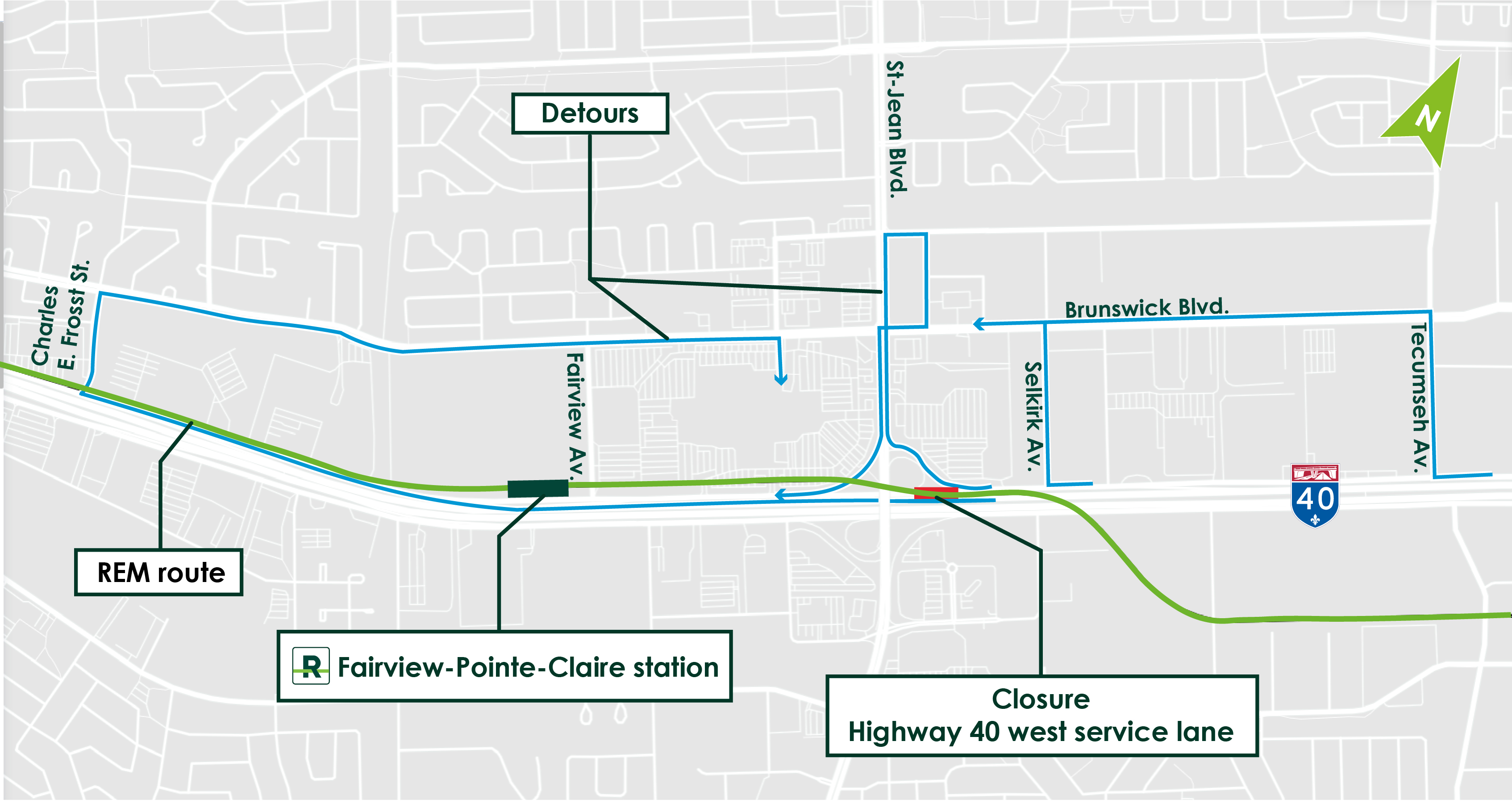 Anticipated impacts and mitigation measures
As with any construction site, the work will generate impacts such as noise, vibration, dust, heavy truck traffic and traffic disruptions. Mitigation measures will be implemented to minimize these impacts. The REM project office and the NouvLR consortium will endeavour to prevent or minimize the impact on surrounding residents as much as possible and ensure safety by implementing all appropriate measures.
For all questions | 1 833 REM-INFO
Write us via the contact form of the "Contact us" page. You may contact us by phone on weekdays between 8:00 am and 5:00 pm.