Construction of a new bus access ramp near the Chevrier tunnel

Road
From October 3 to the end of November Mainly on weekdays, from 7 a.m. to 5 p.m.
South Shore
Where : Close to the existing Chevrier tunnel access ramp
Nature of the work
The Réseau express métropolitain (REM) is the largest public transit project launched in Québec in the last 50 years. This fully automated electric light rail system will include 26 stations and 67 km of tracks across Greater Montréal.
The route of the future Réseau express métropolitain (REM) will run along the Highway 10 median. To allow for the construction of the right-of-way and infrastructure required for the REM, the Chevrier tunnel will remain closed until spring/summer 2019. A new access ramp will be built to ensure efficient access for buses travelling west on Highway 10, from Lapinière Boulevard.
Work will begin on October 3 and continue until the end of November. Most of the work will be carried out on weekdays during daylight hours. However, to minimize the effects on road users and to ensure the safety of workers, some work, such as connecting the roadway to the existing traffic lanes, will need to be carried out at night, from 9:30 p.m. to 5 a.m., and at weekends, from 7 a.m. to 5 p.m.
The work includes the following activities:
Earthwork
Installation of temporary lighting
Drainage system work
Roadway construction, marking and connection work
Impacts and mitigation measures
A segment of the right shoulder along Highway 10 westbound to Montréal will be blocked off for the duration of the work.
This work may generate noise and dust. To minimize the impact of dust, granular surfaces will be sprayed with water.
The map shows the area conserned: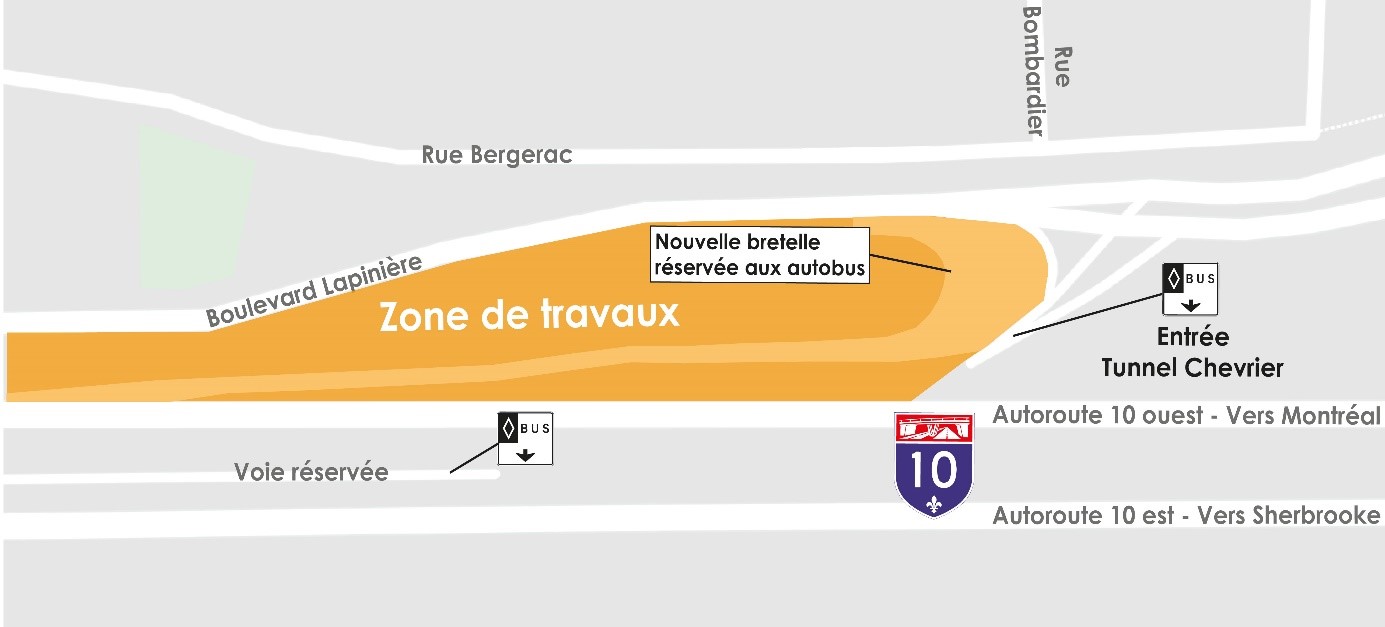 Work will be carried out between 7 a.m. and 5 p.m. Work before and after this time period will be necessary to mobilize and demobilize all the elements required to perform the work and to clean up the site.
Due to the nature of the activities being performed, work cannot be interrupted while it is in progress, and must be completed so as to maintain the integrity of the existing infrastructure.
For all questions | 1 833 REM-INFO
Write us via the contact form of the "Contact us" page. You may contact us by phone on weekdays between 8:00 am and 5:00 pm.