Night work on the elevated structure to the south of the Lachine Canal

Construction activities
Beginning mid-August 2019, until spring 2020 Day and night *
Montréal (Downtown)
Nature of the work
Construction began in fall 2018 to build an elevated structure to allow the REM to go through this sector. 
The first pillars in the Lachine Canal are visible, along with the beams that were installed in the spring. However, starting in mid-August 2019, regular night work will be required in coordination with Canadian National (CN) railway traffic.
This work is necessary in order to finalize the elevated structure in this sector:
Lachine Canal bridge : Deck formwork, concreting of the deck and edges, deck stripping
Elevated structure (between Lachine Canal and Bridge Street): Construction of pillars (caissons, columns, pierheads), installation of beams and prefabricated deck
Once completed, this structure will support the installation of the tracks and electrical system on which the REM will run.
Further communications will follow based on work progress. To keep up to date on upcoming work, sign up for our newsletter. 
Impacts and mitigation measures 
The work done at night requires lighting towers for the health and safety of workers and to ensure that the work goes smoothly. In order to minimize disturbance to surrounding residents and to avoid blinding CN trains, the direction of the lights will be adjusted.
The work will generate noise and dust. Environmental experts will conduct monitoring to ensure project criteria are met. Mitigation measures will be implemented where possible.
Trucks will be in the area delivering the materials needed for the work. Depending on the type of delivery, brief traffic disruptions may occur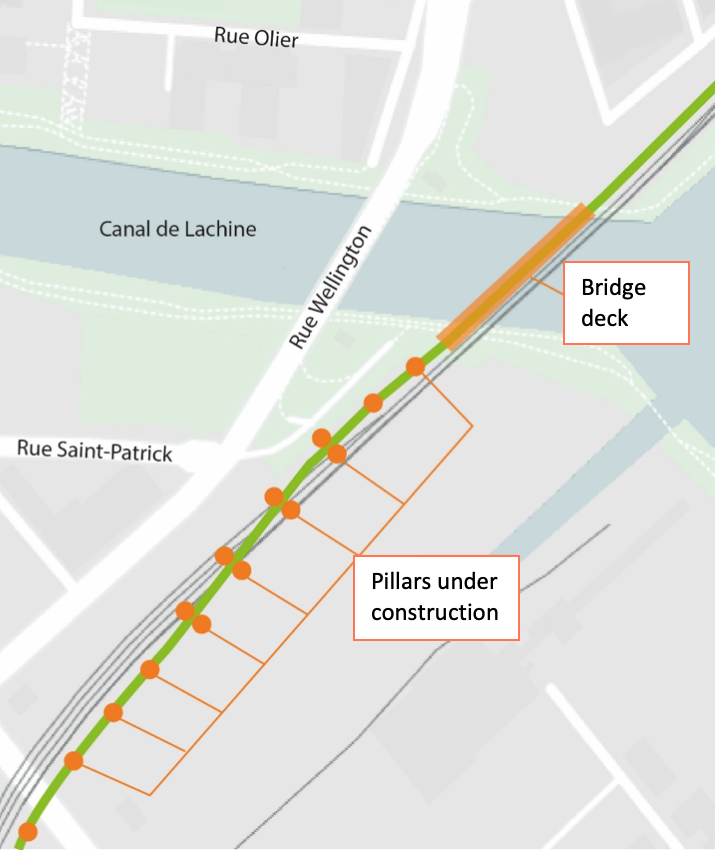 For all questions | 1 833 REM-INFO
Write us via the contact form of the "Contact us" page. You may contact us by phone on weekdays between 8:00 am and 5:00 pm.