Mobilization of logistics zone near Canora station

Construction activities
August 1-7 From 7 am to 7 pm
Montréal (Centre and Airport)
Nature of the work
From August 1 to August 7, the logistics zone required for the construction site at the future Canora REM station will be gradually mobilized. The zone will be located on Dunkirk Road, between Jean Talon Street West and the adjoining bike path (between Glencoe and Kirkfield Avenues). The activities planned for this period include delivery of material and equipment, installation of a construction trailer and signage, as well as work safety and mitigation measures. The logistics zone will be maintained during the construction of the future Canora station. 
Impact and measure mitigations
The logistics zone will be surrounded by concrete barriers and fencing as a safety measure.
Kirkfield Avenue will remain open to local traffic and will allow continuous access to the L'Ombrière shop.
Dunkirk Road will be closed. Pedestrians and cyclists coming from Jean-Talon West will be redirected to a temporary sidewalk that runs along the south side of Dunkirk Road to Kirkland Avenue.
To minimize the number of trucks using the neighbouring streets, the bike path (between Glencoe and Kirkfield) will be used for storing and moving materials. It will be closed during the work as a safety measure.
Delivery trucks will access the logistics zone using Jean Talon West.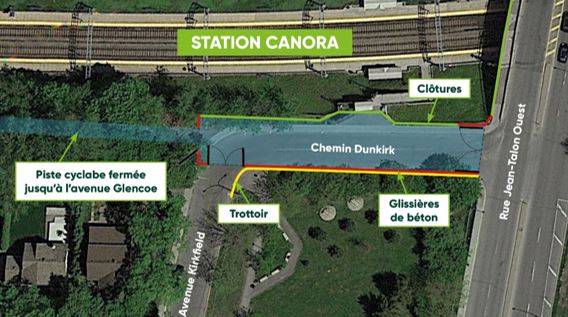 For all questions | 1 833 REM-INFO
Write us via the contact form of the "Contact us" page. You may contact us by phone on weekdays between 8:00 am and 5:00 pm.