Work on Leduc Boulevard and Malo Avenue for the REM's elevated structure

Road | Major | During the night only
Fall 2019 Day and night
South Shore
Nature of the work
Work continues on the elevated structure in the centre of Highway 10, in the middle of which the REM will run. This work is being carried out between Leduc Boulevard and Malo Avenue, beneath Highway 10, and will last several more weeks.
Here is a recap of the upcoming steps:
Étapes

Horaires

Construction of pillars on Malo Avenue and Leduc Boulevard

Primarily during the day 
Occasionally at night (9 p.m. to 5 a.m.) until November

Strenghtening of the Highway 10 overpass

Occasionaly at night
Between 9:30 p.m. and 5:30 a.m., until November

Above the CN tracks: partial demolition of the shoulders of the Highway 10 overpass  

Day and night
Between approximately 3 a.m. and 4 p.m. until early November
This work will be carried out at night, in coordination with Canadian National (CN). Other Works Info notices will follow to keep you informed about subsequent phases.
Impacts and mitigation measures
The complete closure of Malo Avenue must be extended until mid-December.
Occasional complete closures at night between 9:30 p.m. and 5:30 a.m will be necessary on Leduc Boulevard.
For the demolition above the CN tracks,road traffic toward the DIX30 and Lapinière Boulevard will be maintained at all times. On-site signallers will guide pedestrian and bicycle traffic around the work site.
Detours will be provided with appropriate signage.
This work will generate noise, vibrations and dust. Environmental experts will monitor noise and air quality to ensure that project criteria are met. Mitigation measures will be put in place as needed.
The following map shows the work zone: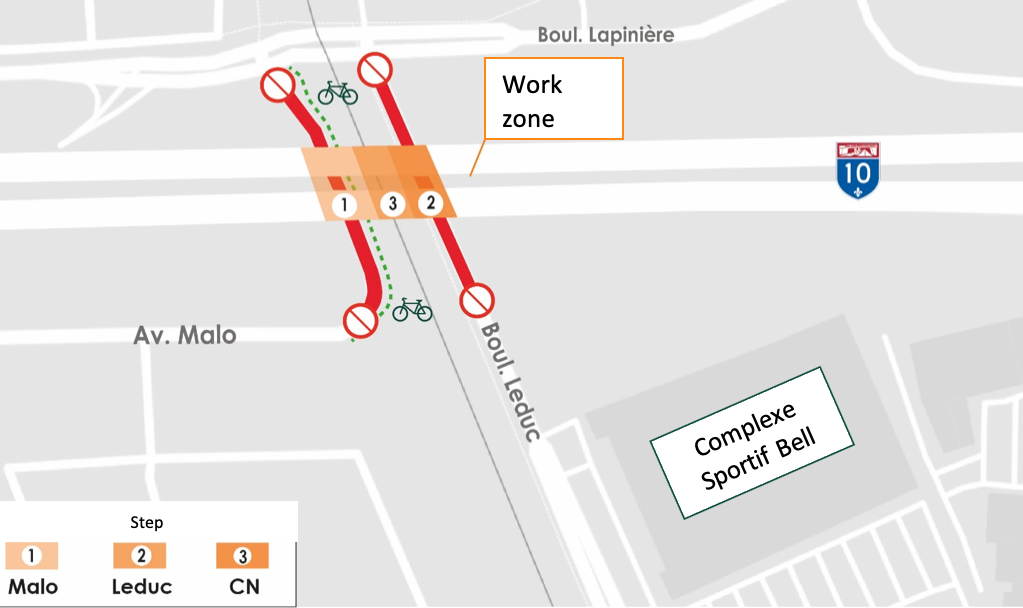 * Due to the nature of the activities being performed, work cannot be interrupted while it is in progress, and must be completed to ensure integrity of the existing infrastructure is maintained. Should this situation arise, the work period will be extended to complete the work already begun.
For all questions | 1 833 REM-INFO
Write us via the contact form of the "Contact us" page. You may contact us by phone on weekdays between 8:00 am and 5:00 pm.