Redevelopment of Exit 8 on Highway 10 East

Road
Starting November 6, continuing into December On weekdays, from 7 a.m. to 5 p.m.
South Shore
Where: Ramp for exit 8 from Highway 10 East to Taschereau Boulevard
Nature of the work
As part of the work carried out by the Réseau express métropolitain (REM), interim measures must be implemented to facilitate car and bus traffic. These measures include a new reserved bus lane and two new traffic lanes on the ramp for exit 8 from Highway 10 East to Taschereau Boulevard.
The purpose of this work is to reconfigure the ramp intersection. A new reserved bus lane will be created to enable buses to directly access the lane to the Panama terminal. The central island will also be modified to facilitate left turns for buses. Lastly, two traffic lanes will be created to replace the existing exit ramp. In the spring of 2019, traffic will be rerouted to these new lanes. 
The work includes the following activities:
Earthworks and excavation
Installation of temporary lighting and relocation of traffic lights
Demolition of the central island
Roadway construction, connection and marking
Impacts and mitigation measures
These new lanes will be built in the median between Highway 10 and the ramp. As a result, the left shoulder of the exit 8 ramp from Highway 10 East will be obstructed throughout the work.
In order to make the changes to the central island, a portion of the left lane of Taschereau Boulevard will be closed in both directions. The lanes will be rerouted to the right to prevent obstructing Taschereau Boulevard.
This work will generate noise and dust. In order to ensure the project's noise and air quality criteria are met, monitoring by environmental experts will take place throughout the work. Mitigation measures may be implemented if necessary.
The following map shows the area concerned: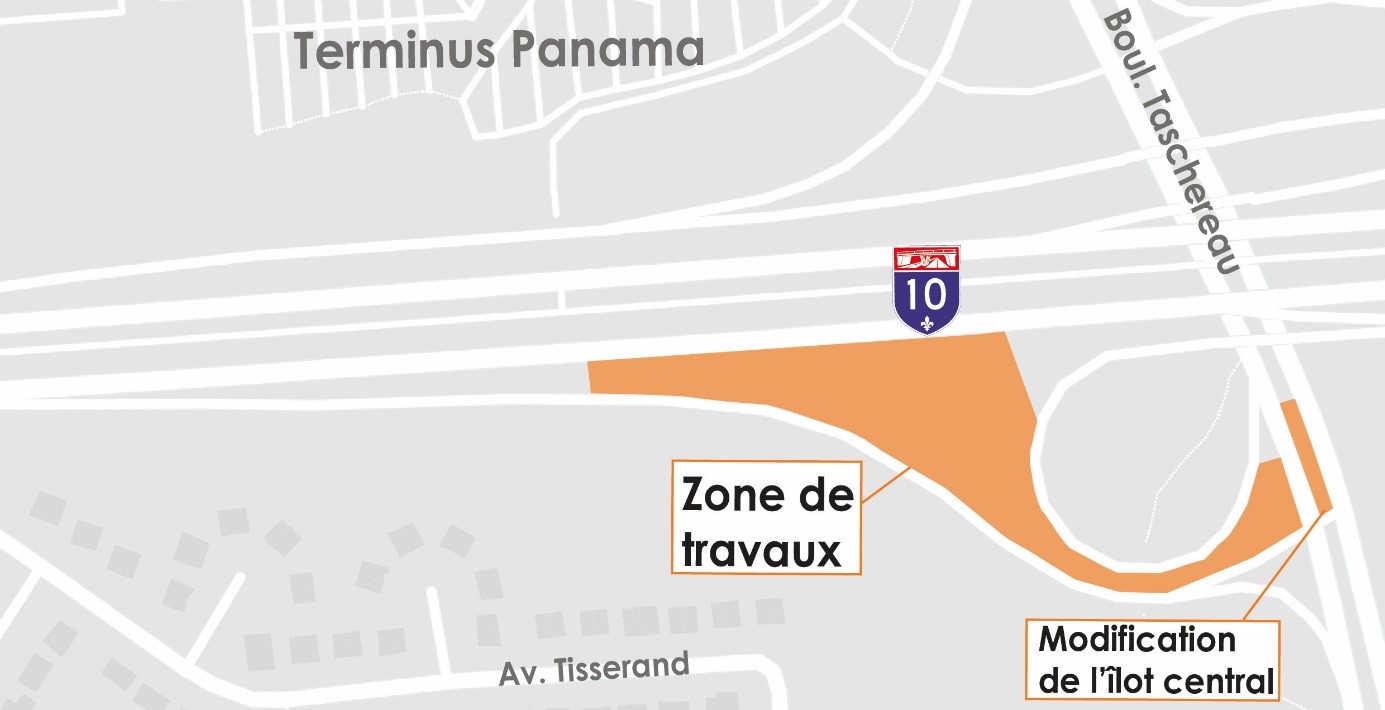 Work will be primarily carried out between 7 a.m. and 5 p.m. Work before and after this time period will be necessary to mobilize and demobilize all the elements required to perform the work and to clean up the site. Night work will also take place to pave the roadway. In addition, the duration of the work may vary according to weather conditions.
Due to the nature of the activities being performed, work cannot be interrupted while it is in progress; it must be completed so as to maintain the integrity of the existing infrastructure.
For all questions | 1 833 REM-INFO
Write us via the contact form of the "Contact us" page. You may contact us by phone on weekdays between 8:00 am and 5:00 pm.