Second phase of construction for the REM's McGill station

Road
À partir du 14 janvier 2019 jusqu'au printemps 2019 Majoritairement de jour, en semaine, de 7 h à 19 h
Downtown
Nature of upcoming work
The second phase of construction on the Réseau express métropolitain's McGill station will begin January 14, 2019. This phase involves building the pedestrian tunnel that will link the existing metro station to the REM's new McGill station. This underground tunnel will be located under De Maisonneuve Boulevard West. 
The work will be on De Maisonneuve Boulevard West between Robert-Bourassa Boulevard and McGill College Avenue and will include the following steps:
Excavation of tunnel
Pile driving
Concrete work in the tunnel
After this phase, the work will continue until the planned commissioning in 2022. The third phase of the work, which will begin in spring 2019, will mark the start of excavation of the McGill station on McGill College Avenue. A detailed Works info will be released before the work begins.
Impacts and mitigation measures
The work will generate noise and dust. Obstacles to vehicle, pedestrian and cyclist traffic will be set up**, as described and presented below:
On De Maisonneuve Boulevard West: Vehicle traffic will be possible on the right-hand lane and access to the sidewalk on the south side will be limited for pedestrians
On McGill College Avenue: Vehicle traffic will be limited to a single northbound lane on the east side
The bike path will be blocked off between Robert-Bourassa Boulevard and McGill College Avenue. It will be rerouted to President-Kennedy Avenue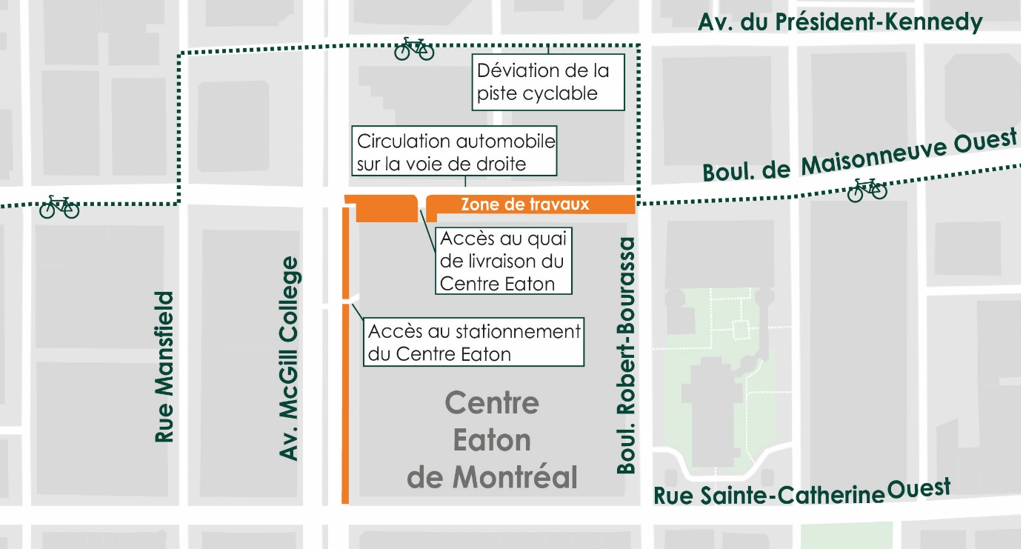 Furthermore, the work may generate a few occasional obstructions at night or on weekends on De Maisonneuve West at the corner of McGill College Avenue. Specific Works Info notices will be released for these obstructions, as need be.
All businesses and office towers will remain accessible during the work, as will the Montréal Eaton Centre parking lot and loading dock. Entrances to the Montréal Eaton Centre and to 1801, 1401 and 1501 McGill College Avenue will remain open at all times and will be clearly marked with signs. 
*Work will be carried out between 7 a.m. and 7 p.m. Work before and after this time period will be necessary to mobilize and demobilize all the elements required to perform the work and to clean up the site. **For information purposes only. The obstacles described and presented are subject to change.
 
For all questions | 1 833 REM-INFO
Write us via the contact form of the "Contact us" page. You may contact us by phone on weekdays between 8:00 am and 5:00 pm.