Construction activities
March 9 to 25, 2019
North Shore
Where: near Ile-Bigras and Sainte-Dorothée stations
Nature of the work
NouvLR, the consortium in charge of building the Réseau express métropolitain (REM), will begin trees cutting work, from March 9 to 25 in preparation for construction work slated to begin later this fall. 
The REM project aims to integrate harmoniously with its immediate surroundings, which is why more than 85% of the work will be carried out on public domain, on existing road and railway rights-of-way. However, some brush clearing and deforestation work will be realized in two sequences, between March 9th to 25th and after August 15th, which are necessary so the REM rail infrastructure, stations and access roads can be constructed. In the next few weeks, branch removal and tree and shrub cutting will take place in your sector. 
Mitigation measures
Work will be performed outside the nesting season (April 1st to August 15th), in order to avoid any impact on birds, their nests and eggs

These activities will be supervised and coordinated by our environmental experts, and will follow industry best practices and applicable standards and regulations

At-risk plant species and trees will be relocated or compensated with new plantings

Through a reforestation program, the same number of trees that were cut in temporary construction zones will be replanted, and an additional 10% will be planted in the municipal territory or borough where the trees were cut

Through a voluntary partnership with Jour de la Terre and the 375000arbres.org program, 250,000 trees will be planted to compensate for the GHG emissions produced during the construction phase. 
The image below shows every sites where cleanup work is required throughout the year: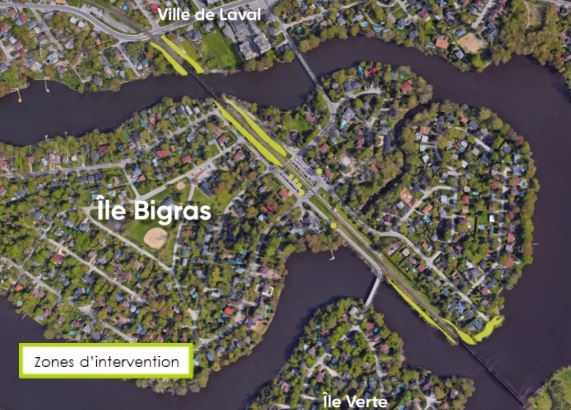 For all questions | 1 833 REM-INFO
Write us via the contact form of the "Contact us" page. You may contact us by phone on weekdays between 8:00 am and 5:00 pm.