Work on Marc-Cantin street

Road
From September 26 2018 to end of 2019 Daytime, on weekdays, between 7 a.m. and 5 p.m.
Montréal (Downtown)
Where : On Marc-Cantin Street
Nature of the work
The route of the future Réseau express métropolitaine will pass over Marc-Cantin Street, requiring the construction of an elevated structure.
The work in this sector will be carried out in two main phases, as presented below, and will continue until the end of 2019.
Phase 1 : Preparation of the site - end of September 2018 to the end of October 2018
Start of the relocalisation of public utilities
Excavation for the expansion and rerouting of Marc-Cantin Street, to the east of Fernand-Séguin Street (completed in phase 2)
Start of drilling
Brush clearing and cutting of trees and shrubs along Marc-Cantin Street and north of Fernand-Séguin Street
Phase 2 : Construction of foundations for the elevated structure - end of October 2018 to end of 2019 
Minor rerouting of Marc-Cantin Street toward downtown, to the east of Fernand-Séguin Street, to free up a work space
Relocation of public utilities continues
Installation of piles by drilling
Installation of caissons for the elevated structure's pillars
Impacts and mitigation measures
This work will create noise and dust as well as require the frequent use of trucks. In order to ensure the project's noise and air quality criteria are met, monitoring by environmental experts will take place throughout the work. Mitigation measures may be implemented if necessary.
East of Fernand-Séguin Street, Marc-Cantin Street will be partially closed; motorists will only be able to go toward downtown.
The lane reserved for buses is permanently closed.
The brush clearing and cutting of trees and shrubs will be overseen and coordinated by our environmental experts and carried out in keeping with industry best practices and applicable standards and regulations. Work will take place outside of the nesting period and at-risk plant species and trees will be relocated or compensated with new plantings.
A reforestation program has been planned under which the trees that were cut in temporary construction zones, plus an additional 10%, will be replanted in the same municipal territory or borough. A voluntary partnership with Jour de la Terre and the 375000arbres.org program will also be entered into. Thanks to the program, 250,000 trees will be planted to offset the GHG emissions produced during the construction phase.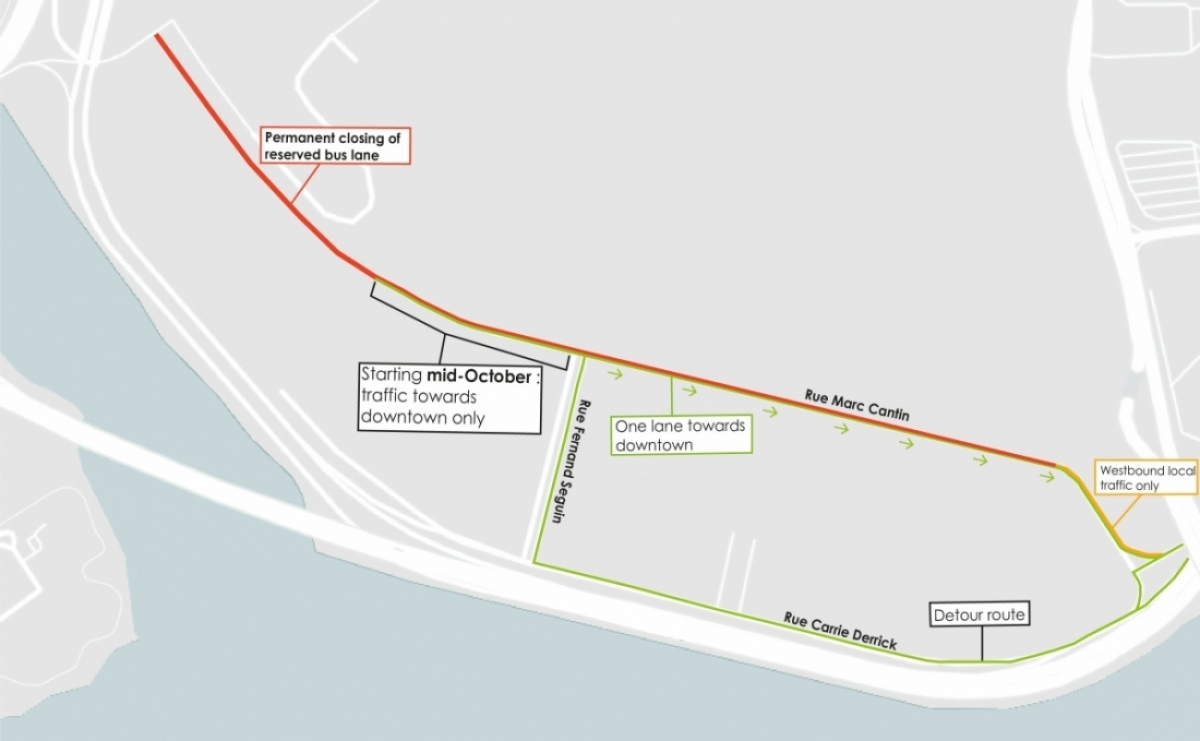 Work will be carried out between 7 a.m. and 5 p.m. Work before and after this time period will be necessary to mobilize and demobilize all elements required to carry out the work and to clean up the site.
Please note that due to the nature of the activities being perfomed, work cannot be interrupted while it is in progress, and must be completed to ensure integrity of the existing infrastructures is maintained. Should this situation arise, the work period will be extended to complete the work already begun.
For all questions | 1 833 REM-INFO
Write us via the contact form of the "Contact us" page. You may contact us by phone on weekdays between 8:00 am and 5:00 pm.