Work at Mont-Royal station

Construction activities
August 11-12 From 7 a.m. to 10 p.m.
Montréal (Centre and Airport)
Nature of the work
On August 11 and 12, drilling will be done to build deep foundations for the installation of new catenary poles scheduled for the following weekend, August 18 and 19. A catenary is an aerial device consisting of a series of messenger wires and contact lines providing a train's power supply. This important step will allow us to maintain current train service and to continue the work for setting up the construction site. 
Noisy work will be carried out between 7 a.m. and 7 p.m.*. Work before and after this time period will be necessary to mobilize and demobilize all elements required to carry out the work and to clean up the site.
Impacts et mesures d'atténuation
Traffic and parking:
Trucks will be travelling on the railway right-of-way to transport equipment and materials. Truck drivers will be made aware that the work is being performed in a residential area.
A drill and other equipment will be transported using the right-of-way by the entrance to the work site located at the corner of Canora Road and Jasper Avenue.
The parking spaces on Canora Road (north side) at the corner of Cornwall Avenue will be inaccessible from 5 p.m. on August 10 to 5 a.m. on August 13, due to equipment delivery.
The Lazard pedestrian bridge is closed for the entire weekend. It will be open to pedestrians Monday morning.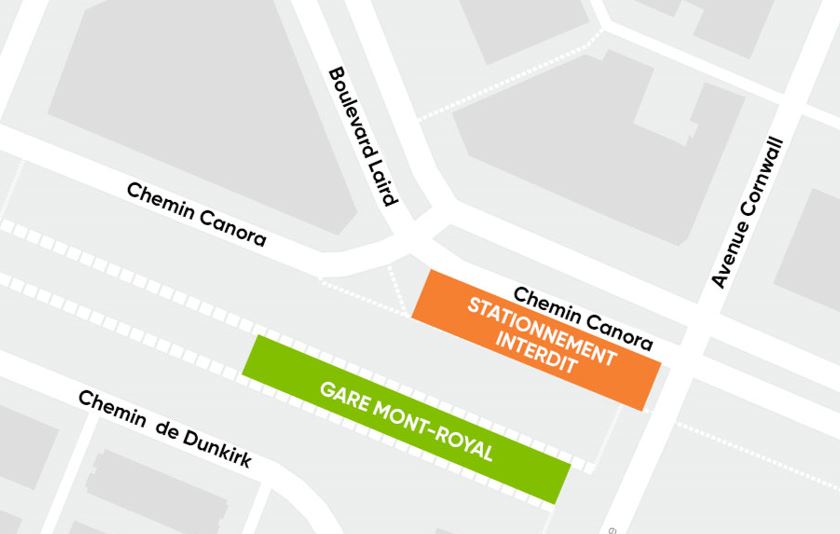 Sound levels:
Given the nature of the operation and the use of a drill and compressors, the work will generate a high level of noise in the area.
Sound level monitoring will be conducted by the teams at the site.
Measures designed to mitigate noise at the source will be used on certain equipment where possible.
* Due to the nature of the activities being performed, work may be interrupted while it is in progress and may have to be completed after 7 p.m. to ensure the integrity of existing infrastructures. Should this situation arise, the work period will have to be extended to complete the work already begun and to ensure train service on Monday morning. 
For all questions | 1 833 REM-INFO
Write us via the contact form of the "Contact us" page. You may contact us by phone on weekdays between 8:00 am and 5:00 pm.