Construction of the Montpellier Station

Construction activities
In progress on weekdays, from 7 a.m. to 7 p.m. and occasionally on weekends
Centre of Montréal
Nature of the work
The Réseau express métropolitain (REM) is a new automated light rail network. It will include 26 stations and span the greater Montréal area with 67 km of tracks. The REM will gradually replace the Deux-Montagnes line.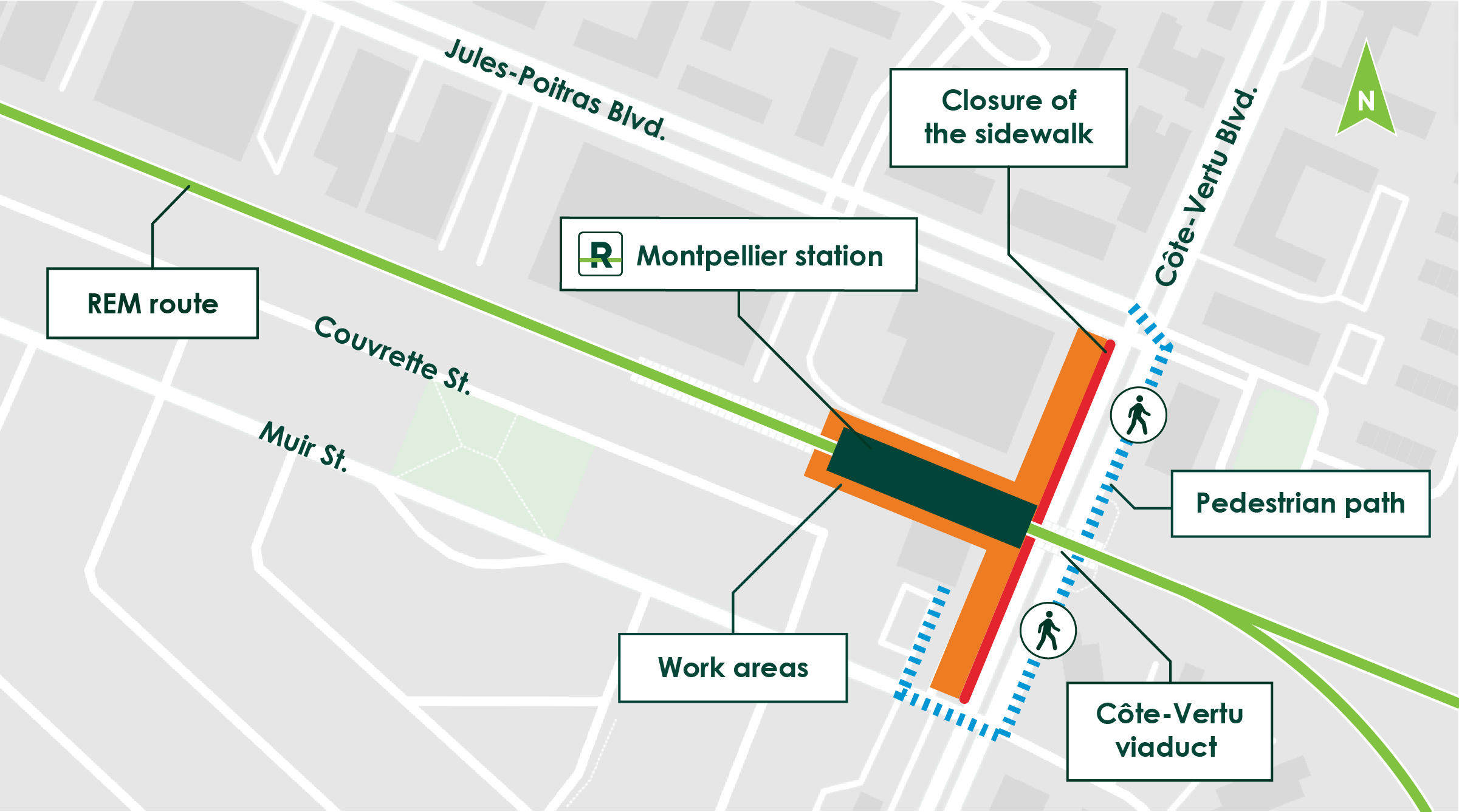 Here is an overview of the work to come for the next few months (Dates subject to change): 
 2021 schedule

  Work

Summer 

Continuation of the construction of the station

Continuation of work on the interior of the building
Installation of rails
Installation of platform doors at the platform level
Connection to the municipal aqueducts

Fall to winter 

Work mostly inside the station

Exterior landscaping work
Interior finishing with ceramic tiles and paint
Impacts and mitigation measures
The goal of the REM project office and the NouvLR consortium is to mitigate the impact on local residents and ensure everyone's safety by taking all appropriate measures.
Flaggers will be at the exit of the construction site to ensure safety.
Street cleaning will be carried out if necessary.
Closure of the north sidewalk of Côte-Vertu Boulevard for the duration of the work.
This work may generate noise, vibrations and dust.
*Work will take place from 7 a.m. to 7 p.m. Work before and after this time period will be necessary to mobilize and demobilize all elements required to carry out the work and to clean up the site. Noisy activities will be concentrated in the daytime and evenings. In addition, work before and after this time period, or on the weekend, may be necessary.
For all questions | 1 833 REM-INFO
Write us via the contact form of the "Contact us" page. You may contact us by phone on weekdays between 8:00 am and 5:00 pm.