Construction of REM station Édouard-Montpetit

Construction activities
As of July 23, 2018 On weekdays until the end of September and on days, evenings and nights thereafter
Montréal (Downtown)
Where: REM station Édouard-Montpetit, in front of Pavillon Marie-Victorin (Université de Montréal).
Nature of the work
The NouvLR consortium will complete the construction work for station Édouard-Montpetit. This will require digging rock and building the entire infrastructure for the station. Work will begin in late July and continue until 2022.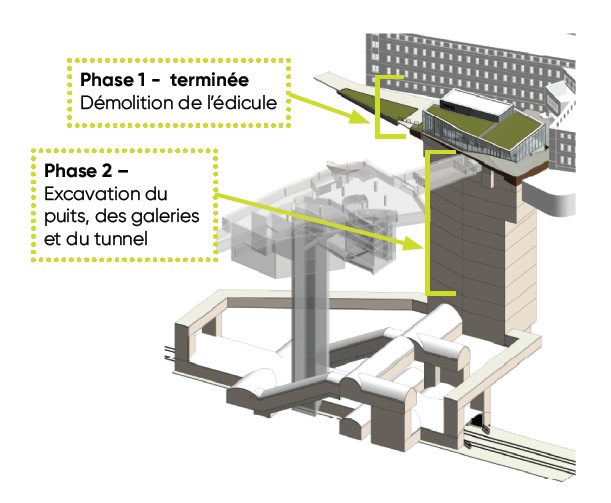 Progress of the work
The first phase is now completed. As of mid-February, excavation of the station's shaft has reached a depth of almost 20 metres. The controlled micro-blasting operations that take place from this point forward are underground, with no existing infrastructures interfering with the work (metro tunnel or the City's infrastructures).From September 2018 to fall 2019, phase 2 of construction will take place. This phase involves excavating the shafts, galleries and tunnel for the future REM station.
The excavation will include the following work:
Starting September 17: start of drilling
From October 22nd: start of the controlled blasting to facilitate the excavation
The debris from the controlled blasts will be collected and loaded into trucks within a dedicated secure corridor
Evening and night work will start in mid-October. Exceptionally, work may take place on some weekends in order to consolidate selected infrastructure
⚠ Beginning March 18, a new fixed schedule has been implemented for controlled micro-blasting to continue the excavation phase of the future REM station's shaft. Four potential blasting windows are planned, as presented below. It is expected that two to three blasts per day will be required in most cases.
Controlled blasting
To facilitate excavation for Édouard-Montpetit station, which will be underground, controlled blasting of small sections of rock will be carried out. Vibrations may be felt for several seconds, and the explosions may be audible.
During the controlled blasts, vehicle and pedestrian traffic around the site will be stopped for several minutes, as presented here. Signallers will secure the perimeter.
NouvLR, the consortium in charge of REM construction, has called on leading experts and is using the techniques best suited to the area. These measures are complemented by a 24‑hour program to monitor and supervise noise, air quality and vibration throughout the work.Le consortium NouvLR, responsable des travaux de construction, a fait appel aux meilleurs experts ainsi qu'aux techniques les plus adaptées pour le secteur. En complément, un programme de suivi et de surveillance 24h/24h est en place tout au long des travaux pour le bruit, la qualité de l'air ainsi que pour les vibrations.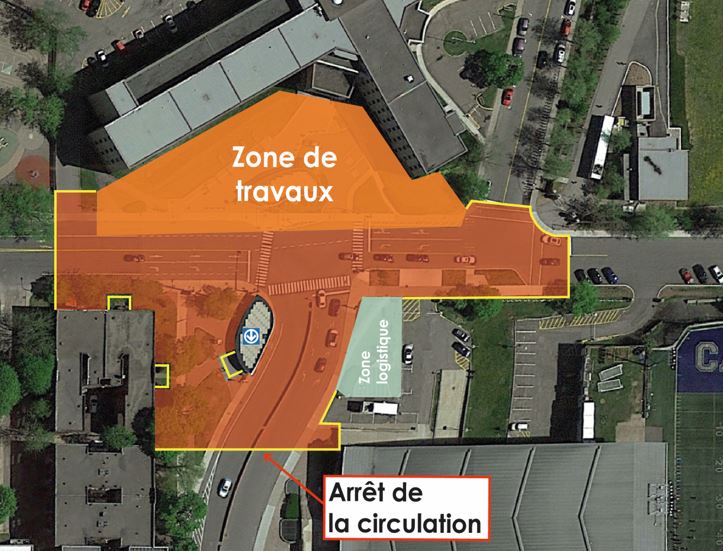 Impacts and mitigation measures
The work will generate noise, vibrations and dust. The sidewalk will be closed in front of Pavillon Marie-Victorin, but no road closures are planned.
The aim of the REM project office and NouvLR consortium is to minimize impact on surrounding residents as much as possible and ensure safety by implementing all appropriate measures, including:
A dedicated passage for trucks with concrete guard rails
A worksite zone and lane for trucks enclosed by acoustic screens
Use of a dump truck to limit noise while removing debris and loading trucks
Use of a sprayer (fine droplets of water) to keep dust down
Blasting mats to eliminate projectiles during controlled blasting operations and to reduce noise and dust
Safe detours for cyclists and pedestrians and presence of signallers
Monitoring and supervision program throughout the work to measure noise, air quality and vibrations
Continuously raising workers' awareness
 
Station Édouard-Montpetit will be underground, so as the construction work goes deeper, and the schedule advances over time, the impacts at the surface will diminish accordingly.


To learn more about the REM work in Downtown Montréal, check our specific page.
If you want more info about the REM, travel time and frequency, click here.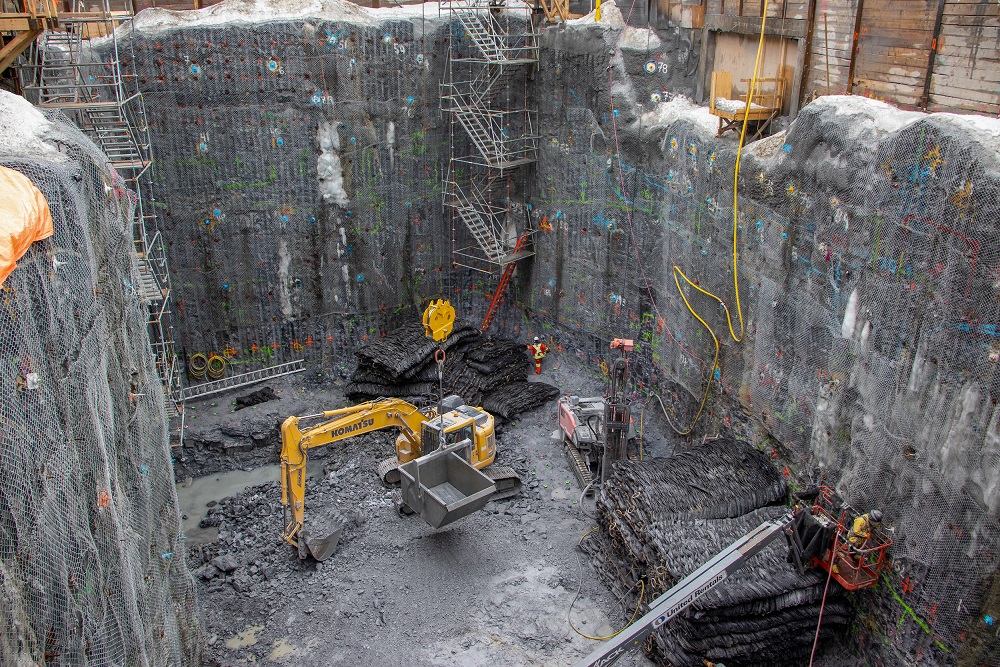 As of mid-February, excavation of the station's shaft has reached a depth of almost 20 metres.
For all questions | 1 833 REM-INFO
Write us via the contact form of the "Contact us" page. You may contact us by phone on weekdays between 8:00 am and 5:00 pm.