Modification of the configuration of the logistics zone at Canora station

Construction activities
From February 18, 2019
Montréal (Centre and Airport)
Where: Canora Station
Nature of work 
In order to optimize the sequence of work that can now be performed on weekdays, NouvLR will be reconfiguring the logistics zone on Dunkirk Road between Kirkland Avenue and Jean‑Talon Road West.
A single trailer will replace the two site trailers.
Equipment, including a power shovel, will be installed in the logistics zone to move materials between the logistics zone and the site.
The pedestrian crossing will be maintained, but displaced slightly toward the park.
The map below illustrates the new configuration of the logistics zone.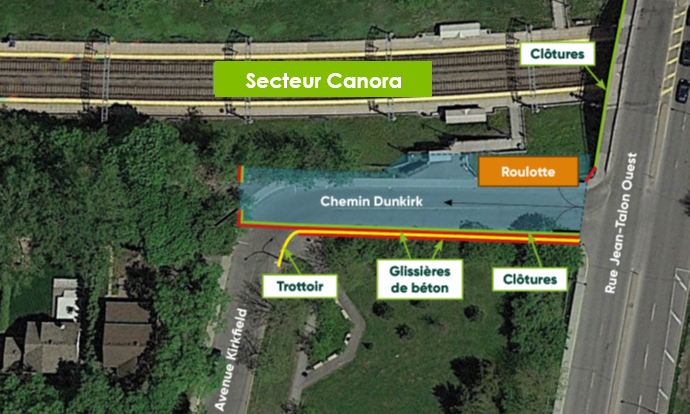 Impacts and mitigation measures
The logistics zone will remain surrounded by concrete barriers and fencing.
Kirkfield Avenue will remain open to local traffic and will allow continuous access to the L'Ombrière.ca shop.
Dunkirk Road will be closed to vehicle traffic. Pedestrians and cyclists will be redirected to a temporary sidewalk that runs along the side of Dunkirk Parc to Kirkfield Avenue.
This configuration will make it possible to redirect a portion of truck traffic to the new site entrance on the corner of Jean‑Talon Road West. Flaggers will be present to control truck traffic between the logistics zone and Jean‑Talon Road.
The logistics zone on the corner of Dunkirk Road and Glencoe Avenue will still be used for a portion of truck traffic. Flaggers will be present to coordinate the movement of vehicles when trucking is scheduled to take place.
For all questions | 1 833 REM-INFO
Write us via the contact form of the "Contact us" page. You may contact us by phone on weekdays between 8:00 am and 5:00 pm.