Preparatory work in Saint-Laurent

Road
September and October 2019 From 7 a.m. to 7 p.m.
Centre and Airport
Nature of the work
Construction of the elevated structure continues and will cross Highway 40 East and West as well as the service roads. The first phase of the elevated structure is the drilling of caisson piles, which has begun in April in this sector. Constructing the piles is necessary in order to build the pillars for the new elevated structure on Highway 40 on which the REM will ultimately run.
Following this work, the formwork and concreting will allow for the installation of the pillars and pierheads to accommodate the concrete segments to complete the elevated structure.
The obstructions will all be located between Henri-Bourassa Boulevard and Saint-Régis Boulevard.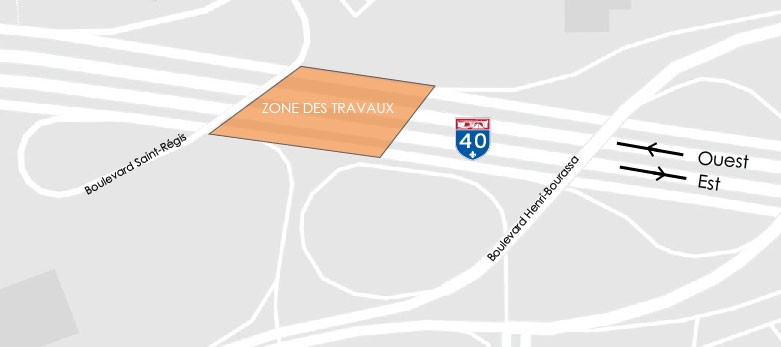 The map above illustrates where traffic disruptions will occur
Anticipated impacts and mitigation measures
Just as for any construction site, the work will generate noise, vibrations, dust, heavy truck traffic and traffic disruptions. Mitigation measures will be implemented to minimize the impacts. The REM project office and NouvLR consortium's goal is to prevent or minimize impact on surrounding residents as much as possible and ensure safety by implementing all appropriate measures.
 
*Work will take place from 7 a.m. to 7 p.m. Work outside this time period may be necessary to mobilize and demobilize required equipment and to clean up the site.
 **The current sequence is subject to change without notice.
For all questions | 1 833 REM-INFO
Write us via the contact form of the "Contact us" page. You may contact us by phone on weekdays between 8:00 am and 5:00 pm.