McGill
The REM's McGill station is located in the heart of downtown and is connected to the green metro line. Every day, some 25,000 people will travel through this station, making it the network's second-busiest station after Central Station.
Type of station
Underground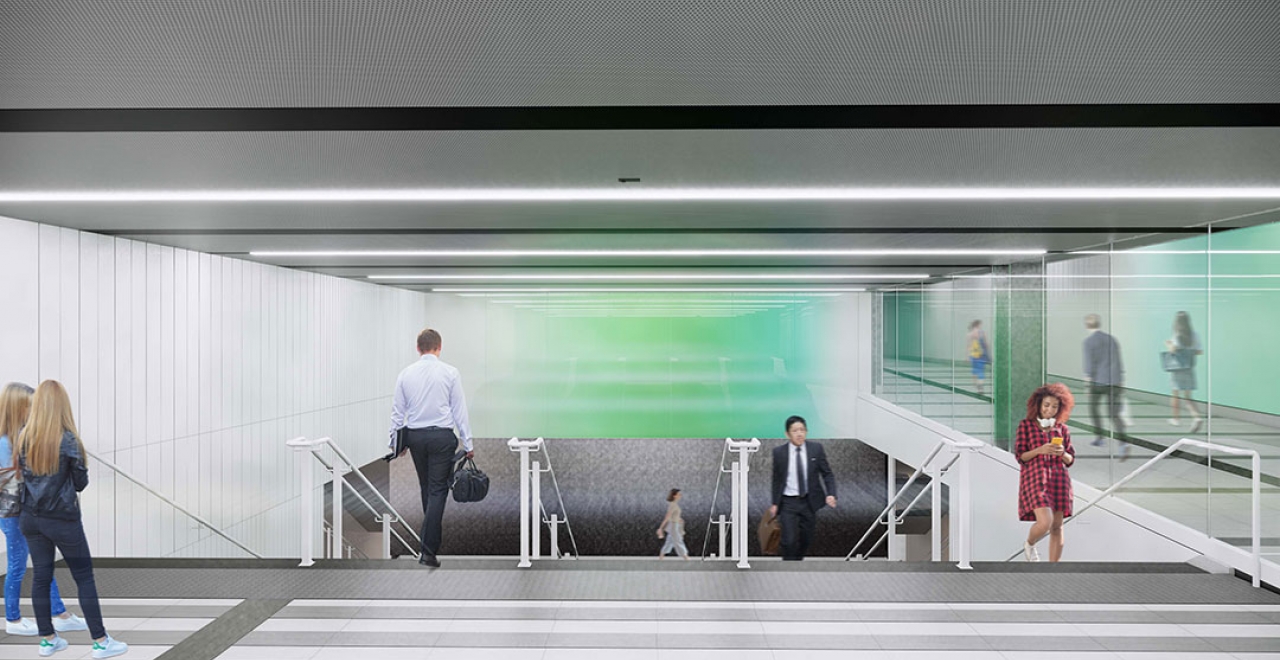 Although underground, the McGill station will be glazed and bright, just like the other stations in the network. / Image for indicative purposes only.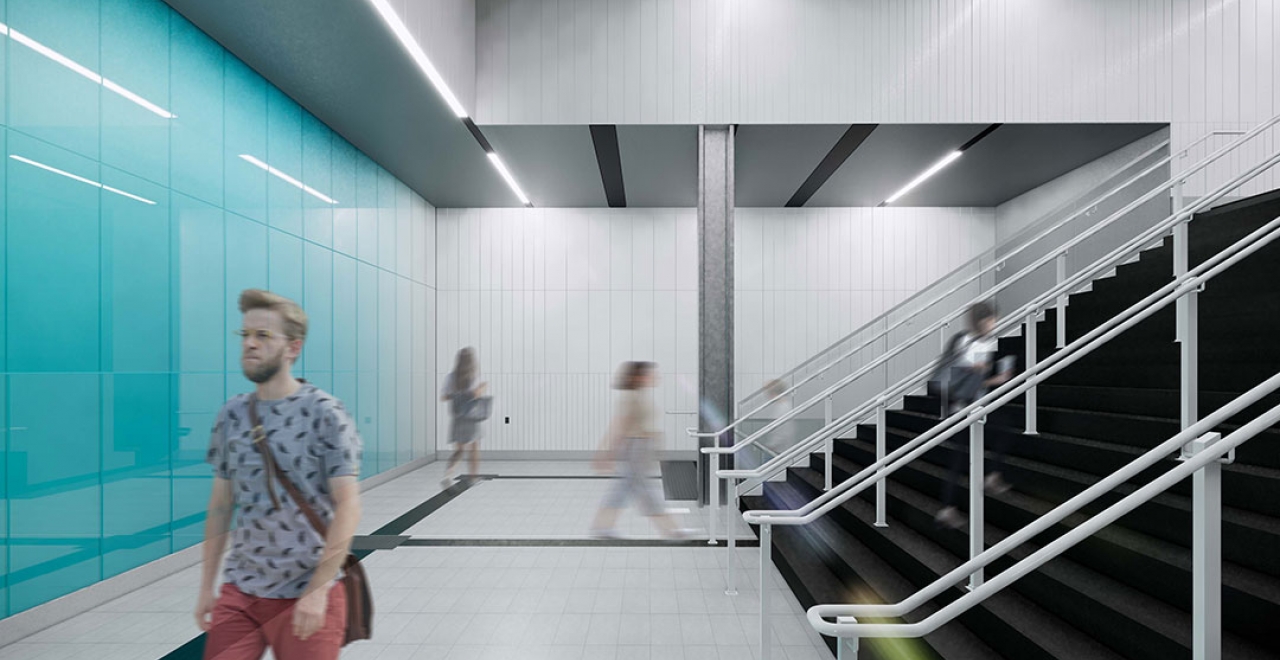 McGill Station is part of the " emblematic " segment, characterized by the color white. This color is found in ceramics in interiors and urban furniture. / Image for indicative purposes only.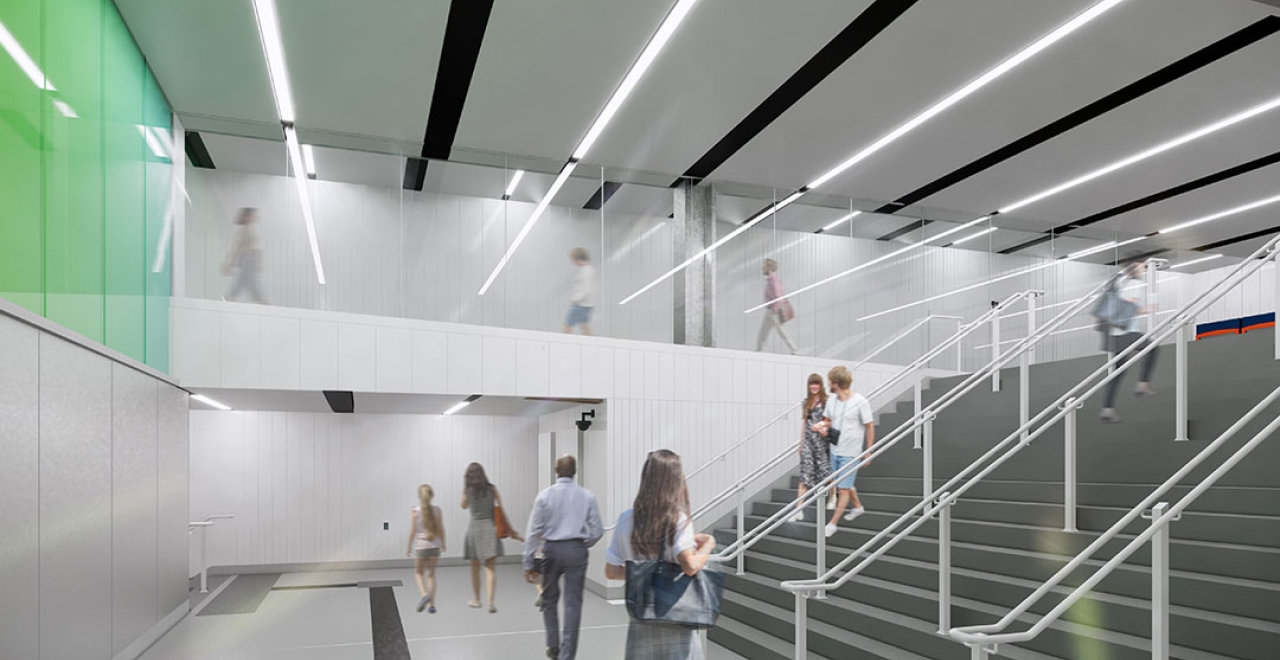 The McGill station will be located under McGill College Avenue in the heart of downtown and will benefit from access to the green line of the metro at the STM's McGill station and Montreal Underground (RÉSO). It will be connected to the Montreal Eaton Centre and Place Montréal Trust. / Image for indicative purposes only.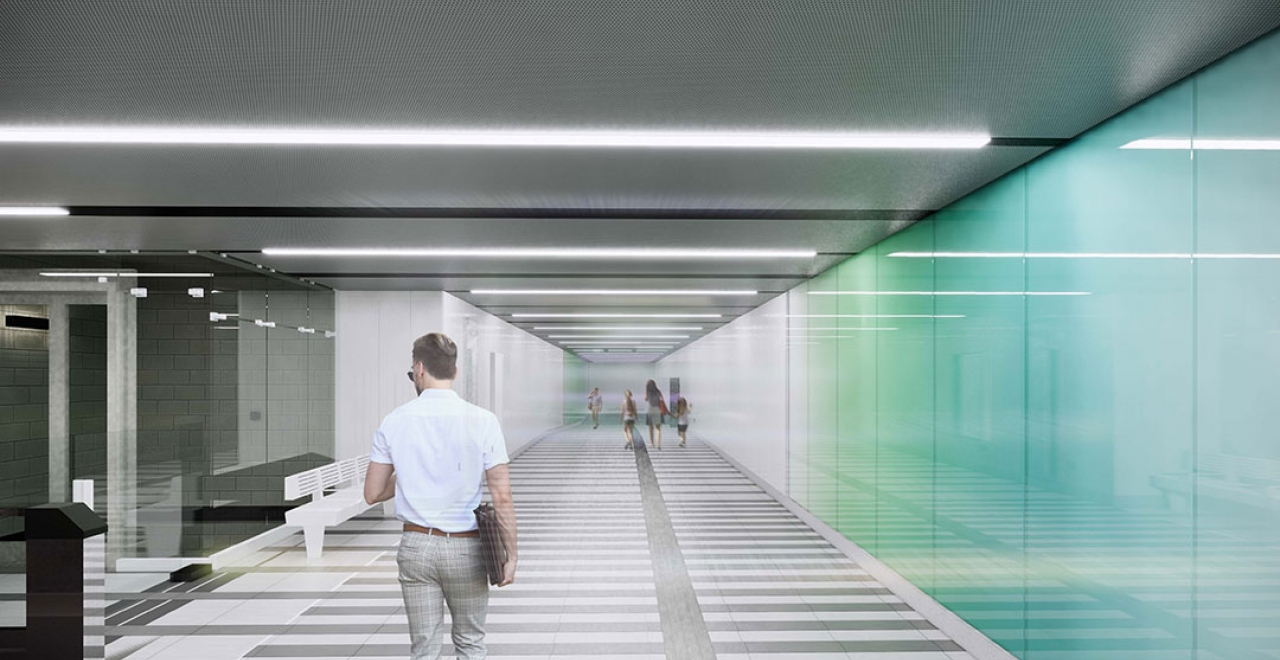 The lines in the pavement, reminiscent of movement, are an important part of the architectural signature of the entire network. / Image for indicative purposes only.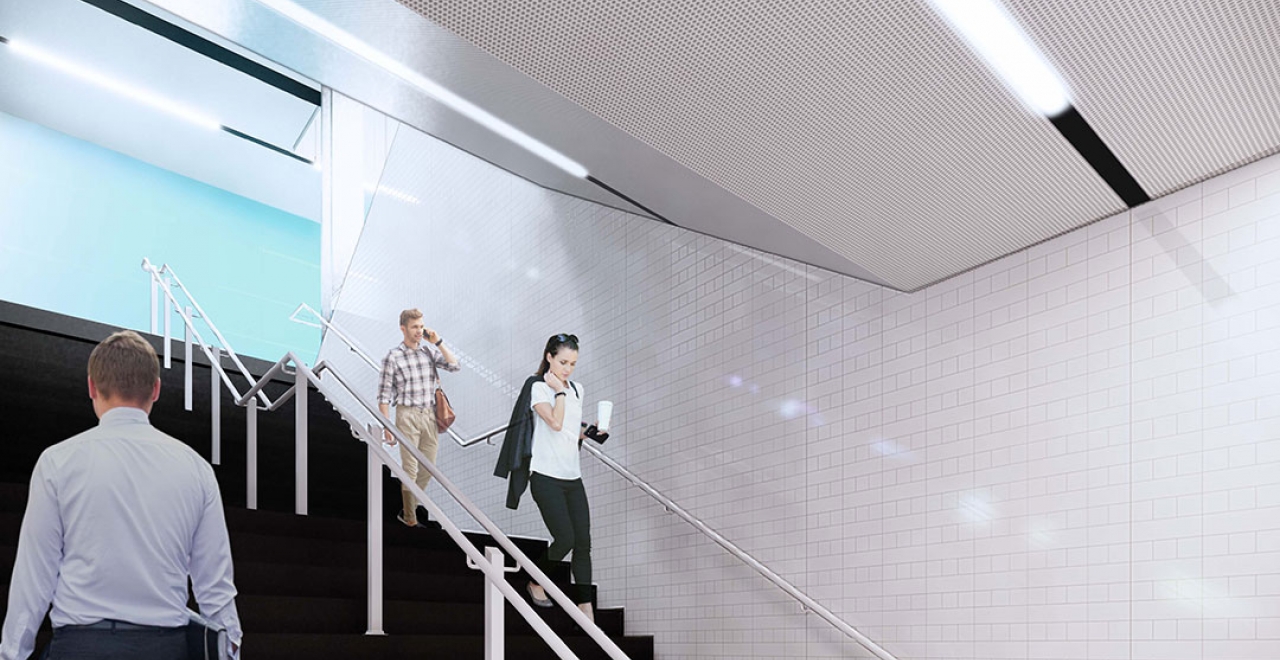 The station will provide a historic connection across the mountain and to the university poles. From McGill station, you can get to Édouard-Montpetit in 3 minutes. / Image for indicative purposes only.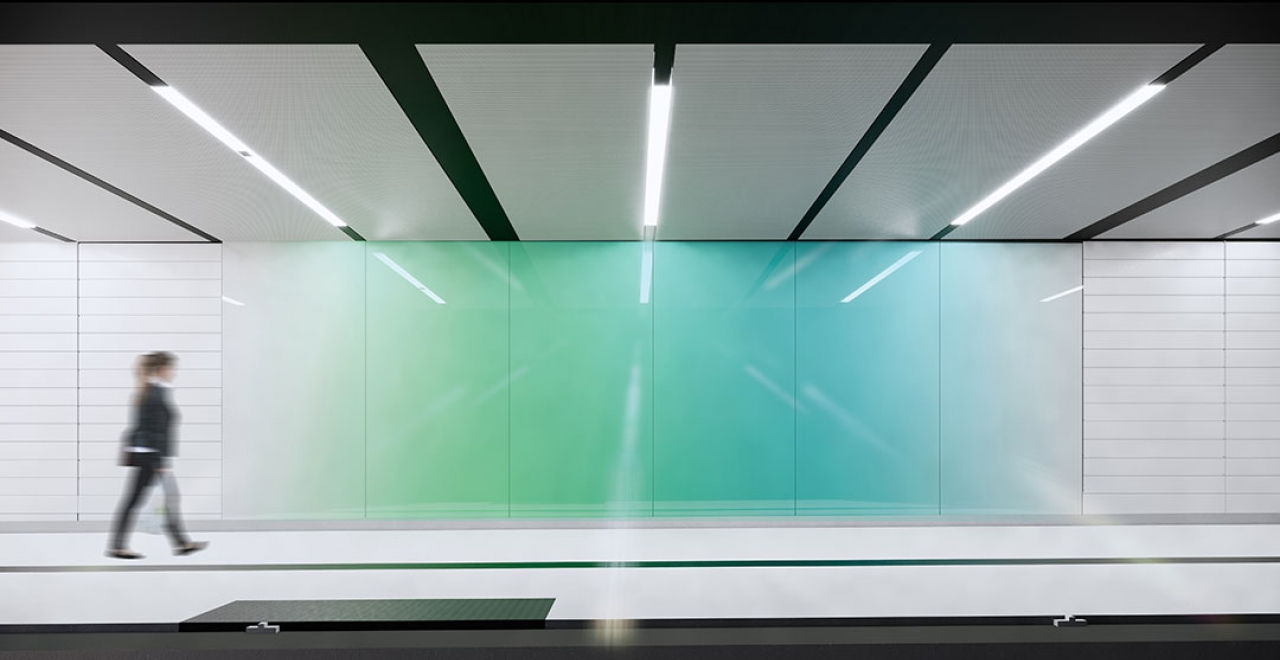 Ultimately, McGill Station will be one of the busiest stations in the REM. / Image for indicative purposes only.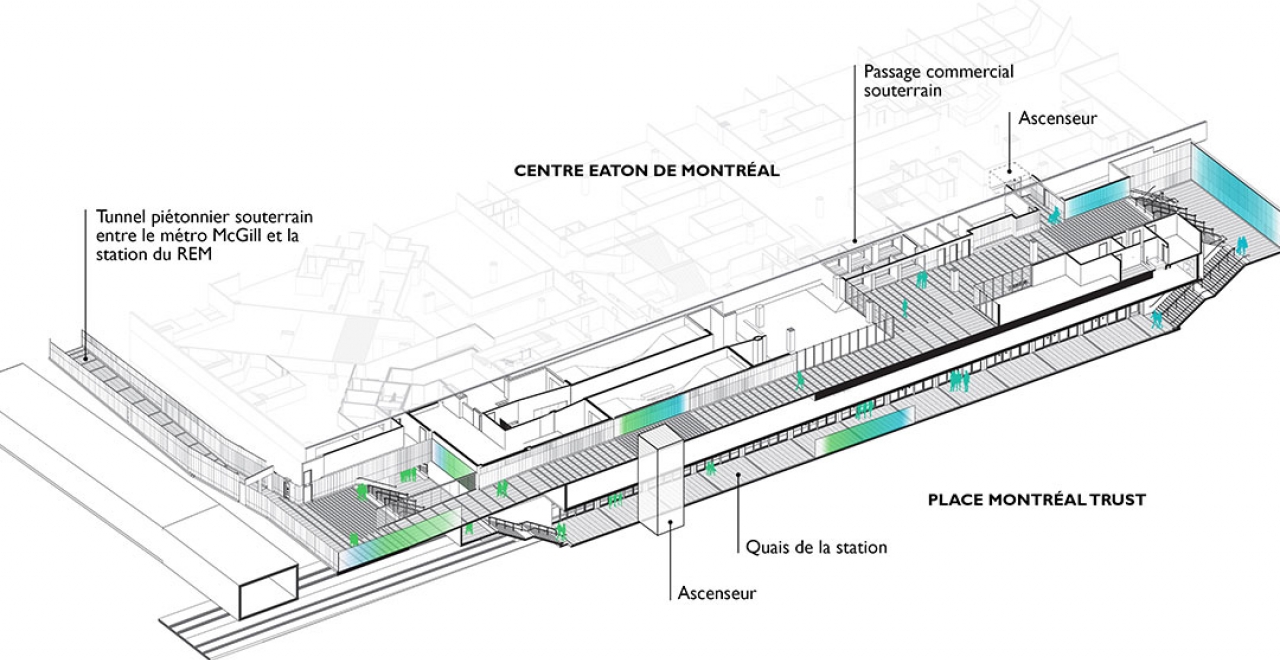 (In French) 3D schematic plan of the future McGill station
Implementation plan
McGill station is located under McGill College Avenue, between De Maisonneuve Boulevard West and Saint-Catherine Street West. It will be accessible via Montréal Eaton Centre, Place Montréal Trust and the McGill metro station, which is on the green line.
Discover the implementation plan for the McGill station, including the different accesses and services.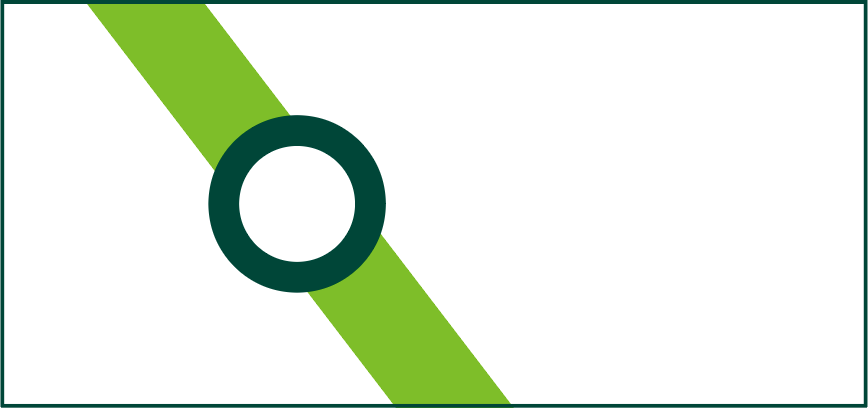 Development
Start of construction: Fall 2018
Depth of the station: 10 m
Length of each platform: 80 m
Services
Universal accessibility to the station's platforms via elevators
Bicycle access: On De Maisonneuve Boulevard West
Metro: Connection to the green line
Buses: Stops on nearby streets
Paratransit drop-off area on the street based on current service
Frequency once the network is fully commissioned
Peak hours: 2.5 minutes
Off-peak hours: 5 minutes
Travel times
Brossard: 18 minutes
Central Station: 1 minute
Édouard-Montpetit: 3 minutes
Bois-Franc: 14 minutes
Airport: 25 minutes*
Anse-à-l'Orme: 33 minutes*
Deux-Montagnes: 33 minutes*
*To get to this station, you must check the final destination before boarding the REM at McGill station.