Sunnybrooke
The Sunnybrooke station will replace the existing train station of the same name. It is an elevated station, east of Sunnybrooke Boulevard and adjacent to a new overpass above the boulevard. The urban integration (entrance square and plantings) is designed to provide a convivial space in front of the station.
Borough
Pierrefonds-Roxboro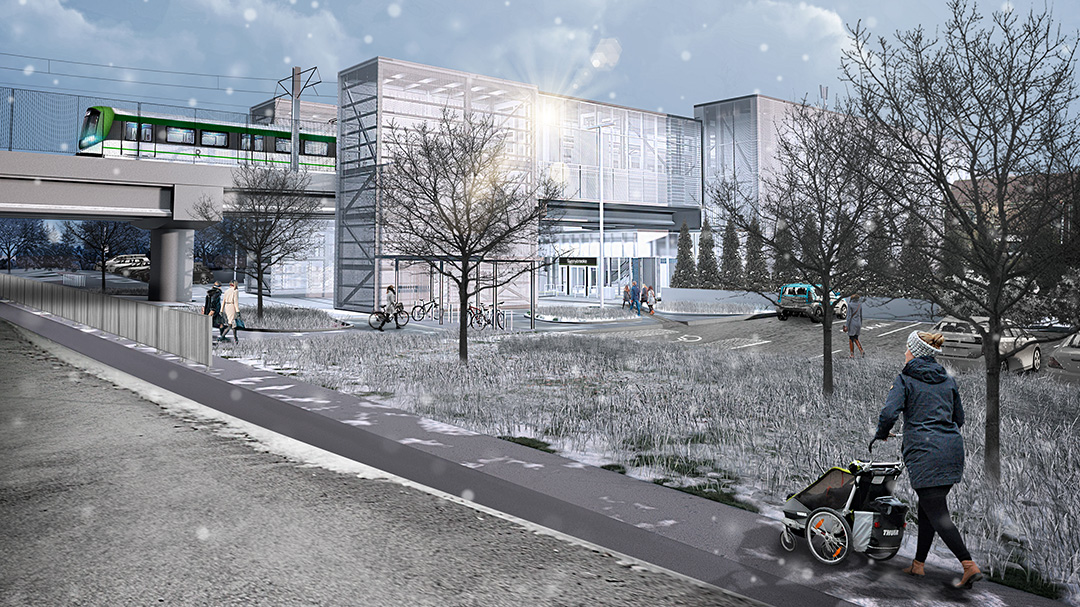 The Sunnybrooke station is extended by a railway viaduct over Sunnybrooke Boulevard, west of which the REM descends to the ground. / Image for indicative purposes only.
Implementation plan
The station is located at the corner of Gouin and Sunnybrooke boulevards. Main access is via Sunnybrooke Boulevard and from the two park-and-ride lots on either side of the station. Pedestrian access is provided from Gouin Boulevard West and Cérès Street.
Discover the implementation plan for the Sunnybrooke station, including the different accesses and services.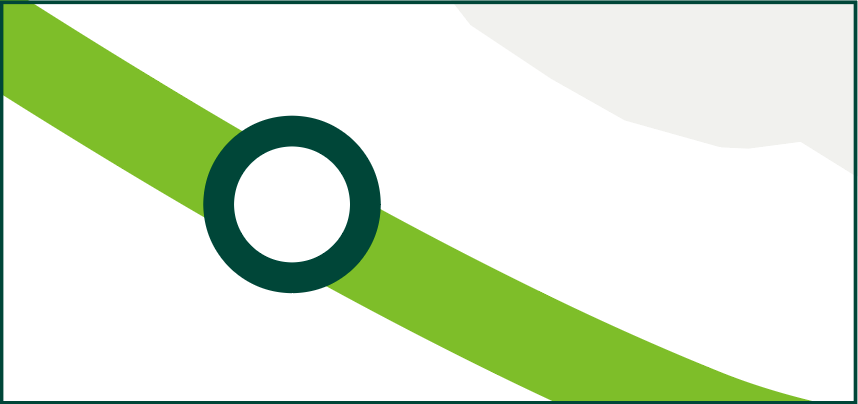 Development
Start of construction: 2021
Height of the station: 14.8 m from street level
Length of each platform: 80 m
Landscaping around the station
Services
Universal accessibility to the station's platforms via elevators 
Bicycles: 40 spaces, 20 of which are covered
Bicycle access: Near the station, there is an existing bike path on Cérès Street and Lucerne Street
Buses: Stops on nearby streets
Kiss-and-ride, paratransit and taxi spaces
Park-and-ride: similar number as today (approximately 505 spaces) including 9 universal access spaces, 51 spaces reserved for carpooling, and 10 parking spaces with electric car charging stations
Frequency once the network is fully commissioned
Peak hours: 5 minutes
Off-peak hours: 15 minutes
Travel times
Brossard: 38 minutes
Central Station: 21 minutes
McGill: 20 minutes
Édouard-Montpetit: 17 minutes
Bois-Franc: 5 minutes
YUL-Aéroport-Montréal-Trudeau: 24 minutes*
Anse-à-l'Orme: 32 minutes*
Deux-Montagnes: 12 minutes*
* To get to this station from the Sunnybrooke station, you must make a transfer at Bois-Franc station. We added a conservative 10-minute connection time in our calculations.