Click on the section that interests you: 
Stations in this sector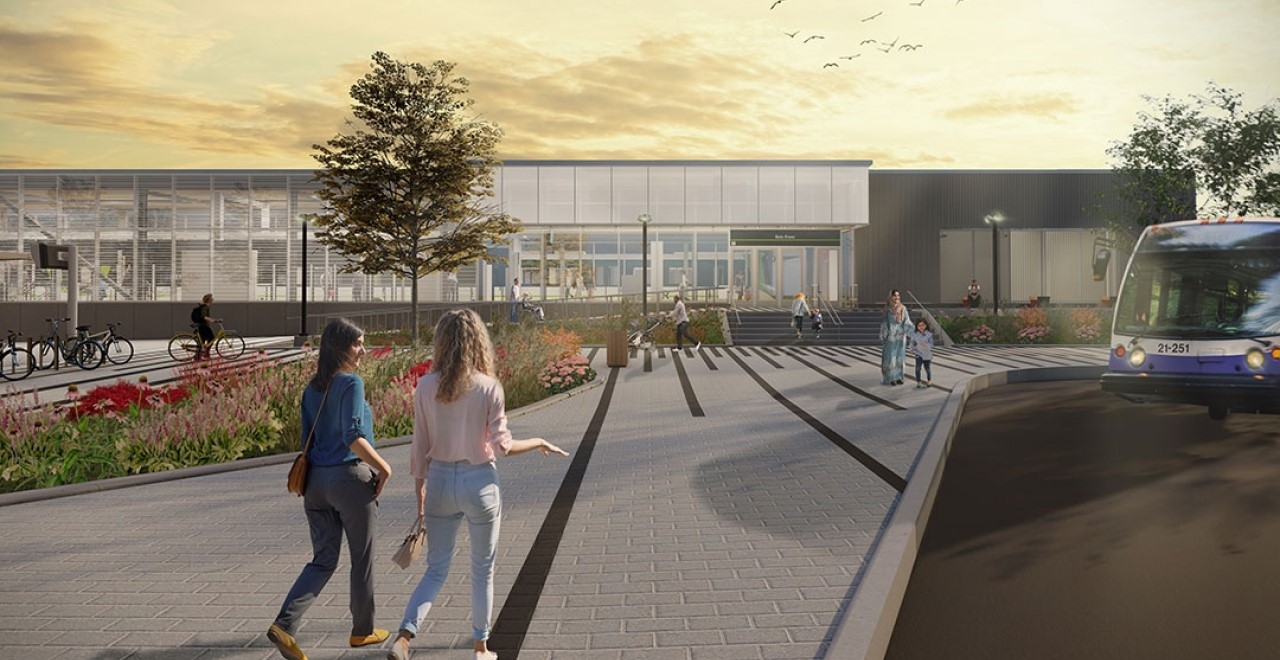 Bois-Franc Station (exterior). Located in the Saint-Laurent sector, the Bois-Franc station stands out by its strategic location at the center of the REM network. Image for indicative purposes only.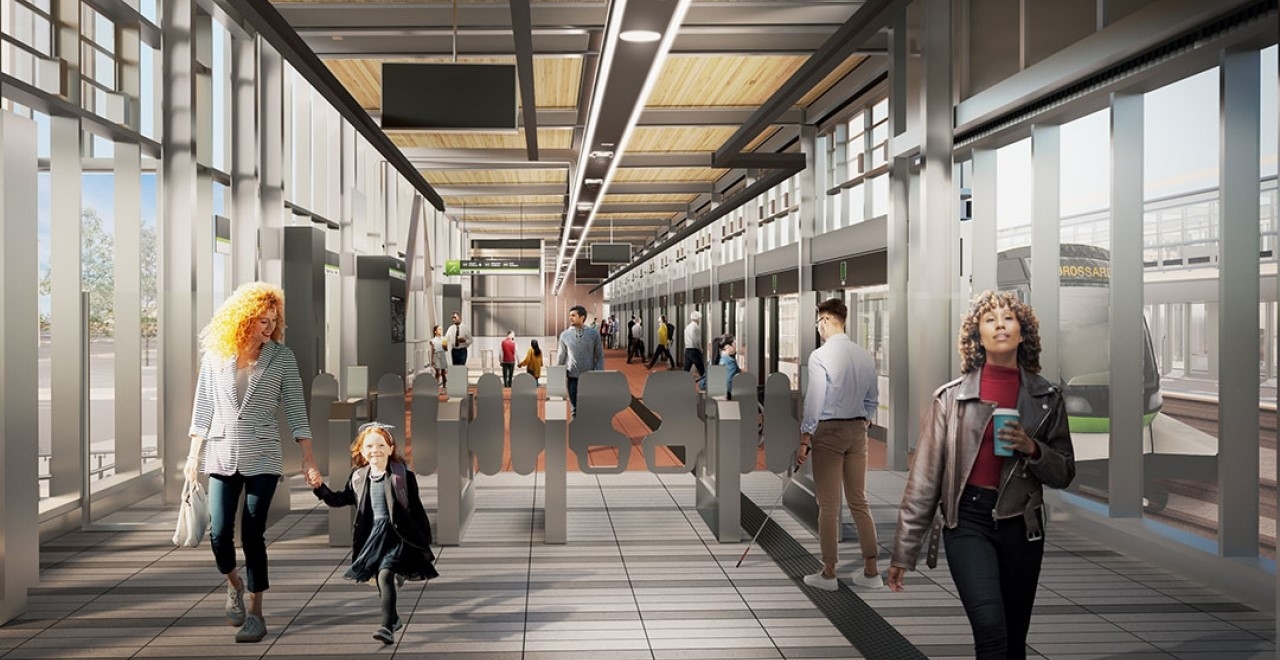 Bois-Franc Station (interior). Located in the Saint-Laurent sector, the Bois-Franc station stands out by its strategic location at the center of the REM network. Image for indicative purposes only.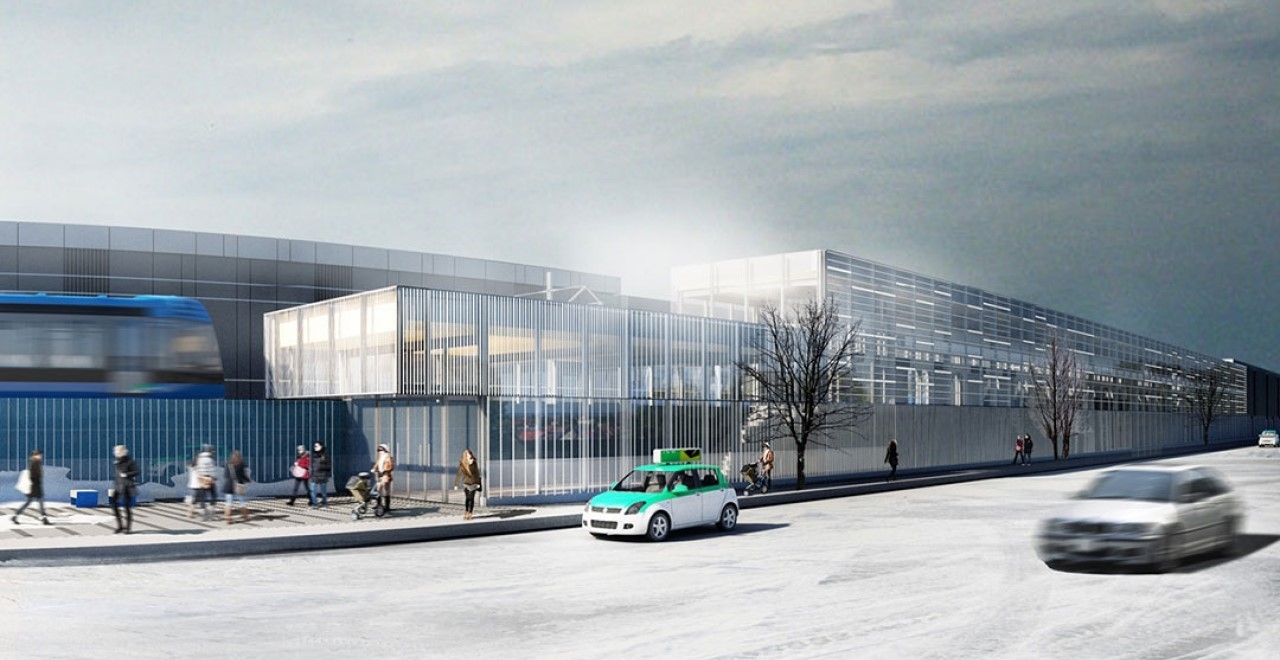 Du Ruisseau Station. Du Ruisseau station is located at the limit of Saint-Laurent and Ahuntsic-Cartierville boroughs, on Henri-Bourassa Boulevard West. Image for indicative purposes only.
Montpellier Station. Located in the Saint-Laurent sector, between Jules-Poitras Boulevard and Muir Street, it is characterized by a green screen composed of trees and shrubs to promote its integration into the residential sector. Image for indicative purposes only.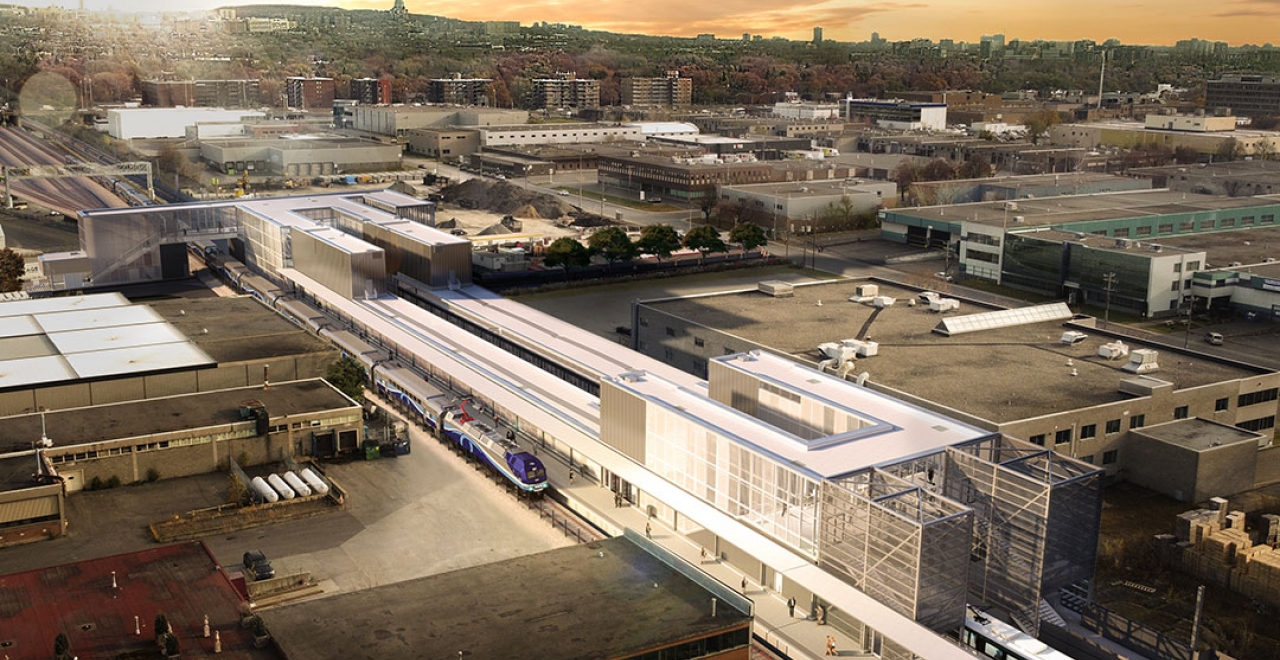 Côte-de-Liesse Station. The Côte-de-Liesse station (formerly known as Correspondance A40) is located in an industrial area in the borough of Saint-Laurent, north of Highway 40. It has been specifically designed to facilitate connections to the Mascouche exo train line. Image for indicative purposes only.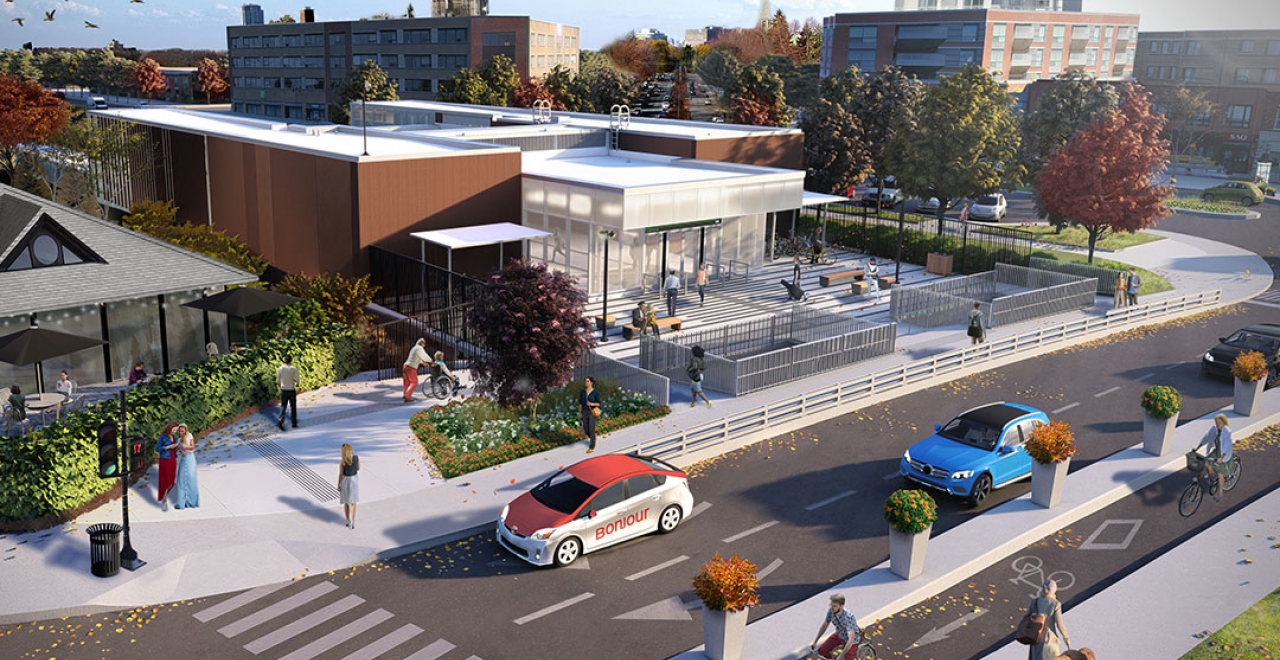 Ville-de-Mont-Royal Station. The Ville-de-Mont-Royal station is a distinctive station of the REM network whose terracotta color tones are reminiscent of the old train station. Image for indicative purposes only.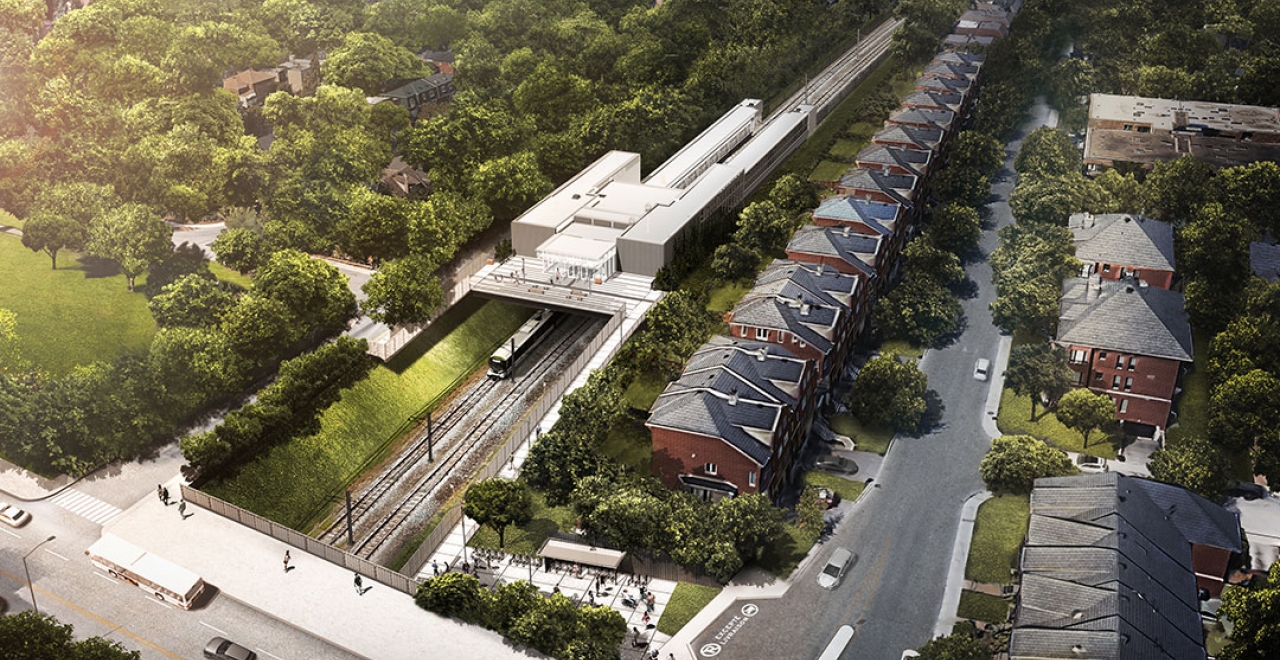 Station Canora. Un premier rendu, à vue aérienne, permet de voir la station Canora et son empreinte au cœur du quartier résidentiel Glenmount dans l'arrondissement Côte-des-Neiges-Notre-Dame-de-Grâce. Des arbres et arbustes, ainsi que des plantes grimpantes seront aménagés de part et d'autre de la station afin d'offrir un écran visuel entre la station et les propriétés voisines. Image à titre indicatif seulement.
The REM in the Canora and Ville-de-Mont-Royal sector
Work
Work in progress
The construction of the REM in the Town of Mount Royal, as well as in the boroughs of Côte-des-Neiges, Saint-Laurent and Ahuntsic-Cartierville, gained momentum in 2020 with the installation of the stations' steel skeleton. Work in 2021 will focus on developing the stations' exterior and interior envelopes, as well as building the Jean-Talon, Cornwall, O'Brien and Toupin railway overpasses.   
Lastly, the complete transformation of the railway tracks between the future Canora and Du Ruisseau stations is progressing with the installation of rails, new anti-intrusion fences and permanent noise barriers, in preparation for the passage of the REM.   
Commissioning schedule in this sector 
Central Station to Du Ruisseau: fall 2023 
Du Ruisseau to Sunnybrooke: spring 2024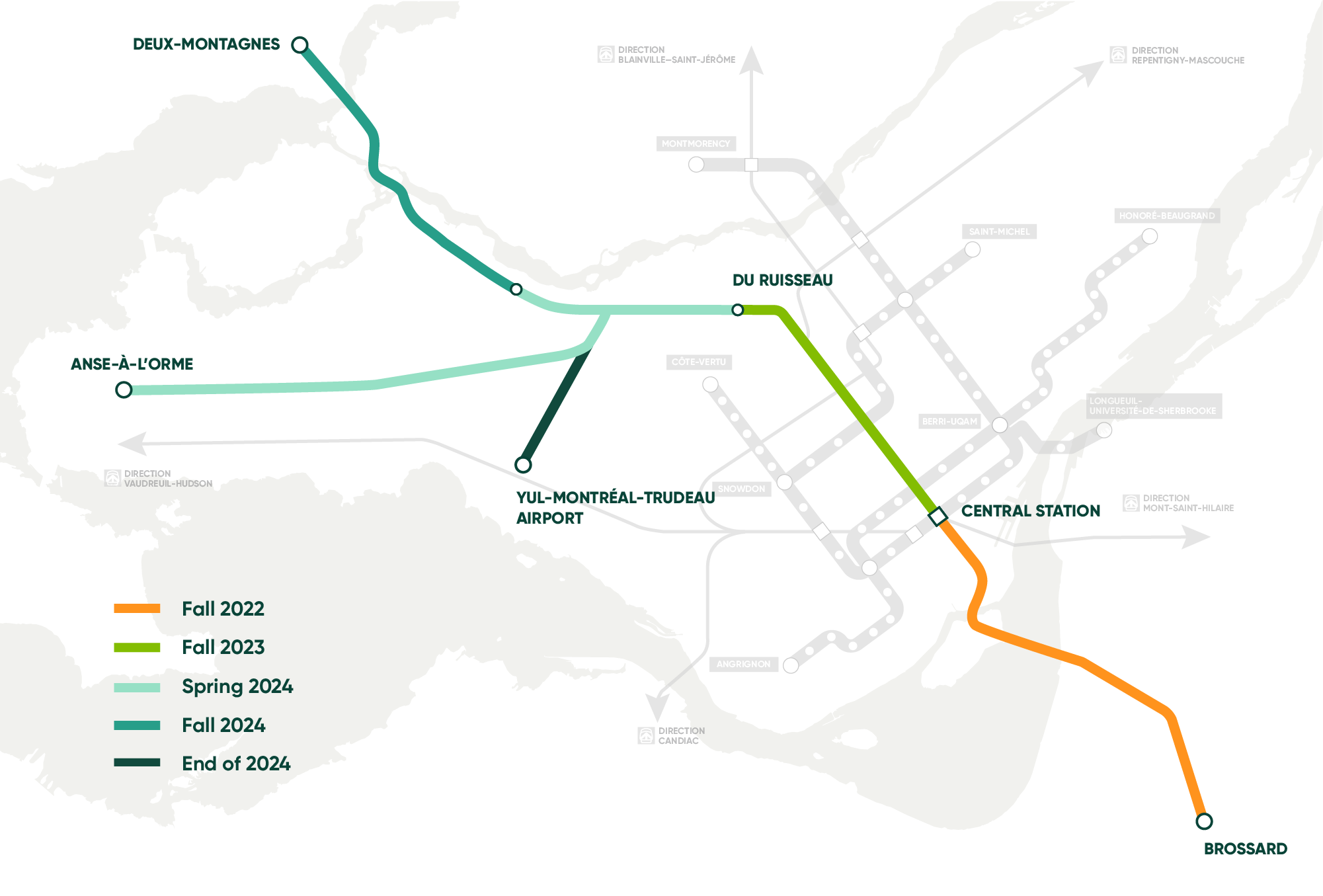 Commissioning Schedule - Last Updated: January 2022

Construction activities
Spring 2021
Construction of REM stations Canora and Ville-de-Mont-Royal
Details

Construction activities
In progress
Construction of the Montpellier Station
Details
News
REM in service
Published on December 9, 2021
REM in service
Published on November 25, 2021
Project progress
Published on November 17, 2021
FAQ
Center and Airport
The REM will run in part on existing rail corridors. To ensure this high-frequency network is safe, grade crossings will be eliminated. In places where grade crossings currently exist, the road will be raised or lowered or the railway track will be elevated. (The REM will run on an elevated track above the road.)
The technology chosen for the REM is an automated metro. This type of technology is quieter than heavy trains (no whistle at station arrival or alarm at grade crossings, electric brakes, etc.). 
While the REM's rolling stock was designed to minimize noise, once the light rail is in operation, sound may be audible.
REM construction and operation are governed by a regulatory framework established by the Government of Québec. Noise modelling was performed to assess the anticipated noise that the REM in operation will generate and to determine mitigation measures that may be required, such as erection of permanent noise walls along the route. 
A large number of inputs were programmed into a specialized software to produce this REM sound model, including: 
Removal of noise from Exo trains on the Deux-Montagnes line 
Addition of REM noise, taking into consideration frequency and speed, structure elevation, route curves, various operating scenarios, etc. 
Consideration of ambient noise, road traffic, topography, proximity of residential areas, etc. 
On the Deux-Montagnes branch, trains will be quieter than commuter trains, but more frequent. Noise barriers will be installed on certain segments between the Canora and Deux-Montagnes stations. 
Required mitigation measures will be implemented before the REM is commissioned.
By the end of 2021, all stations in the area will be erected, enclosed and well under way.
The signature REM station architecture will be easily distinguishable by the glass and wood used in each one. Patterns on the paving stone and the stations' outer envelope will also suggest movement.
In this sector, red is used as an accent color in the tile, urban furniture and plantings around the stations, a salute to the brick buildings found in the residential neighborhoods and industrial sector. Special attention has been paid to landscape integration in residential neighborhoods by adding vegetation around the stations.