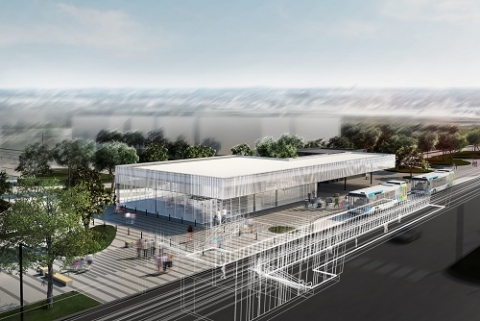 Presenting the future station Marie-Curie (new architectural renders)
Urban integration
Published on
The work in Technoparc Montréal started in September. Here is a description of the future station Marie-Curie, the last stop before the Montréal-Trudeau Airport.
The station Marie-Curie will be located in the heart of the scientific park at the intersection of Alfred-Nobel Boulevard and Albert-Einstein Street. Its central location on the primary pedestrian corridor makes most businesses in the area easily accessible by foot. Today, that means 115 companies and over 7,000 jobs!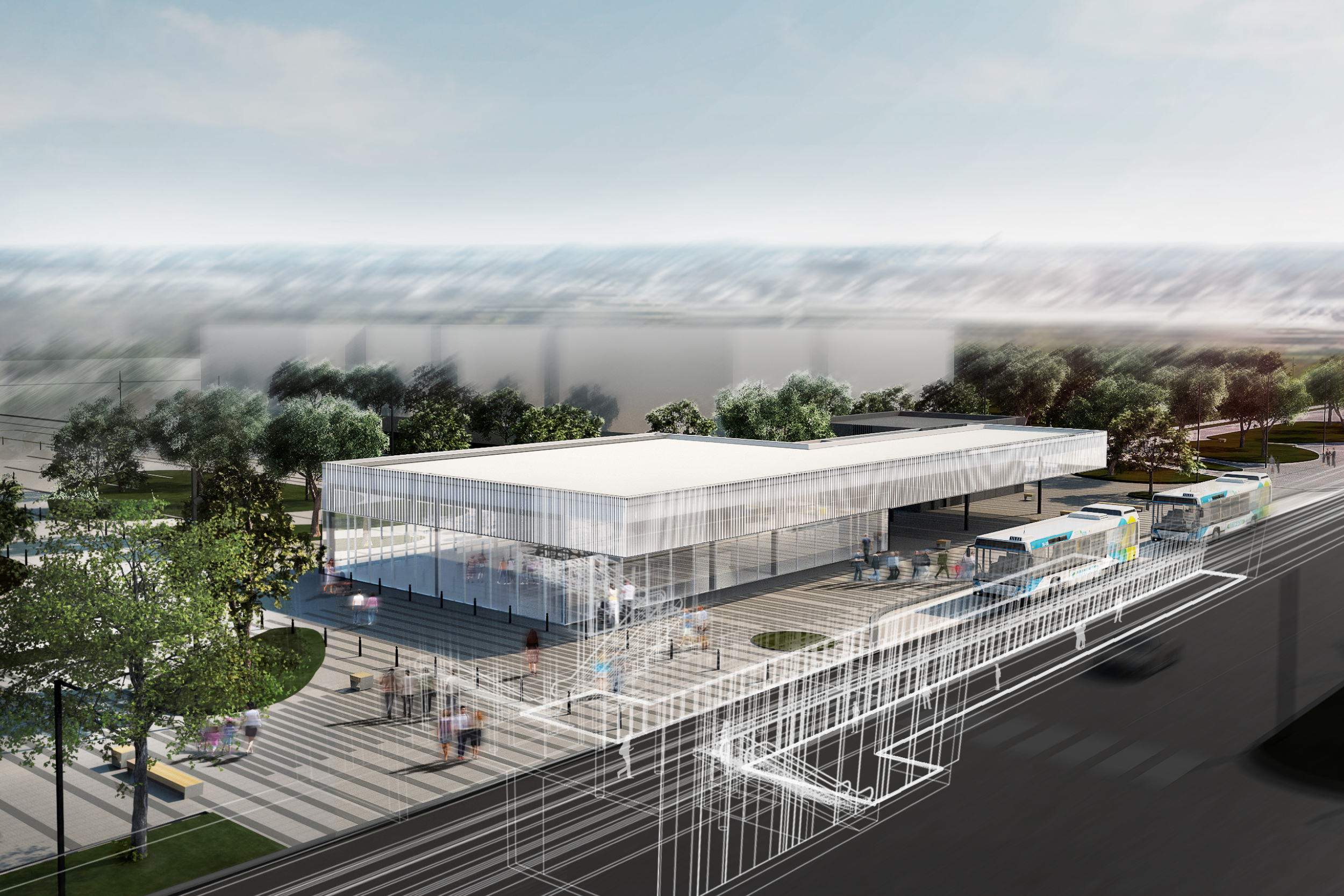 This will be an underground station (click here to see the map of REM's underground and aerial stations). More specifically, the route will go underground just before Alexander-Fleming Street. The route was adjusted following environmental consultations to preserve the wetlands between the airport and the Technoparc.
Similar to the Montréal metro, a ground-level entrance will lead to escalators (see the 3D drawing below) and elevators, providing access to the underground platforms.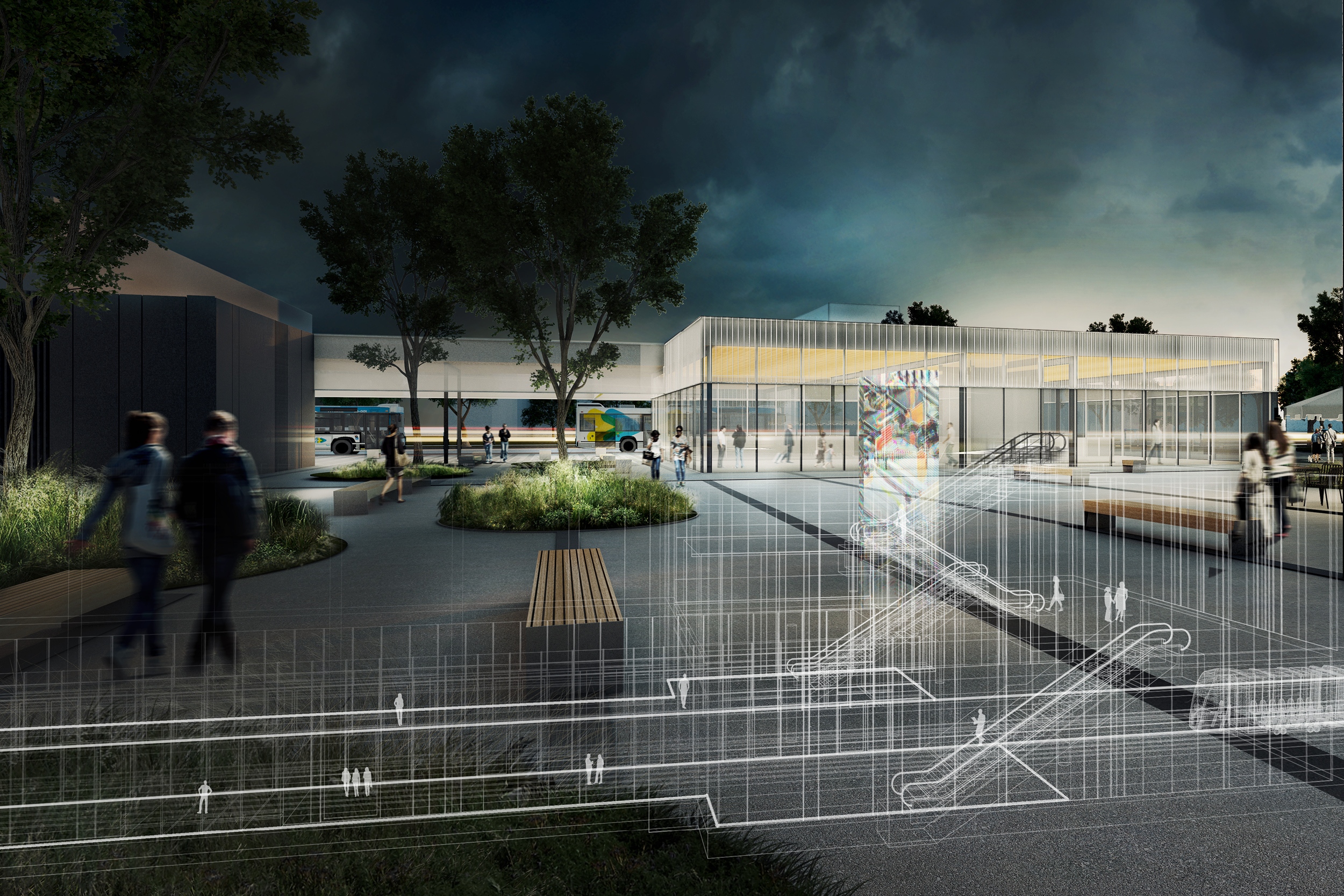 Outside, the building provides an opportunity to build a welcoming park around the station as a sign of continuity with the surrounding greenery. This small space should resemble what we see at metro stations like Verdun or Laurier (the exit on Laurier Avenue). A digital work of art aligned to the theme of technology and innovation could also enliven the station's entrance.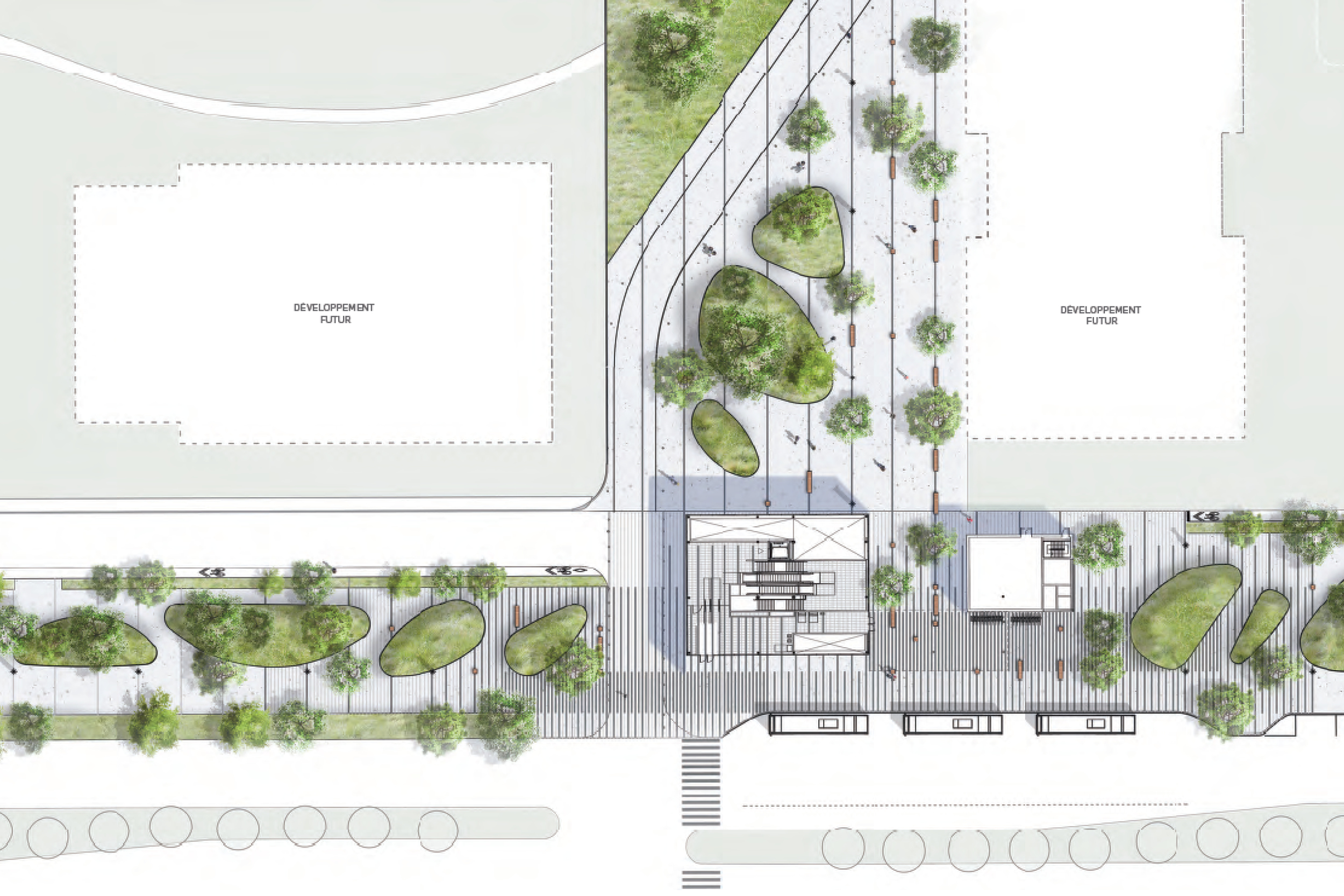 The interior will feature elements common to the REM's architectural signature, including:
A wooden ceiling (a nod to local architects since Québec has a plentiful supply of this material).
Glass for its transparency and to bring natural light into this underground station.
Learn more : 5 things to know about the REM's architecture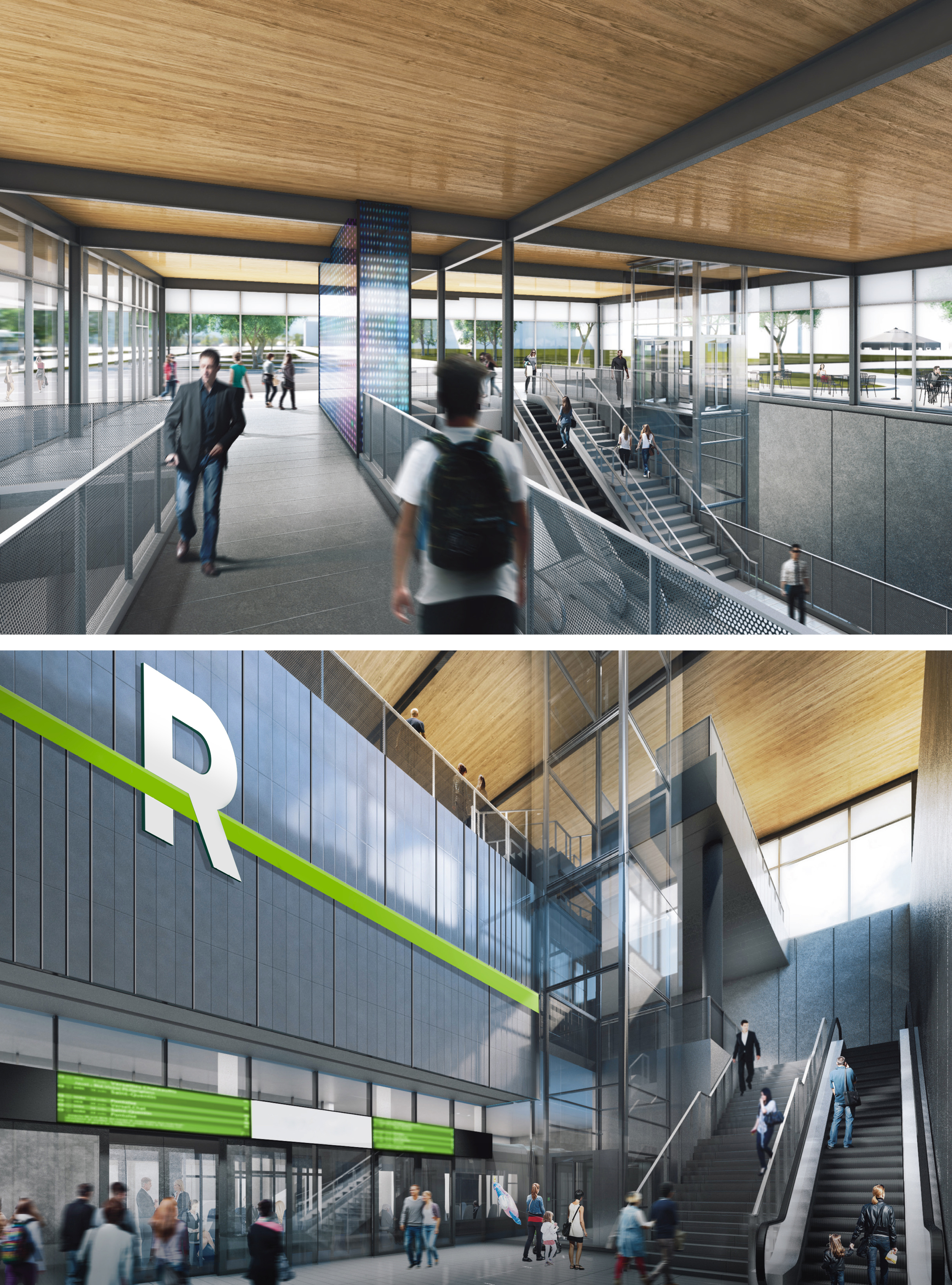 Start of the work this fall
Waiting to see the final result will require patience since the commissioning of station Marie-Curie is planned for 2023. The first step is the preparatory work: geotechnical drilling, surveying, relocating public utilities (like electricity, water, telephone equipment) and cutting trees. 
This step is carried out in keeping with strict standards. For instance, the work is performed outside the nesting season and won't impact the wetlands. At-risk plant species and trees will be relocated or compensated with new plantings.
Learn more: 250,000 trees planted through the REM (jourdelaterre.org)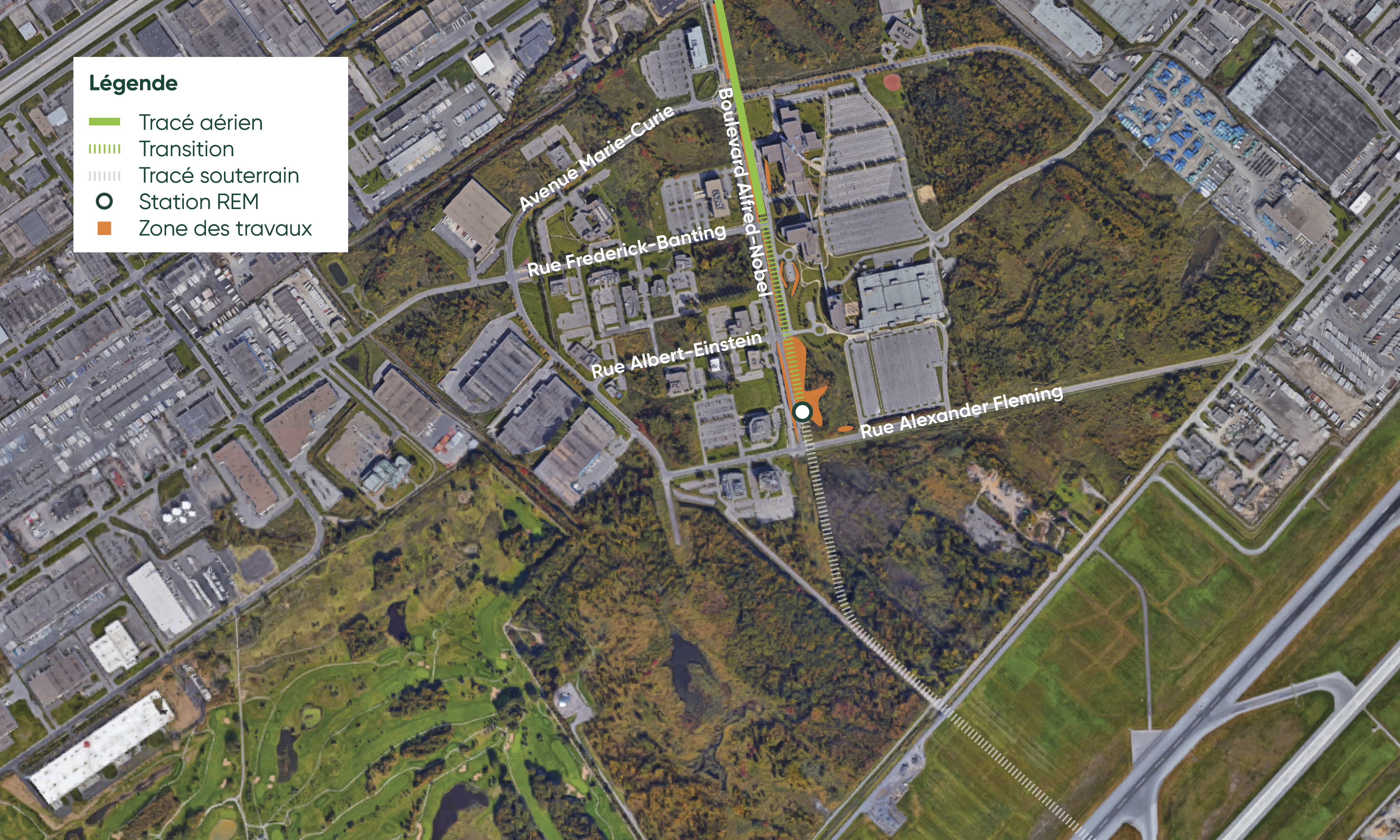 The work area (in orange on the map) won't impact the wetlands
This preparatory work will pave the way for larger construction sites to come in 2019, in particular the arrival of a tunnel-boring machine that will be used to build the tunnel between the Technoparc and the airport. This is a rare event for Montréal, and a detailed article explaining the operations will soon be released.


The REM at station Marie-Curie by the numbers
Commissioning in 2023
Service: 20 hours a day
Frequency: 10 minutes during peak periods, 15 minutes off-peak
Maximum capacity per departure: 780 people

From Bonaventure (orange line):

18 minutes express / 23 minutes regular*

From McGill (green line):

17 minutes express / 22 minutes regular*

From Édouard-Montpetit (blue line):

14 minutes express / 19 minutes regular*
Marie-Curie to the Montréal-Trudeau Airport: 2 minutes
*Regular = regular service. Express = express service to the airport; only Bonaventure, McGill, Édouard-Montpetit, Bois-Franc, Technoparc and Montréal-Trudeau Airport stations are served (this list is not definitive and could change)
Work schedule for 2018–2019
Center and Airport area: Canora, Mont-Royal, Correspondance A40, Montpellier, Du Ruisseau, Bois-Franc, Technoparc, Montréal-Trudeau Airport