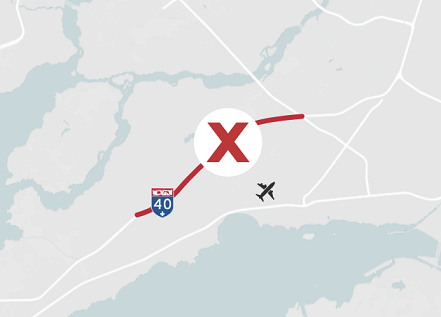 Major traffic obstruction – Closure of the Highway 40 on the weekend of November 3-4
As part of the work being carried out by the REM, a portion of Highway 40 will be completely closed from Saturday, November 3 (6 p.m.) to Monday, November 5 (5 a.m.). Plan your commute: Take Highway 20 if you live on the Island of Montréal or bypass the Island of Montréal by taking Highway 30 and Highway 440.
This major work will involve the demolition of a railway bridge over Highway 40 (the former Doney spur). The work will be carried out intensively day and night so that service can resume before the start of the work week on Monday morning. Nearly 2,000 m3 of concrete will be demolished in two days.
When: From Saturday, November 3 (6 p.m.) to Monday, November 5 (5 a.m.) / closures of the service lane as of 3 p.m. Saturday
Where: Between Highway 13 (exit 60) and Saint-Jean Boulevard (exit 52)
Detours are shown on the map below: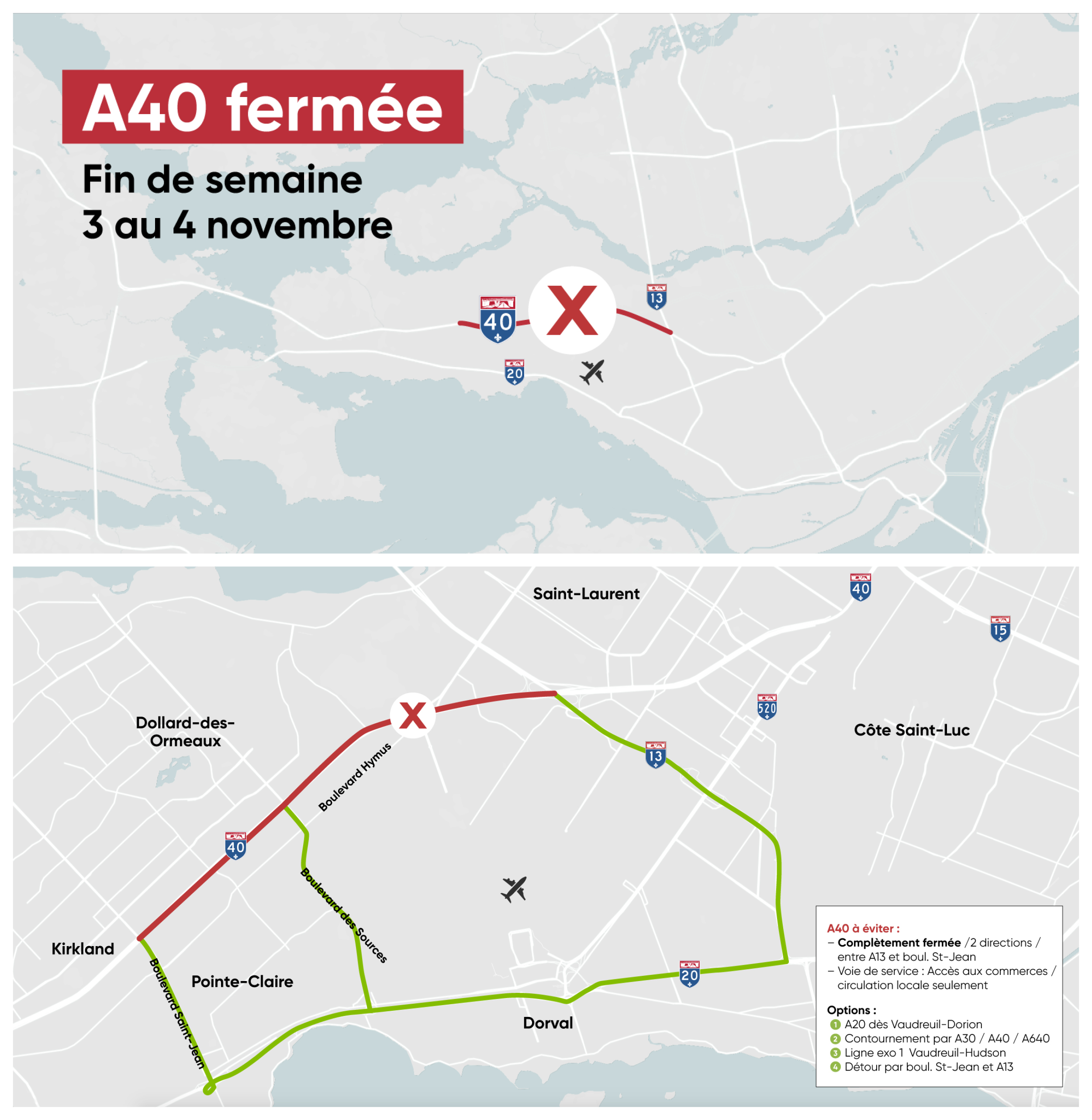 Download our detour map (new tab)
Westbound

: Proposed detour via A13 South > A20 West > Saint-Jean Blvd. North to the A40

Eastbound

: Proposed detour via Saint-Jean Blvd. or Des Sources Blvd. > A20 East > A13 North to the A40

Numerous signs will be installed in advance to encourage commuters to change their route and bypass the Island of Montréal

Access to downtown Montréal will be easier via public transit: consider Vaudreuil-Hudson line (see the weekend schedule) as well as buses 202, 204, 211, 968
SMS alerts
Receive alerts about major traffic obstructions and construction sites. We will send you a reminder two days before the closure of Highway 40.
Twitter
Follow the works info. We will announce the gradual opening of Highway 40 on our account @REMgrandmtl.

About the REM
The Réseau express métropolitain (REM) is a light rail transit network under construction in the Greater Montréal area. More akin to the metro system than to commuter trains, the REM will provide high-frequency service, 20 hours a day.
The project by the numbers:
3 connections to the metro (Bonaventure, McGill, Édouard-Montpetit)
4 directions (South Shore, Montréal-Trudeau Airport, Sainte-Anne-de-Bellevue, Deux-Montagnes)
20 minutes from downtown to the airport
26 stations
67 km
100% electric
2021–2023: the REM's gradual entry into service
34,000 jobs created in Quebec during construction
4 billion dollars invested in Quebec.
On the West Island, the REM will run along the former Doney spur (see map below) and then travel above ground along Highway 40. After the railway bridge is demolished, the elevated structure will be built on construction sites on the West Island between 2019 and 2021. Construction of the stations will begin in 2022 and the stations are scheduled to go into service in 2023.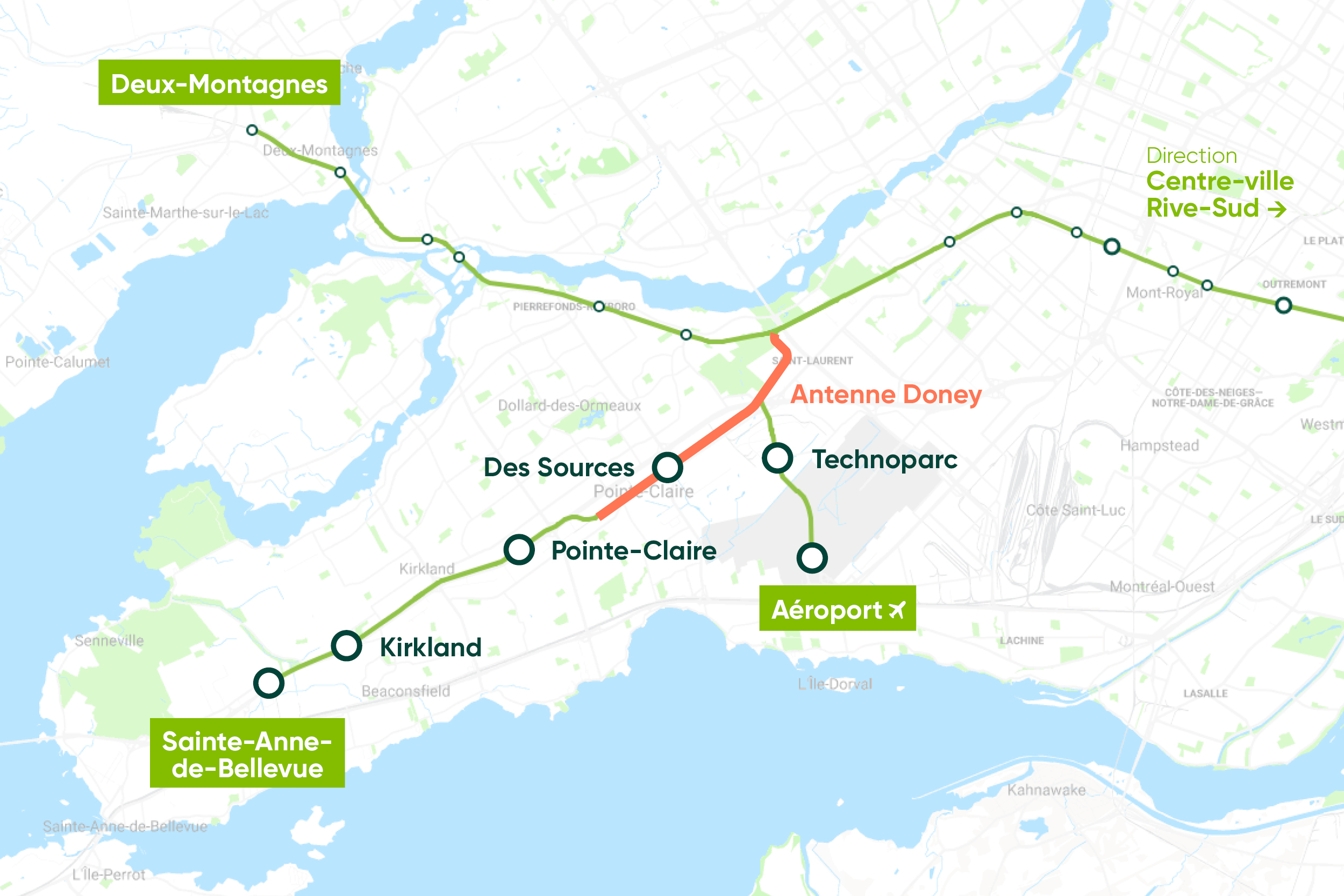 The REM will service 26 stations in the Greater Montréal area. Four of these stations will be situated on the western branch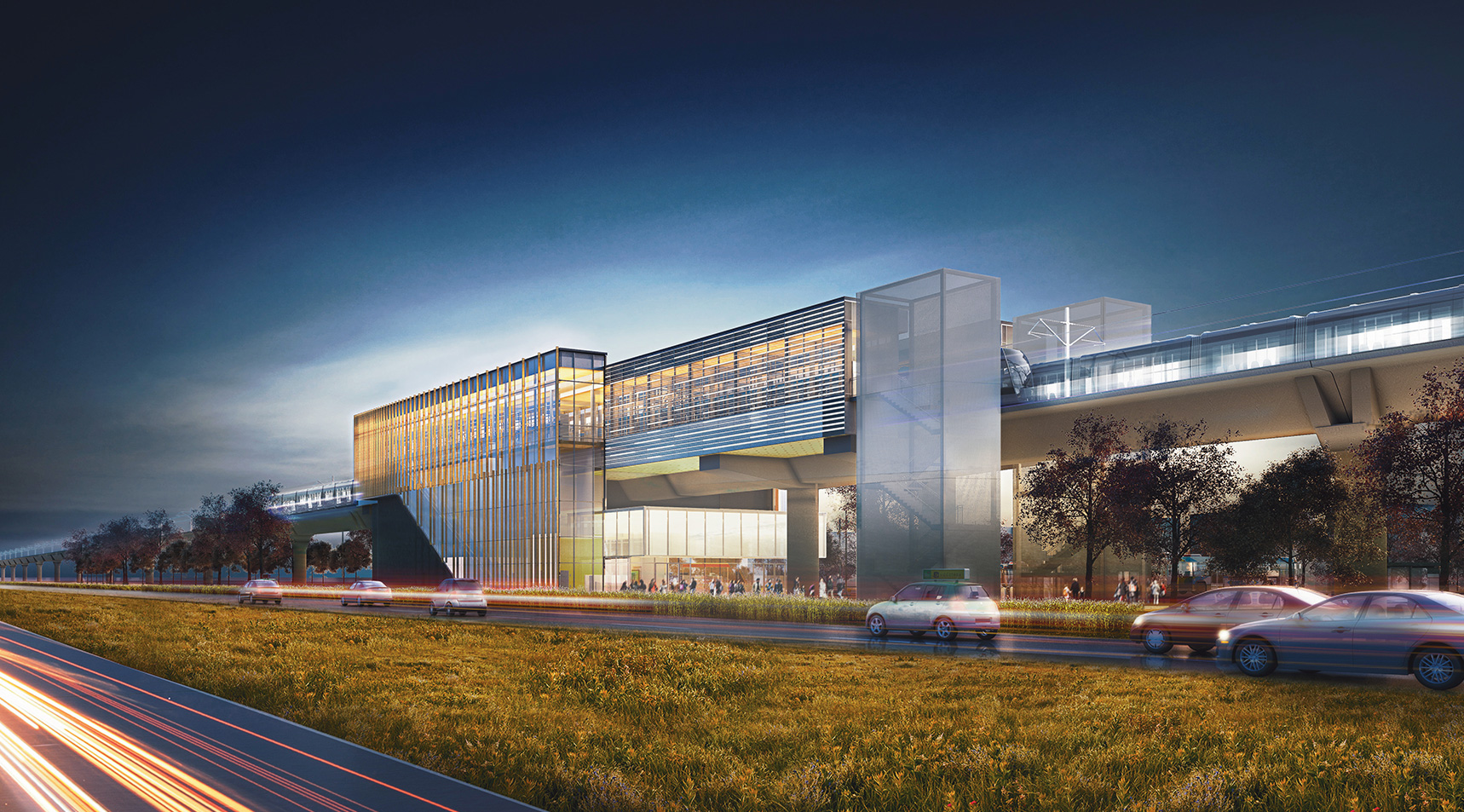 Model of an elevated station alongside Highway 40 (Kirkland Station)
See architectural renders