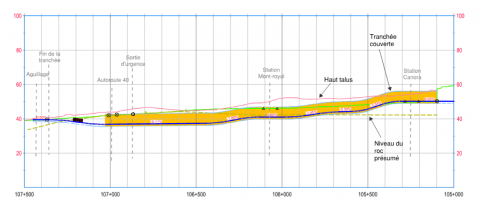 Evaluation for covering the section between the Mont-Royal tunnel's north portal and Highway 40
The REM project office used its technical resources to conduct a summary feasibility study, including a preliminary cost estimate, for changing the profile and covering the railway tracks in the Town of Mount Royal.
The study is based on an assessment of the geotechnical conditions (soil composition, rock depth) in that sector, light rail operating requirements (railway clearance, maximum grades, railway safety standards) and constraints stemming from existing infrastructures.
The study does not account for the engineering costs for the work itself or for relocating public utilities, drainage, and any impacts on exo railway operations or the REM project schedule. It should therefore be used solely for information purposes to get a rough estimate of the minimum cost for excavation and covering the track in the Canora and Mont-Royal sector.