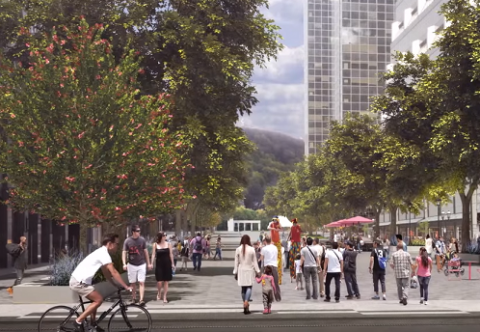 Start of work at McGill station
Project progress
Published on
Preparatory work for the construction of the REM's future McGill station began in mid-September. This is an opportunity to present the project's key phases and the Ville de Montréal's development plans between now and 2022.
Excavation and construction of the REM station
If you have been downtown, you have surely noticed that the REM construction zone has been active since mid-September on a portion of McGill College Avenue between Sainte-Catherine and De Maisonneuve. This work involves the construction of the REM's future McGill station at this location.
The work site on McGill College/Sainte-Catherine
Construction here will extend over a period of several years; we are currently in phase one. The work being performed now until wintertime involves digging up the road and sidewalk (east side only) to relocate the urban public utilities, i.e. the cables and pipes that provide public services (water, electricity, gas, telephone and Internet service). Moving underground cables in the heart of downtown is no easy feat!
Learn more: Relocation of public utilities on McGill College and De Maisonneuve
Once the public utilities have been relocated, digging can safely begin to construct the future station and pedestrian walkways connected to the McGill metro.
Every day, some 25,000 people will travel through the REM's McGill station, the REM's second busiest station after Bonaventure-Gare Centrale.

 
A new square in the heart of downtown
The REM construction work is part of a larger vision for the downtown core and the current renovations to Sainte-Catherine Street. The Ville de Montréal wants to redesign the commercial corridor in the coming years, widening the sidewalks to an average width of 6.5 m and adding more greenery.
The City also wants to leverage this construction work to develop a new public square at the corner of Sainte-Catherine/McGill College. This area would give more space to pedestrians, and its central location, mid-way between Mount Royal and the St. Lawrence River, would make it an ideal and festive gathering place.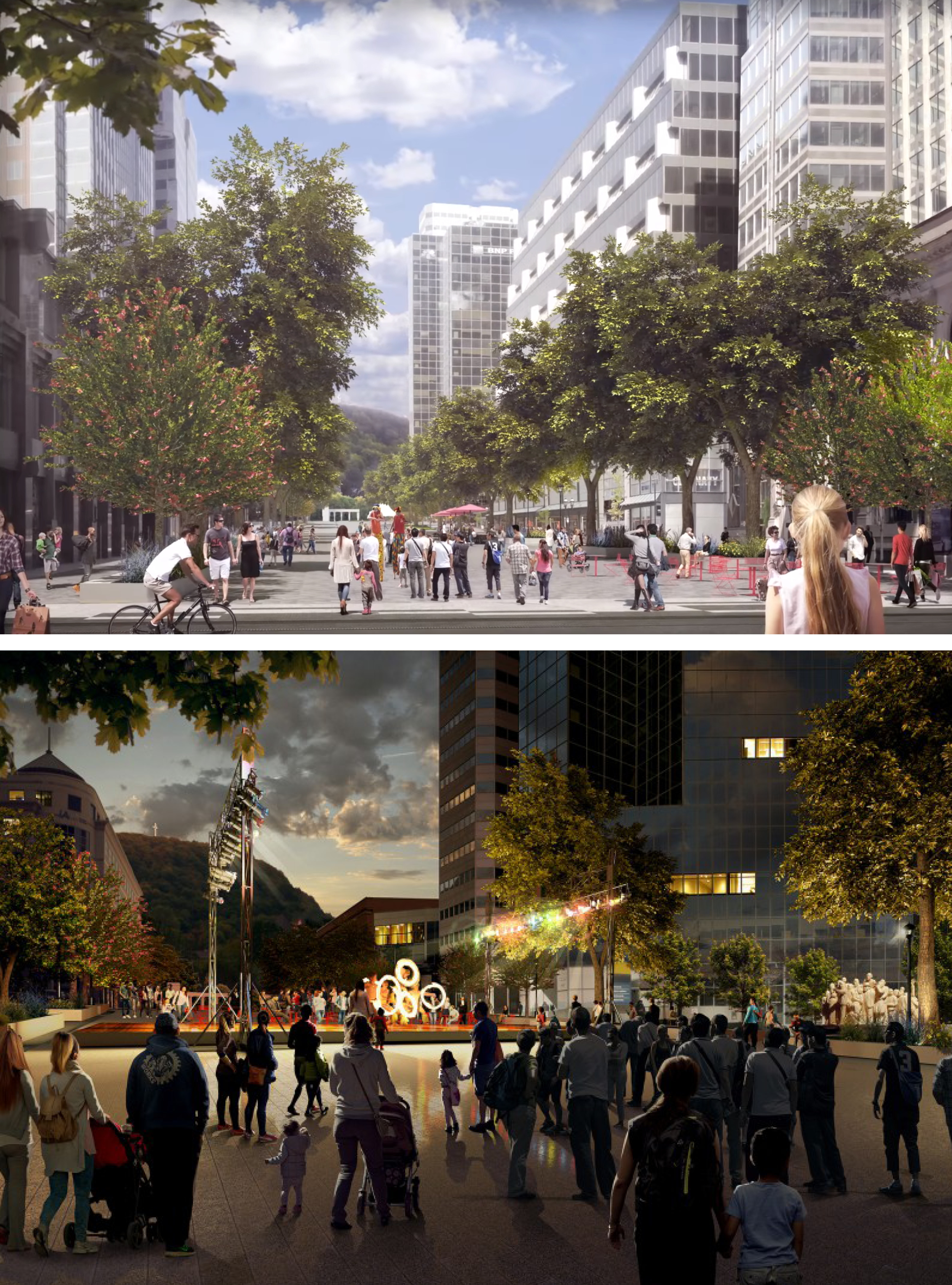 The future McGill public square (photos: Ville de Montréal)
In the fall, the Ville de Montréal will hold a public consultation on the future of McGill College Avenue. An information session was held October 4 at the Office de consultation publique de Montréal (OCPM) prior to the consultation. Refer to the OCPM website if you would like to participate or learn more.
Once in service in 2022, the station in this sector should completely transform the way you travel downtown. The REM will provide an easy connection between the green line (McGill) and the blue line (Édouard-Montpetit), on opposite sides of the mountain, in just three minutes. The future public square will also be a key attraction for tourists arriving from the airport, giving them their first impression of Montréal.


The REM at station McGill by the numbers
Commissioning in 2022
Service: 20 hours a day
Frequency: 2.5 minutes during peak periods, 5 minutes off-peak
Maximum capacity per departure: 780 people
McGill to Bonaventure (orange line): 1 minute
McGill to Édouard-Montpetit (blue line): 3 minutes
McGill to the Montréal-Trudeau Airport: 24 minutes with regular service, less than 20 minutes with express shuttles
Work schedule in Downtown Montréal
REM stations: Édouard-Montpetit, McGill, Bonaventure, Bassin Peel, Île-des-Sœurs