6 maps to help understand the REM
Urban integration
Published on
With its total length of 67 km, the Réseau express métropolitain (REM) will practically double the existing metro network, which is currently 71 km. Here are a few maps to help you understand how the REM will integrate into the urban fabric of the Greater Montréal area.
1. Commissioning dates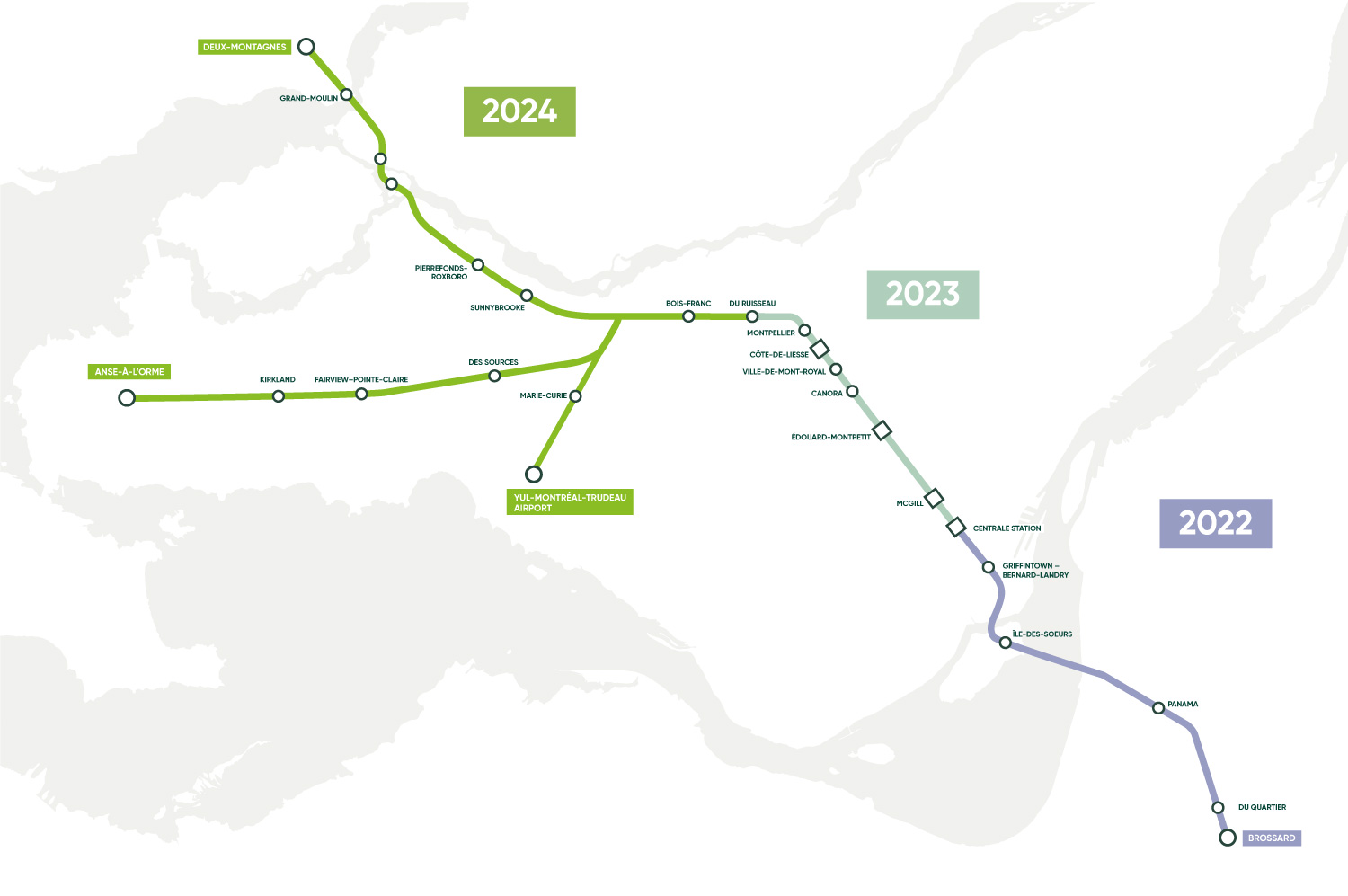 The new light rail system will be commissioned gradually, beginning on the South Shore (to coordinate with the end of construction of the new Champlain Bridge), and working its way to the North Shore.
Segment 1, Rive-Sud to Central Station: Summer 2022
Segment 2, Central Station to Du Ruisseau: Fall 2023
Segment 3, Du Ruisseau to Sainte-Anne-de-Bellevue: Spring 2024
Segment 4, Du Ruisseau to Airport: End of 2024
Segment 5, Du Ruisseau to Deux-Montagnes: Fall 2024
2. The underground and elevated track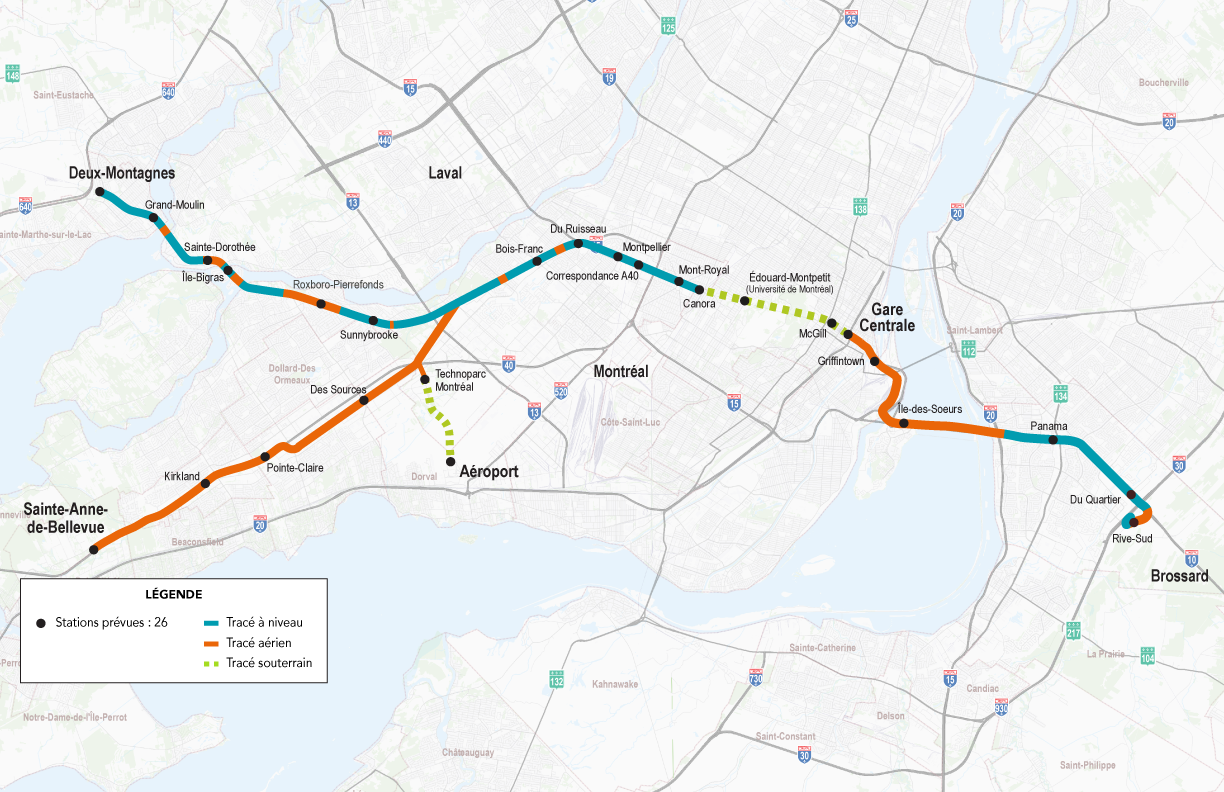 This is one of the features that distinguish it from the Montréal metro: the REM will alternate between underground, ground and elevated stretches. Rest assured that for the outdoor portions of the route, we will use the latest technology to make sure it can withstand our harsh winters! A similar transit system is already in operation in Helsinki.
The REM and winter
Harsh winter conditions represent a significant challenge for any train or light rail system operator. For the purpose of the REM's winter plan, specialized equipment will be used for maintenance and a dedicated field team will make sure the system runs smoothly.
The REM's high frequency (which varies between 2.5 to 15 minutes) will also allow us to keep a close eye on operations at all times, so we can quickly identify any issues. Since trains will be running regularly over the tracks, this will help prevent ice and snow from accumulating like it would on a highway. In exceptional cases, it will be possible to keep the REM running through the night, to prevent precipitation from accumulating on the track and catenary.
3. The REM's route through residential and industrial areas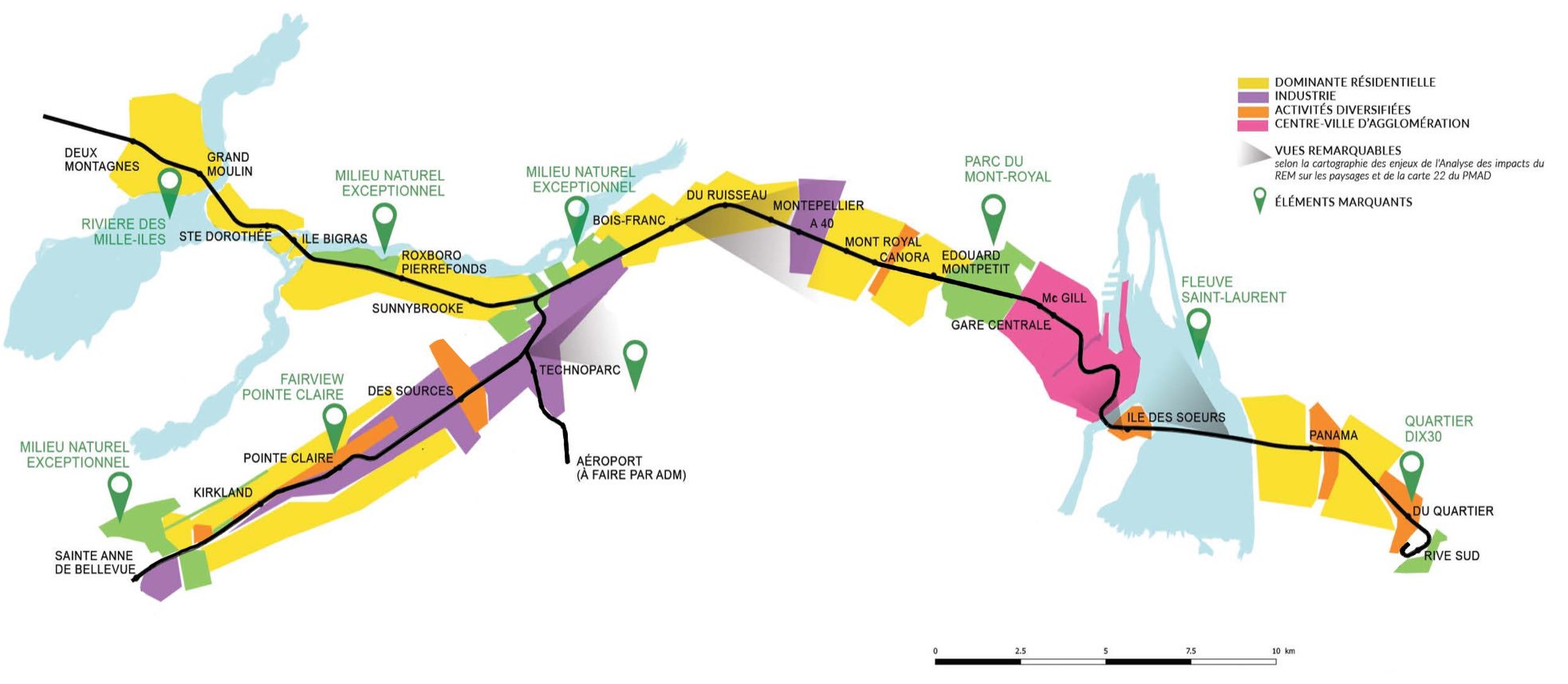 The route will service residential areas, employment centres (downtown, Pointe-Saint-Charles, Saint-Laurent, Technoparc) and university hubs (UdeM, McGill, ÉTS) to facilitate commutes.
4. Environmental impacts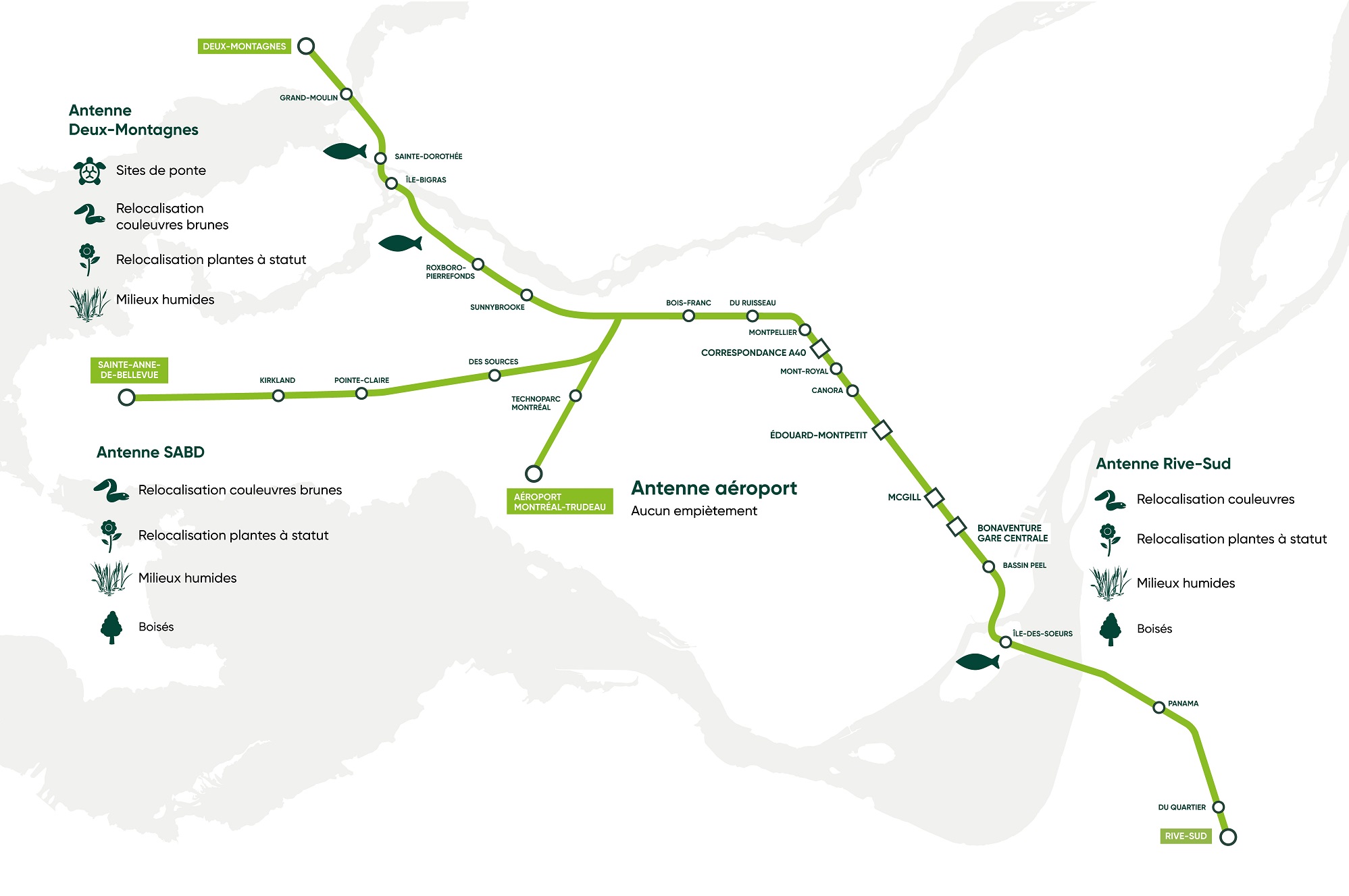 Wooded areas, wetlands, animals...the REM will run through some specific environments, all well documented by our team. Action has been taken to preserve these areas and compensate for the impacts, as necessary. For example, wildlife crossings will be built under the railway track so that animals can cross from one side of the REM to the other.
We have also committed to planting 250,000 trees in collaboration with Jour de la Terre to compensate for GHG emissions during the construction phase–which is equivalent to the combined area of the Mount Royal and Jeanne-Mance parks. At this moment, 100,000 trees have already been planted as part of the REM in the Greater Montréal area (see the map).
5. Frequency (rush hour and off-peak)
Source: James Amend (station names and fare zones are the author's interpretation)
Revisited by graphic designer James Amend, this map helps better understand the REM branches. Beginning at Bois-Franc station, trains will service different directions: one out of four will run to the airport, one out of four will go to the West Island, and two out of four will head for Deux-Montagnes. Here are the frequencies:
Between Rive-Sud and Bois-Franc: 2.5 min during rush hour, 5 min off-peak
Between Bois-Franc and Aéroport Montréal-Trudeau: 10 min during rush hour, 15 min off-peak
Between Bois-Franc and Sainte-Anne-de-Bellevue: 10 min during rush hour, 15 min off-peak
Between Bois-Franc and Deux-Montagnes: 5 min during rush hour, 15 min off-peak
6. An integrated network, connected to the metro and train lines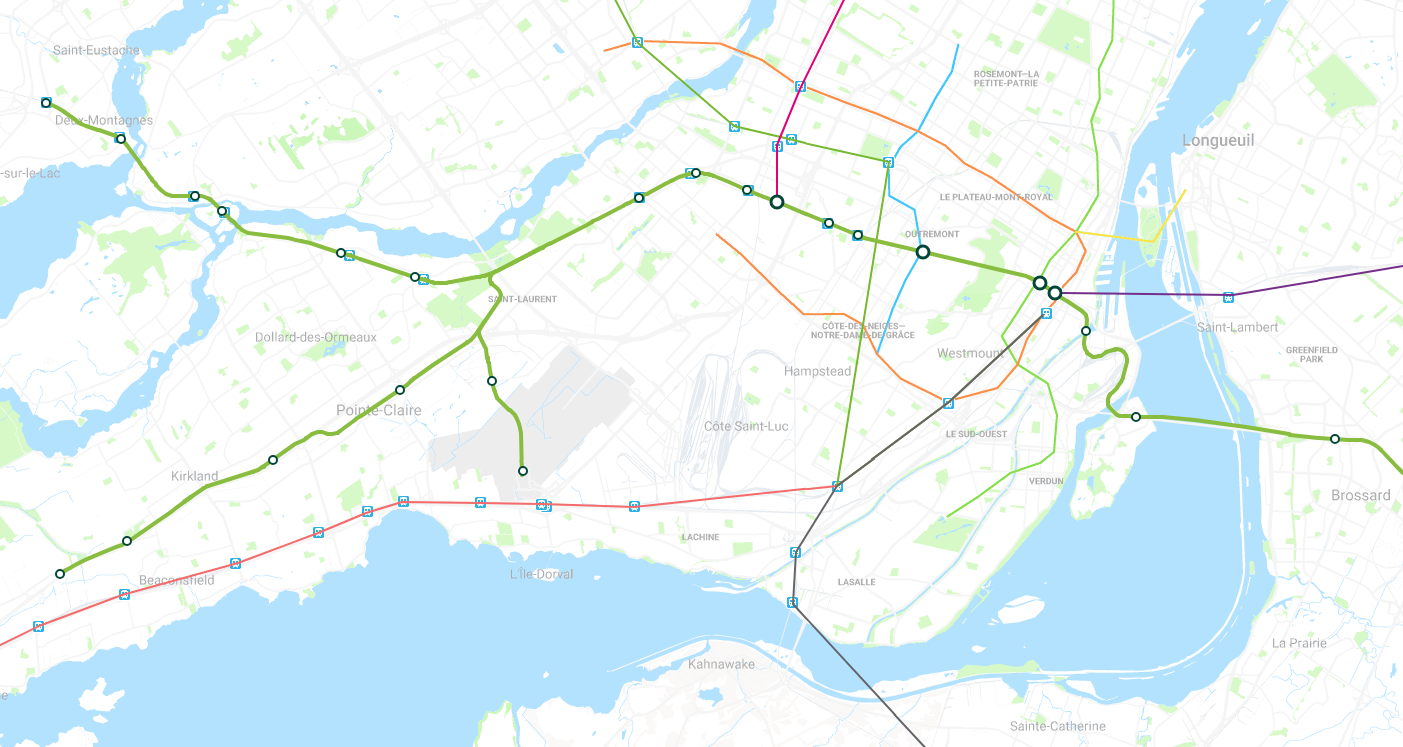 The REM should completely transform the way you travel downtown, with three connections to the Montréal metro (Bonaventure, McGill, Édouard-Montpetit). You will be able to travel directly from the green line to blue line in 3 minutes, through the Mont-Royal tunnel.

To go further, we provide an interactive map on our website. Click the various stations to view their locations, travel times, frequencies or park-and-ride lots available.
Related news
Urban integration
Goodbye grade crossings: new infrastructures coming with the REM
February 25, 2021