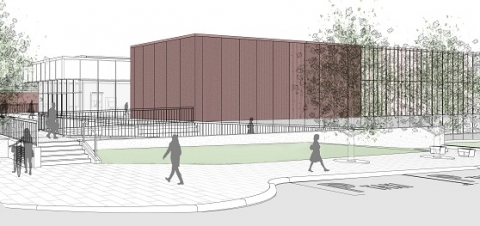 Here is a preview of what the REM station Mont-Royal will look like in 2022
Urban integration
Published on
REM station construction began this fall. Here is a preview of the station in the Town of Mount-Royal. Drawings will be finalized next year.
Architecture
Developed by local firms (Lemay, Provencher Roy, Bisson Fortin and Perkins+Will), REM's architectural signature was designed so that it would integrate visually with the neighbourhoods. Buildings will feature wood and the transparency of glass, giving them a warm and welcoming appearance and bringing natural light into the stations, while respecting the surrounding residents' privacy.
The architects were primarily inspired by the city's rich heritage. By using terracotta slats, the station will be inspired by the color of the brick of the old station, which was built in 1917 (now home to the pizzeria), in order to maintain consistency with this historical site.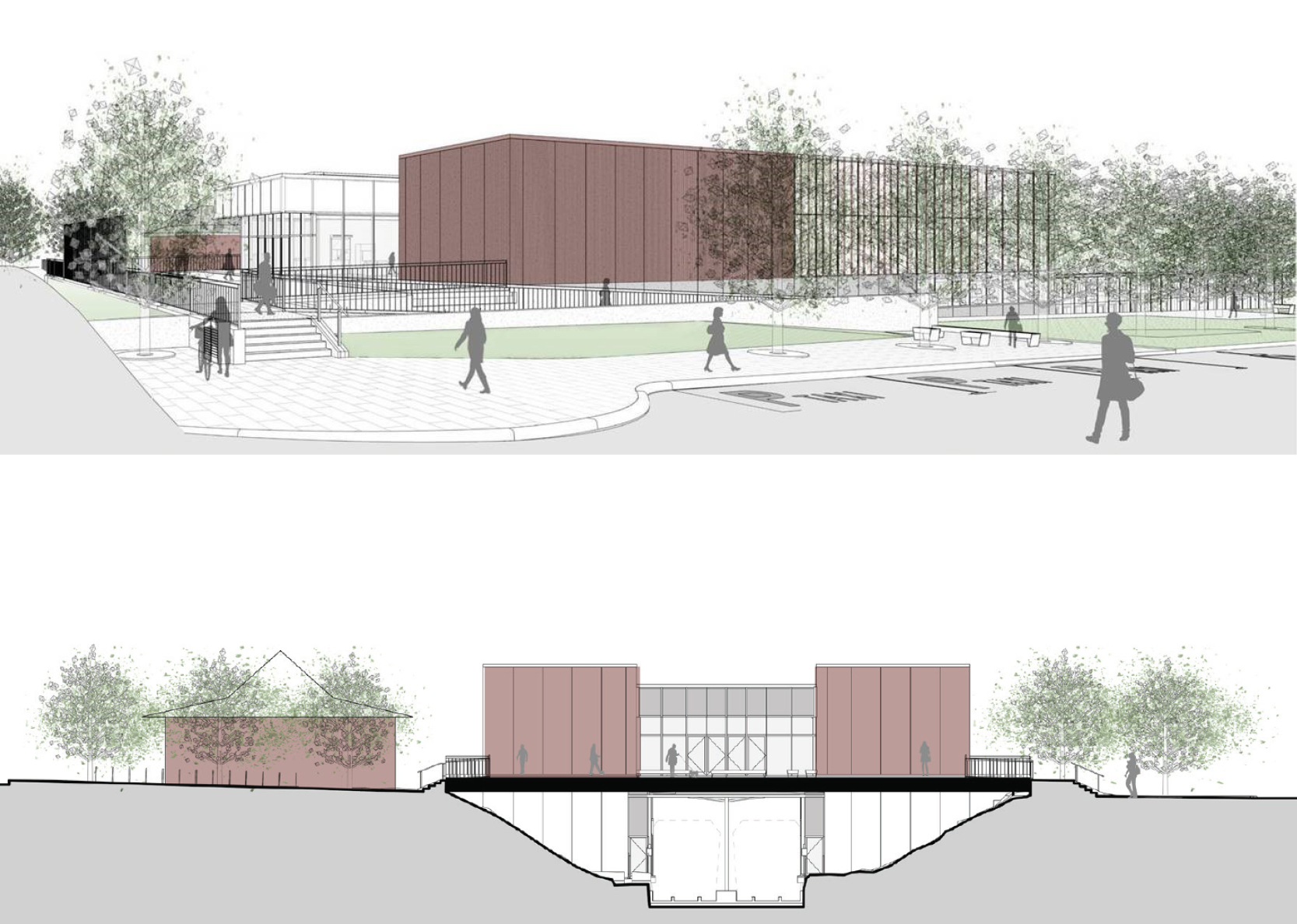 Preliminary 3D view presented for informational purposes only. The architectural renderings will be available in 2019
Inside, the Mont-Royal station will be designed to facilitate travel and guarantee user safety:
The station will have elevators

(just as all REM stations will) to ensure universal access for those with reduced mobility.

The station will be enclosed

: that means you will be able to wait for the train indoors, protected from the cold and inclement weather.

Platforms will be protected with platform screen doors

: you won't be able to cross the tracks or drop anything onto them. This will prevent accidents and guarantee train reliability. (Foreign objects on the track are one of the leading causes for metro delays in Montréal.)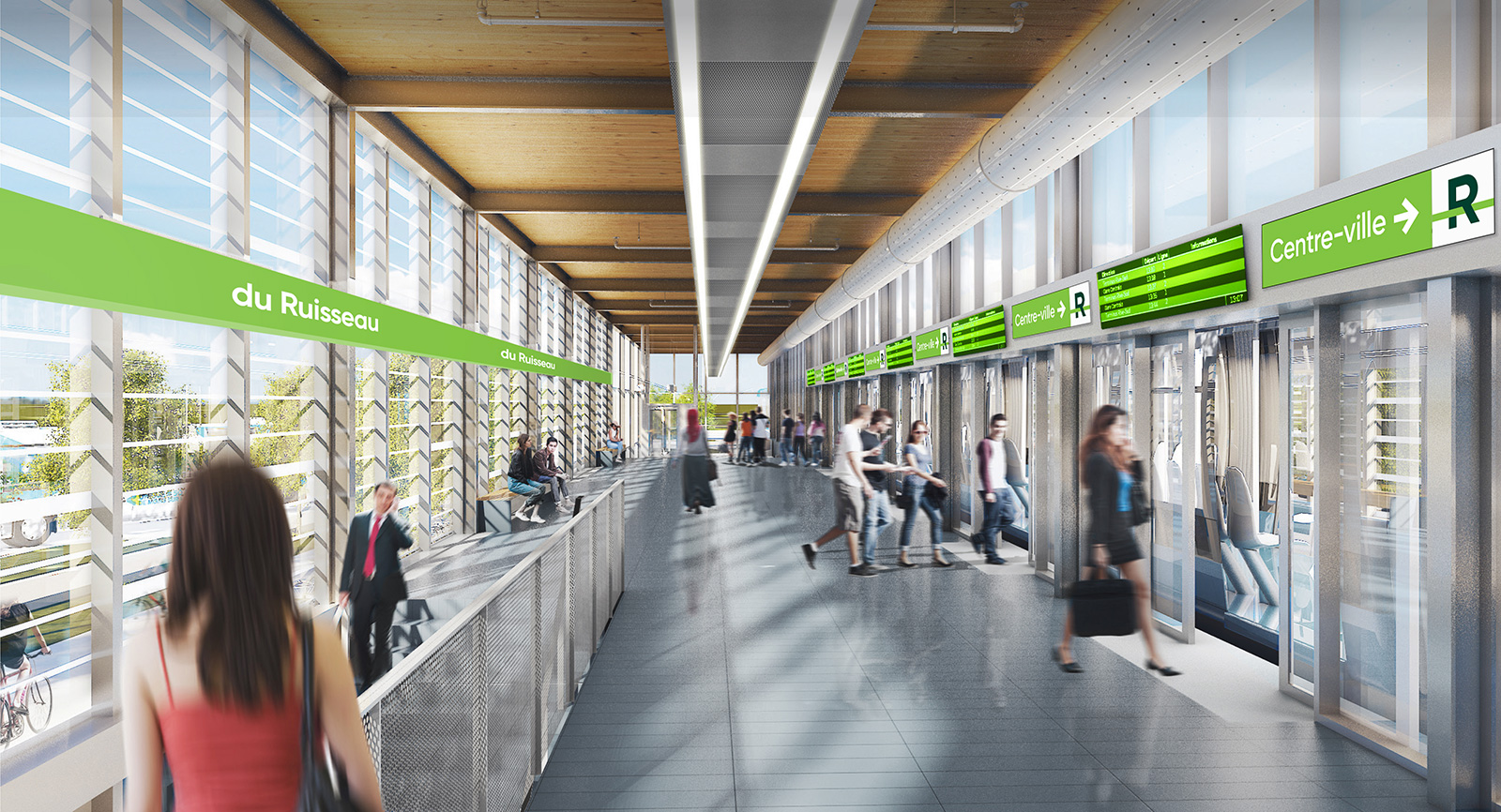 Typical interior of an REM station (Du Ruisseau station)
Access to the metro
To facilitate REM access, a new public space will cover the railway at Cornwall Avenue. It will become a meeting point at the metro exit, and will allow users to cross from one side of the city to the other.
For safety reasons, the grade crossings on Lazard and Jasper Avenues will be replaced with an overpass that will be accessible by pedestrians, bicycles and strollers alike. Our team made this change at the request of numerous residents. You will still be able to access the school and library as you do today, but even more safely (grade crossing will be eliminated).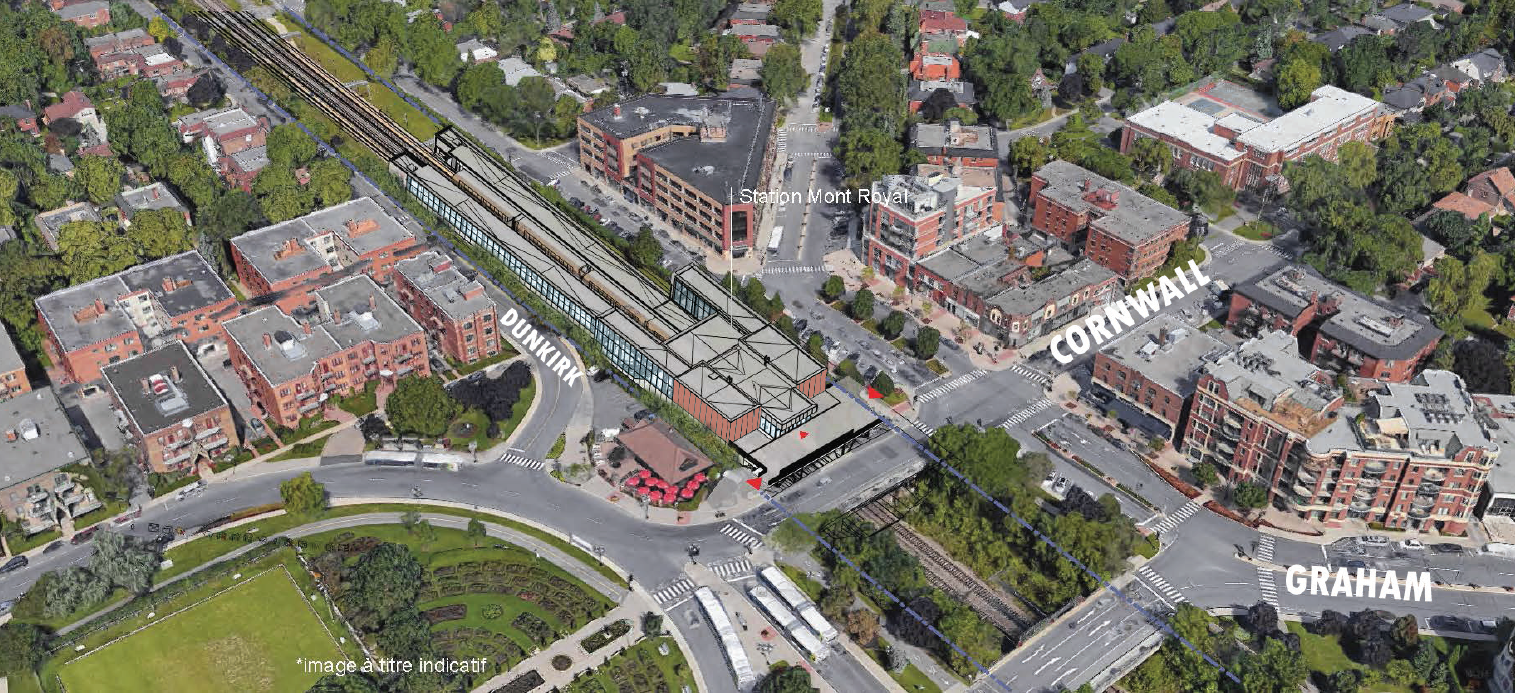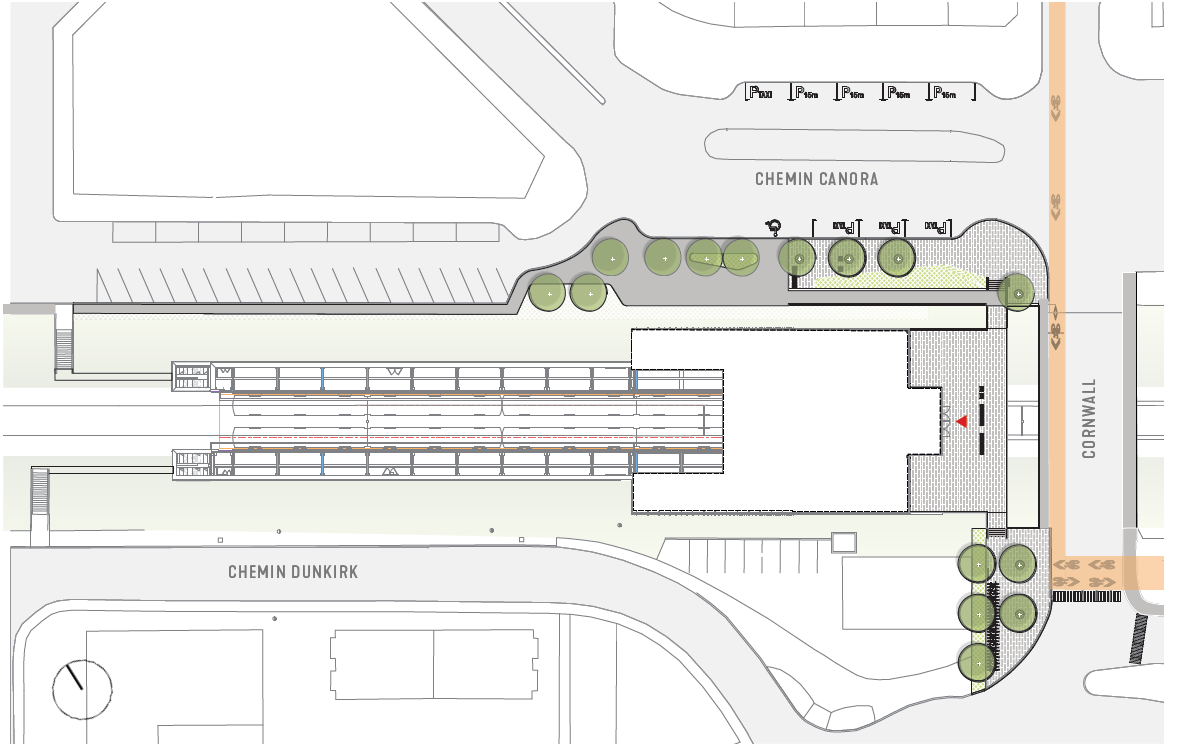 Urban integration of Mont-Royal Station
REM at Mont-Royal station, by the numbers
Commissioning in 2022

Service offered 20 hours a day

Mont-Royal to Édouard-Montpetit (blue line): 4 min.

Mont-Royal to McGill (green line): 7 min.

Mont-Royal to Central Station (orange line): 8 min.

Mont-Royal to Montréal-Trudeau Airport: 17 min.
[FAQ] Will REM's frequency increase the amount of noise in the area?
REM will run more frequently than the current train (> 500 times per day). While trips will be more frequent, it is important to note that REM is a light rail line, which is a very different type of technology than the current train. Trains will be more modern and quieter. The sound level will be reduced in many facets:
The braking system (one of the primary sources of noise) will be quieter.

Several other sources of railway noise will be decreased: engine propulsion, wheel/rail friction, fans, etc.

Trains will be shorter, therefore they will pass more quickly.

Stations will now be enclosed, so the new buildings will dampen the sound near the stations.

Grade crossing alarms will no longer sound, since they will be eliminated.
A sound level analysis is currently underway to give us an accurate picture of the projected situation. We will share the results transparently with the public and elected officials alike. A citizens' committee will also be set up to ensure the REM's integration by implementing permanent mitigation measures before it is commissioned.
Works info: Construction of Mont-Royal and Canora stations
Learn more about the work schedule, impacts and mitigation measures