A first edition of REM's temporary art program
The first edition of the temporary art program is underway in Griffintown at Place des Aiguilleurs: we'd like to tell you a little more about this innovative aspect of the art program and, above all, about the works you'll be able to discover!
Concordia University is piloting the first edition of the temporary art program, in conjunction with artists and professors Kelly Jazvac, Juan Ortiz Apuy and Yann Pocreau.
The temporary works were created as part of the "Public Art and Sustainability" course, focusing on sustainable practices in public art. As a result, sustainable development practices in public art guided the choice of artistic concepts. Respect for the site, at the heart of Griffintown's history, and for communities and the environment is the basis for the approach.
Four ephemeral works at Place des Aiguilleurs
You can discover four temporary works on display until mid-October at Place des Aiguilleurs. Each work has been created in close connection with the chosen location and offers a reflection on our urban life!
Sonic
undulating appearance
as a pulse led by time
like a movement fed by space
between vibration and territor
The temporary installation is made up of 28 slender red pine and copper structures arranged in a wave-like pattern on the slope adjacent to the tour d'Aiguillage. At its top is a copper pipe that allows a fine oscillation activated by the vibrations of the ground, the wind and the various movements in the neighbourhood. Copper is a nod to our connection through matter, both within our buildings, which connect us, and with the territory from which they originate.
This installation reflects on the vibratory history of the neighbourhood. What is the vibrational mapping of a space? Here, we're talking about sound, physical, poetic and dynamic vibrations. A vibration of the world and the earth, a pulse of the heart and urban life.
By:
Clothilde Allen
Olivier Beaudoin
Julia Martinez Turgeon 
Julie Robert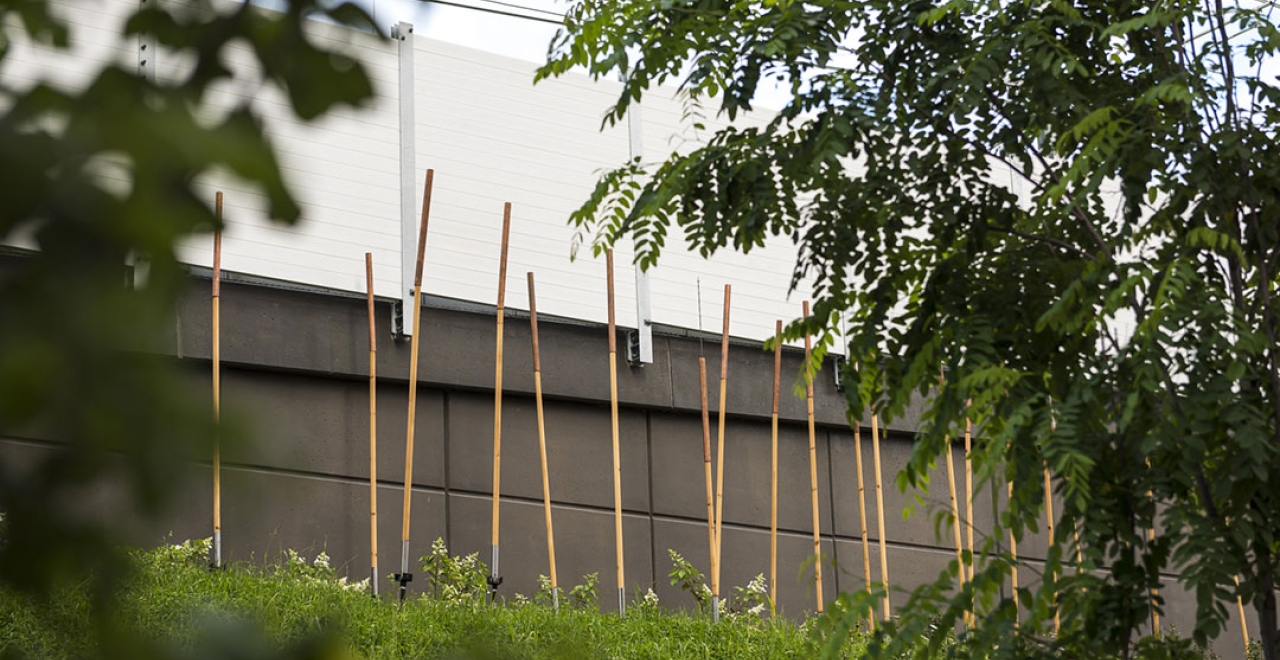 Sonic © Vincent Brillant Photographe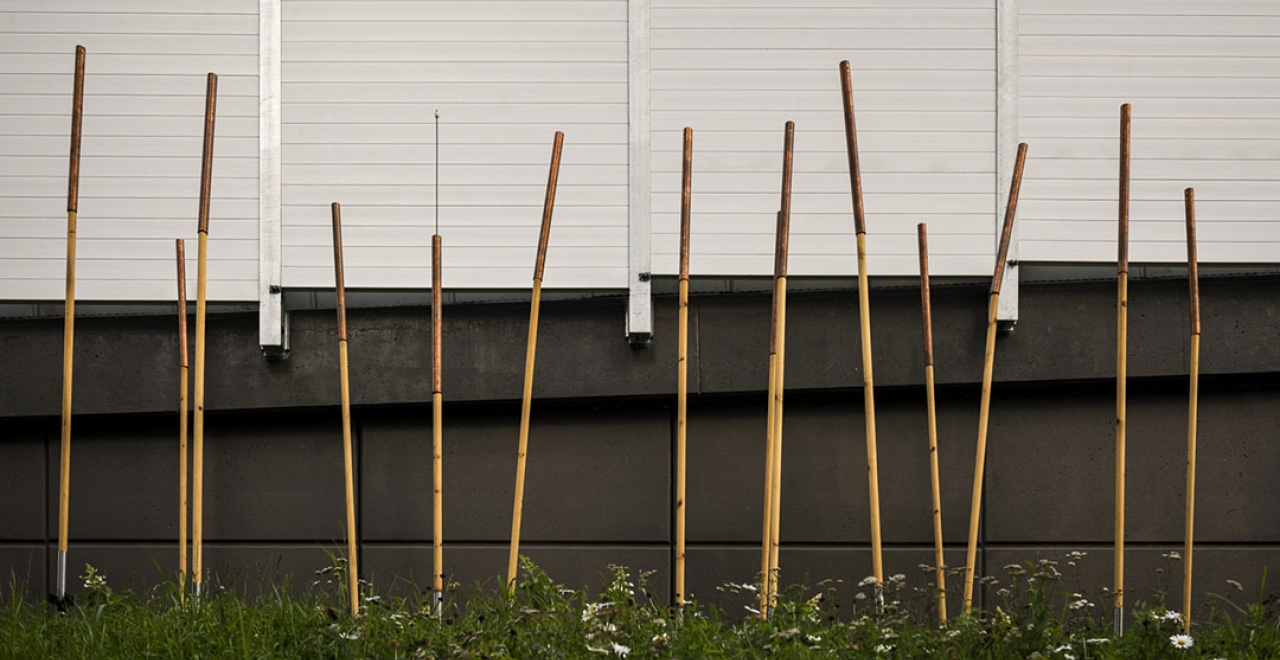 Sonic © Vincent Brillant Photographe
dés.orientations (sit if you'd like)
This labyrinth is a simple course designed for the curious. Going through it offers respite, especially when you reach its centre. Around it, the city, like a snake, grows and changes. Just as in the city, each person has their own destination. 
This labyrinth is a symbolic journey. It reminds us that some forms of life can be highly resilient. It contains seeds, which we hope will grow, as a reminder of the weeds that criss-cross the concrete pavement everywhere. These plants evoke what was there before us, and represent what will remain afterwards. 
This labyrinth is a place to stop, rest, for re.orientations, and to connect with nature, where we can put our respective itineraries into perspective. 
By Les Mauvaises herbes:
Isabelle Anguita
Sarah Cloutier
Laurie Michaud
Danica Olders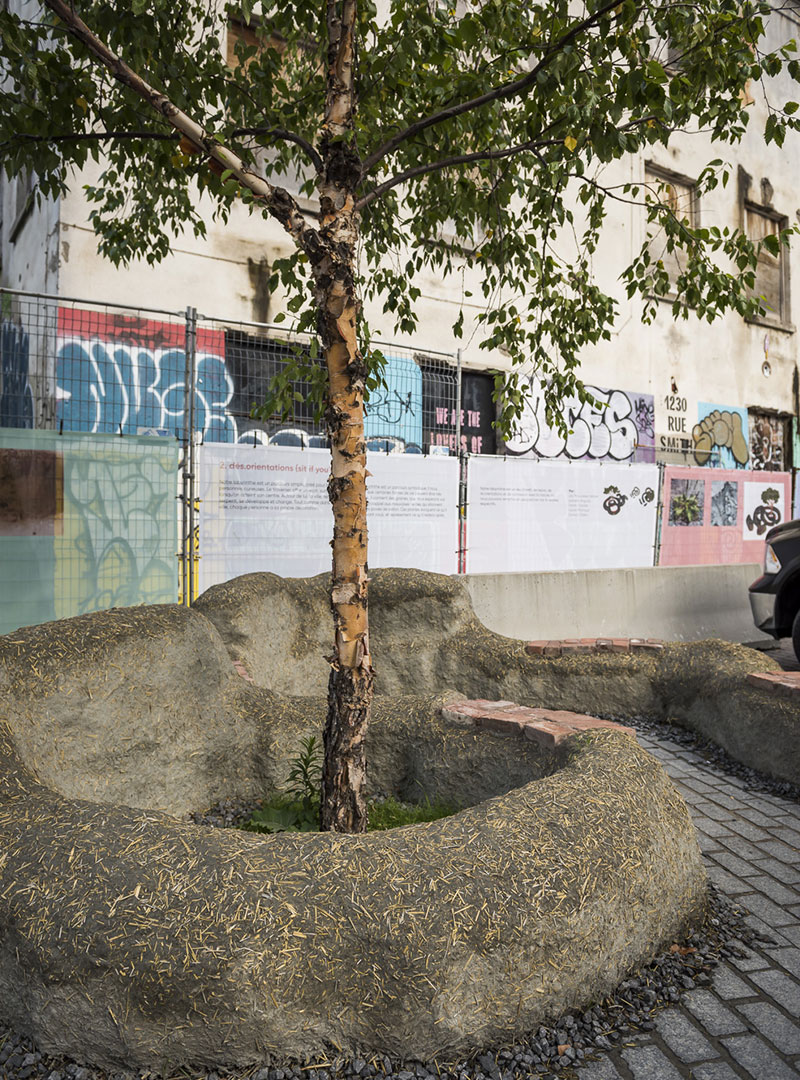 dés.orientations © Vincent Brillant Photographe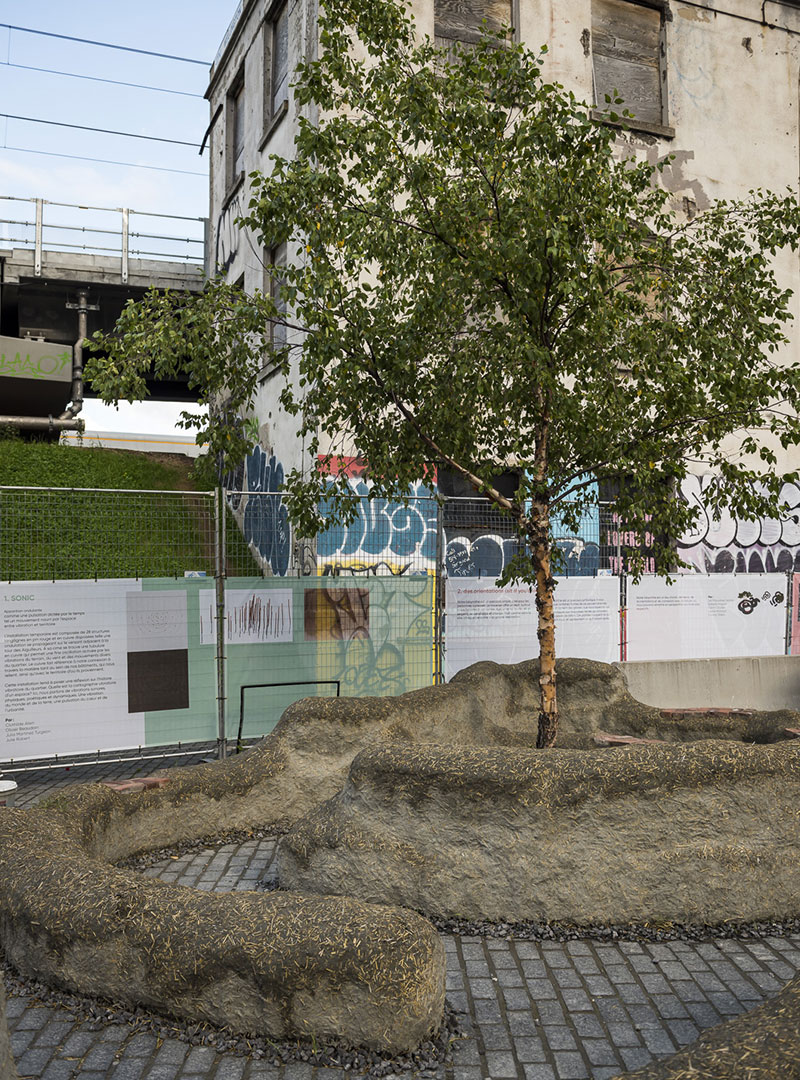 dés.orientations © Vincent Brillant Photographe
stand:by
The tour d'aiguillage Wellington is recognized as a historical and symbolic landmark of the Lachine Canal. Originally intended as a cultural incubator for the arts community, this plan has since been postponed indefinitely. The failure to revive this space and its continued abandonment inspired us.
The aim of the work is to make the roof of the tower accessible to the public by means of a 1:4 scale reproduction installed at ground level. The roof serves as a bench for passers-by. A space has been created where a medicinal plant garden is shared with the community. A brightly coloured metal sculpture spelling "stand:by" serves as a commentary on the cultural incubator project that has remained inactive for several years.
The work is made from recycled end-of-life materials.
By the Ferrovipathes team:
Fiza
Josée Brouillard
Liliana Kovač
Patrizio Patrizio
Riesbri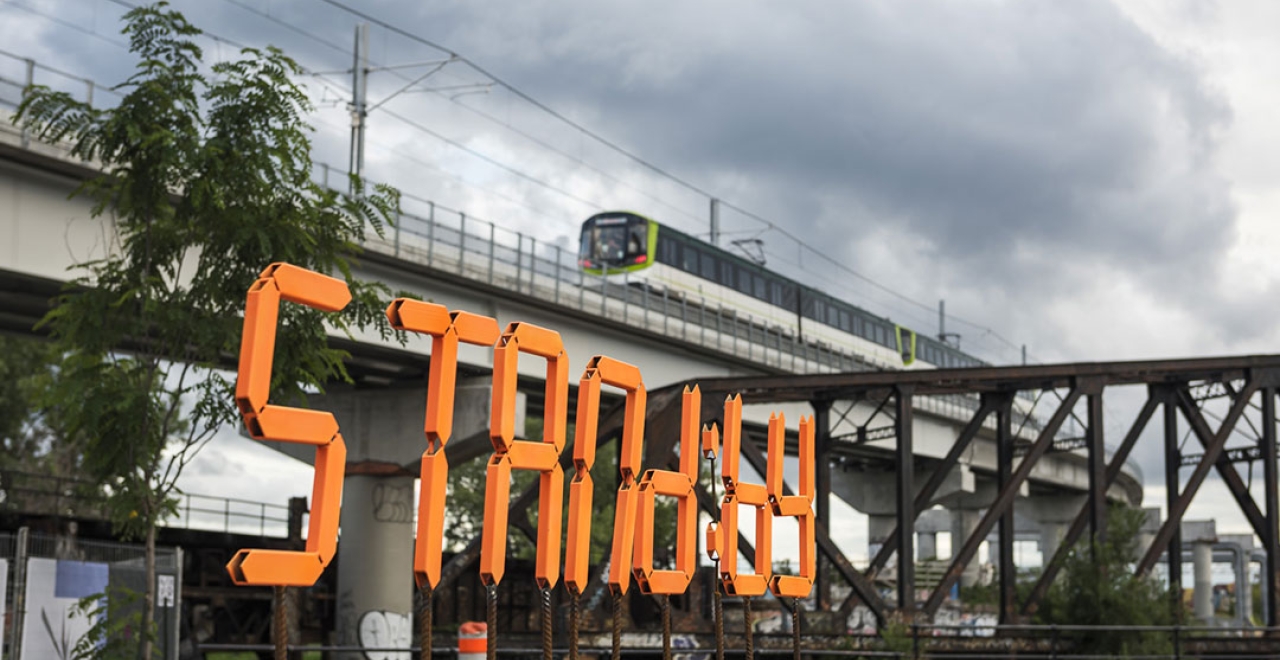 stand:by © Vincent Brillant Photographe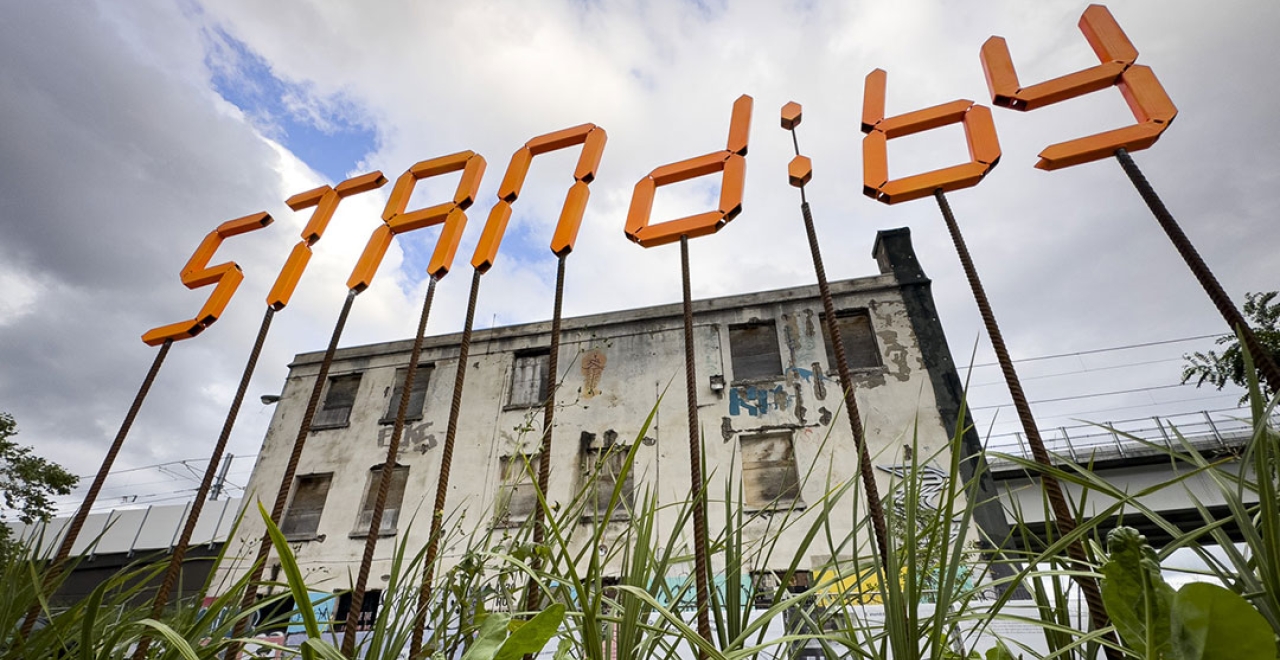 stand:by © Vincent Brillant Photographe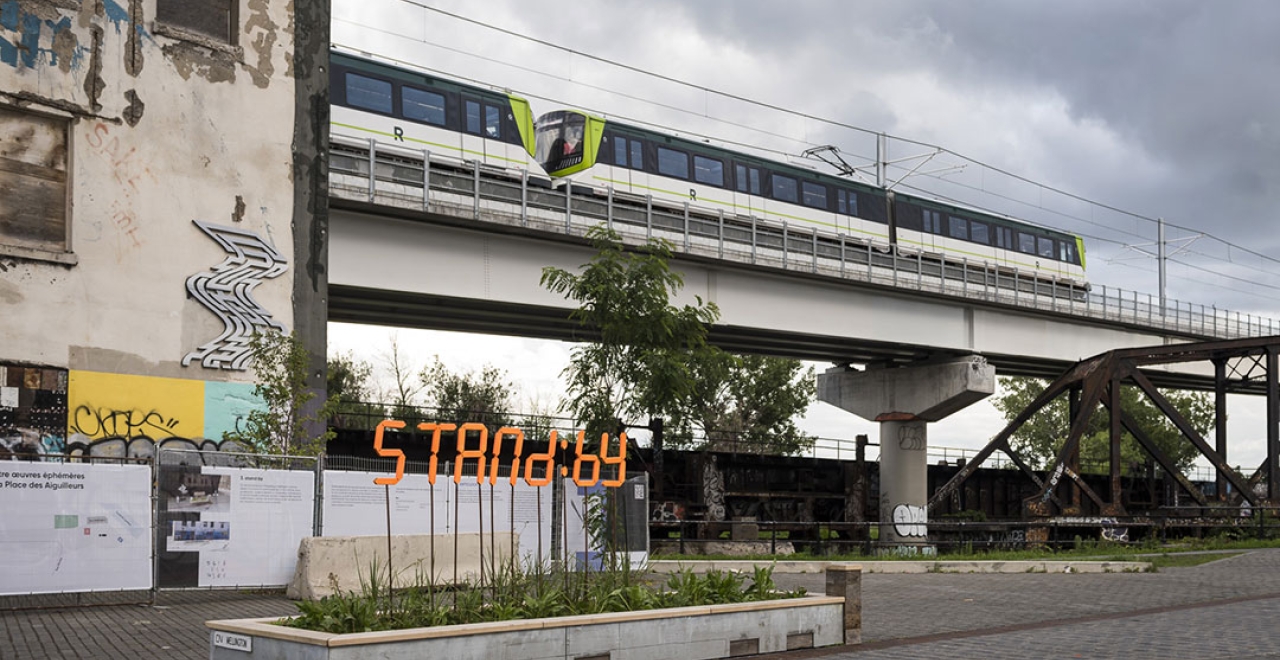 stand:by © Vincent Brillant Photographe
ANTICLOCK
ANTICLOCK, situated at the crossroads of pedestrians, bicycle, and maritime paths, is a compass of both intersection and direction. Its minimalist form in reclaimed metal creates a particularly strong resonance with Griffintown's history.  
This project is a solar clock that is not intended to tell the time, but to point in new directions. Its base is covered with lines that indicate the position of significant events, phenomenons and elements. Visitors eager to learn more can visit a website (anticlock.ca) that details each of the elements to be discovered. A genuine tool for stepping back in time, its aim is to reveal past, present, and future events that greatly contributed and will contribute to shaping the face of Griffintown today, by making the invisible visible.
By:
Lucy Gill
Sophie Howard
Maxime Partouche
Victorian Thibault-Malo
Astrid Yates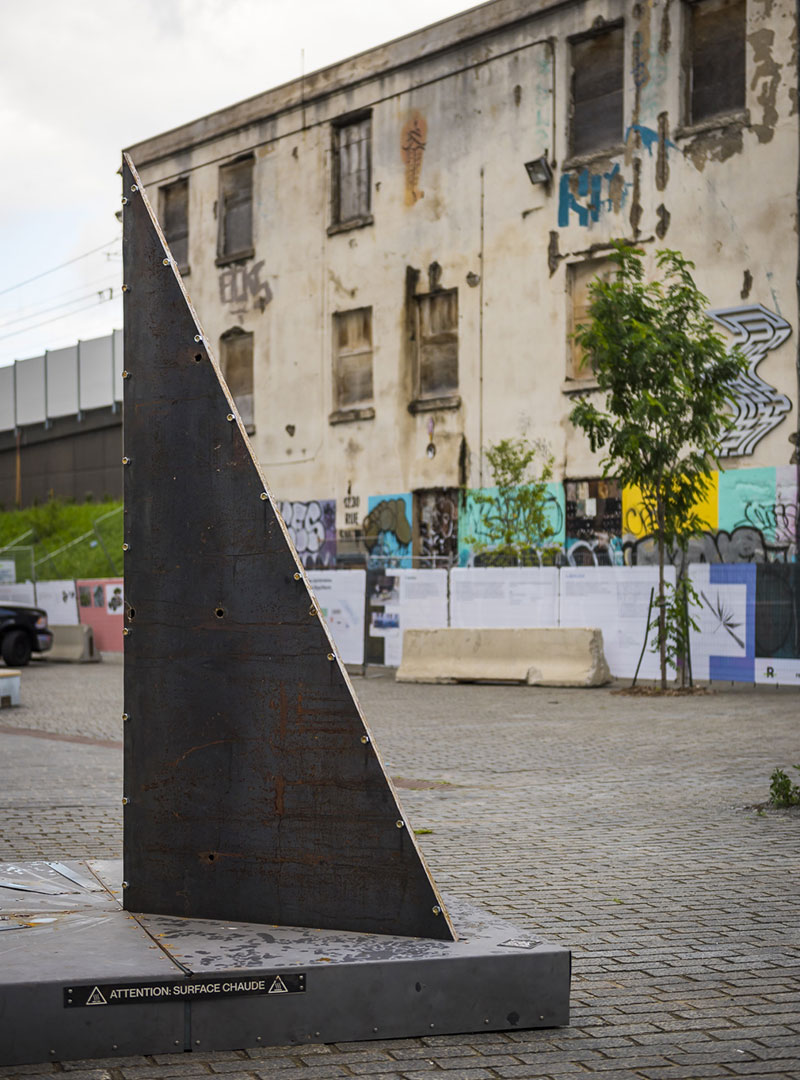 ANTICLOCK © Vincent Brillant Photographe
ANTICLOCK © Vincent Brillant Photographe
The art program in brief
Named "UniR," the REM's public art program draws its inspiration from the union of art, transit users and the neighbourhoods served by the REM. It's a collection of permanent and temporary works in a variety of locations across the network.
An innovative partnership with four Montréal universities
The REM's art program includes temporary works funded through the "Politique d'intégration des arts à l'architecture et à l'environnement des bâtiments et des sites gouvernementaux et publics."  
The genesis of the temporary art program is based on a strong vision: to enable an unprecedented collaboration between four Montréal universities, in the image of the REM, which connects people and a multiplicity of destinations!
The temporary works are created in partnership with UQAM, Concordia University, McGill University and Université de Montréal, as part of an inter-university, multidisciplinary course. The aim of the course: to train the next generation of public artists, while addressing current issues from a variety of viewpoints. Since the works are temporary, the choices can be more daring! The program is spread over four years, with an annual edition from 2023 to 2026, led by a different university.