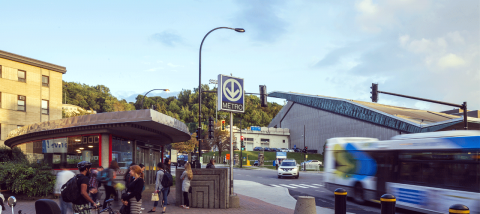 Part 2 | Information about the agreement with the ARTM and its rate mechanisms
REM in service
Published on
In January 2017, we published a financial information note presenting the broad principles for the REM operating costs and the amounts that municipalities would be charged for the new service.
Today, a new agreement with the ARTM on integration of the REM service into the metropolitan public transit system confirms these principles.
Four key elements in this agreement
1)

The REM will greatly improve public transit and current system capacity

.
On the South Shore, twice as many public transit users will be able to cross Champlain Bridge every day since the REM's frequency will translate into double the capacity of the current buses. Evening bus congestion in downtown Montréal will be eliminated thanks to the REM, which can reach the South Shore in 15 minutes while avoiding traffic.
Capacity and frequency on the Deux-Montagnes line will be increased in order to serve more users. The number of departures on the line will increase by 400% and service hours will be extended to 5:00 a.m. to 1:00 a.m. 7 days a week.
On the West Island, the REM will transform the transit dynamic by offering greater frequency, increased capacity and more destinations due to its linking to the three main metro lines.
2)

No additional payments will be required from the ARTM or municipalities if REM ridership projections are not met.
The ARTM will be invoiced 72¢ per passenger-km based on actual REM ridership.

This rate goes down once the ridership projection is exceeded.

The targets are based on a rigorous financial structure but at no time will the ARTM and municipalities assume the risk associated with achievement of these targets.
3)

Cities can project over time and anticipate the REM's future cost

.
This cost is based on rate mechanisms established with the ARTM; the rate decreases if ridership projections are exceeded.
Lastly, regardless of the ridership achieved over time, this cost will represent an annual amount of approximately $45 to $60 million for the cities in today's dollars.
This cost ($45 to 60 million) represents an increase of about 6% in their transit operating budget for all systems combined.
The following figures show a comparison between annual increases in today's dollars for municipalities to build, operate and maintain (over +100 years) the REM and their annual cost to operate the other systems (metro, train and bus). 
Projected annual increase: build, operate and maintain the REM - $45 to $60 million 
Estimated annual cost: operate all the systems - + $800 million
4)

72¢ per passenger-km is low

.
The cost charged the ARTM is a turnkey price that includes construction, operation and long-term maintenance (+ 100 years) for a new, modern network with 26 stations covering 67 kilometres.
For comparison purposes, the annual cost to operate the other systems is about 66¢ per passenger-km, not including capital costs (e.g. purchase of metro cars) and long-term maintenance.