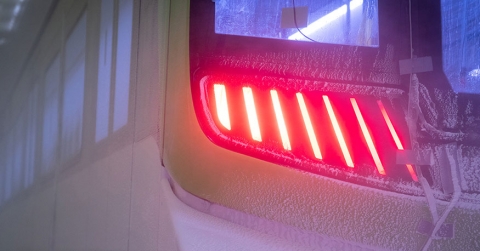 The REM and winter
REM in service
Published on
The REM testing period has now begun on the South Shore. The cars started to move progressively as winter set in. What is being done to ensure that the REM will work well in the winter? We have provided answers to that question here!
A car equipped for Québec winters
REM cars are based on Alstom's Metropolis platform, proven time and again with more than 5,500 Metropolis cars currently in use around the world. To ensure their effectiveness during Québec winters, the REM cars have been specially adapted to the climate of Greater Montréal.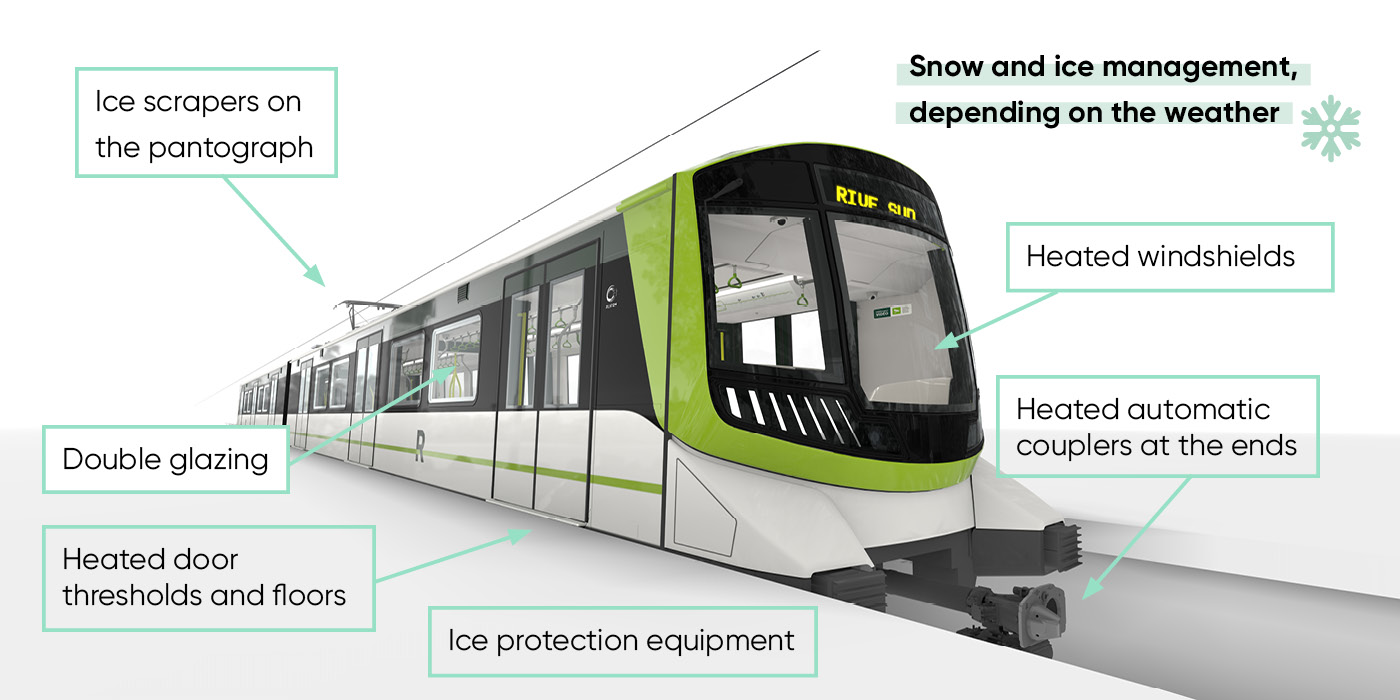 The main adaptations have been made to the major components of the 212 cars ordered from Groupe PMM, such as:
Double-glazed windows for enhanced thermal insulation
Heated front windshield to prevent snow and ice build-up on the glass
A high-performance heating / air-conditioning system
Heated door thresholds and floors
Heated automatic couplers. These couplers, at the ends of the trains, are used to "link" two trains together to create four-car trainsets
A specific selection of undercarriage materials (bogies, sandboxes ...)
A snowplow installed at the front of the trains to clear snow accumulations
An ice scraper on certain pantographs. This scraper will be used to remove ice build-up on the catenary that will supply electricity to the system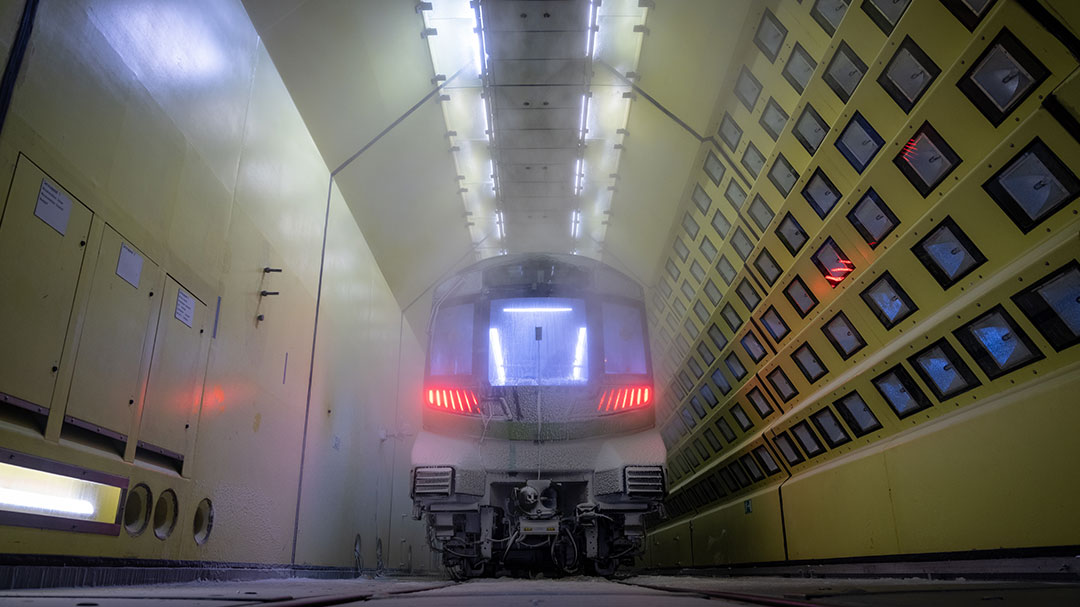 © Alstom / Planimonteur – Léo Trotin
Tests in climatic chambers and under real conditions
Static testing of cars in climatic chambers
From November to December 2020, static tests were carried out with a REM car in one of the world's best climatic chambers, in Vienna, Austria. The objective: to demonstrate the soundness of the car design by verifying that the comfort of future passengers will be optimal and that no types of climatic conditions will impact critical features.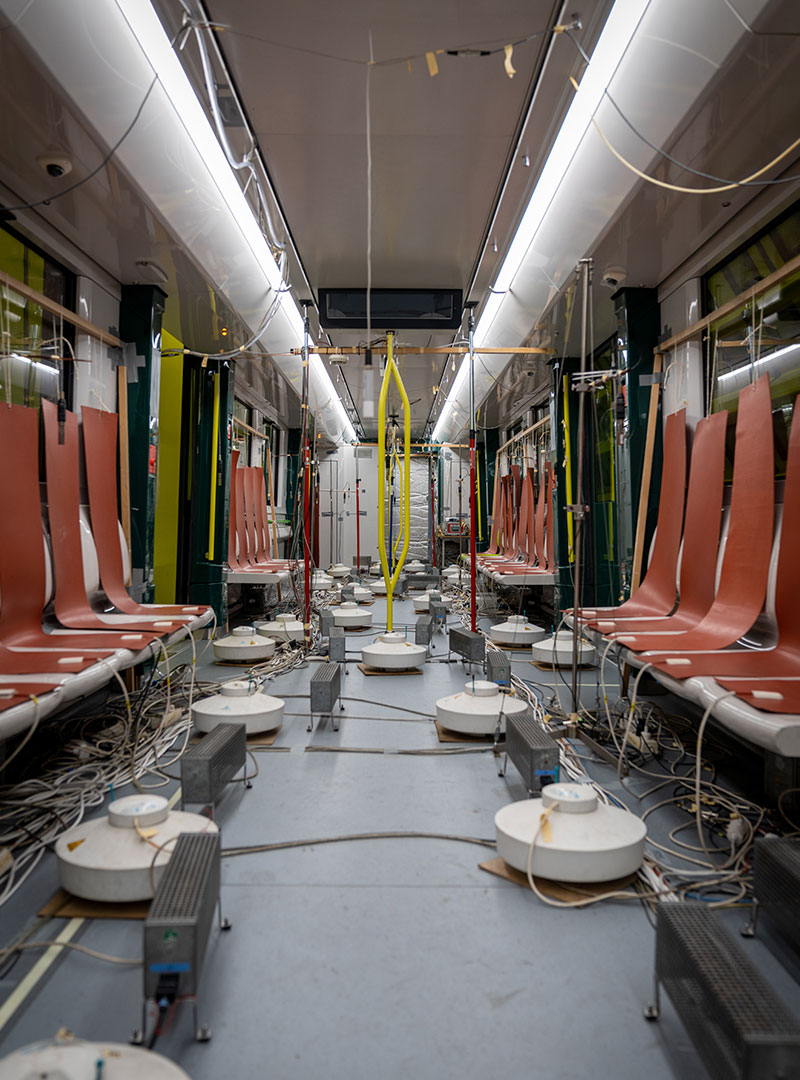 © Alstom / Planimonteur – Léo Trotin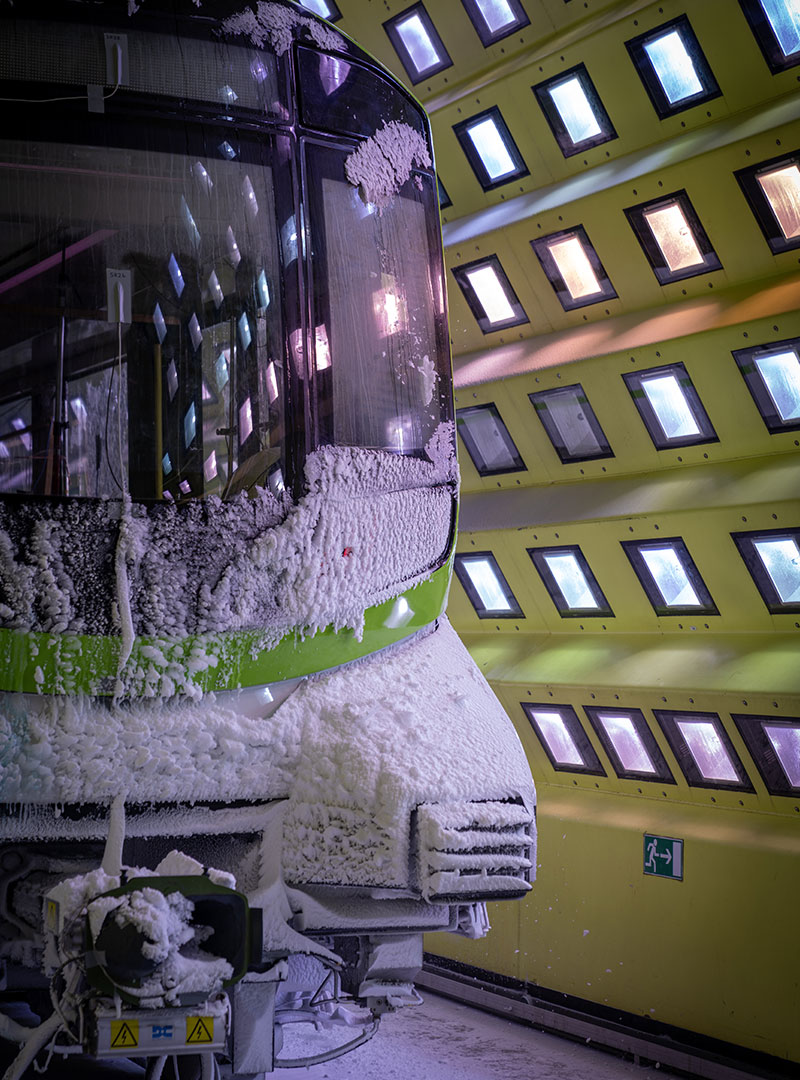 © Alstom / Planimonteur – Léo Trotin
Extreme climatic conditions were simulated in this laboratory. The REM car was subjected to operating conditions comparable to those in Montréal: heavy snow, freezing rain, frost, ice, high winds, sudden temperature changes, etc. Multiple scenarios were examined during these tests, which lasted about a month. The overall test results were very satisfactory: the car and its functionalities performed as expected, between -38 °C and +38 °C, and under all weather conditions.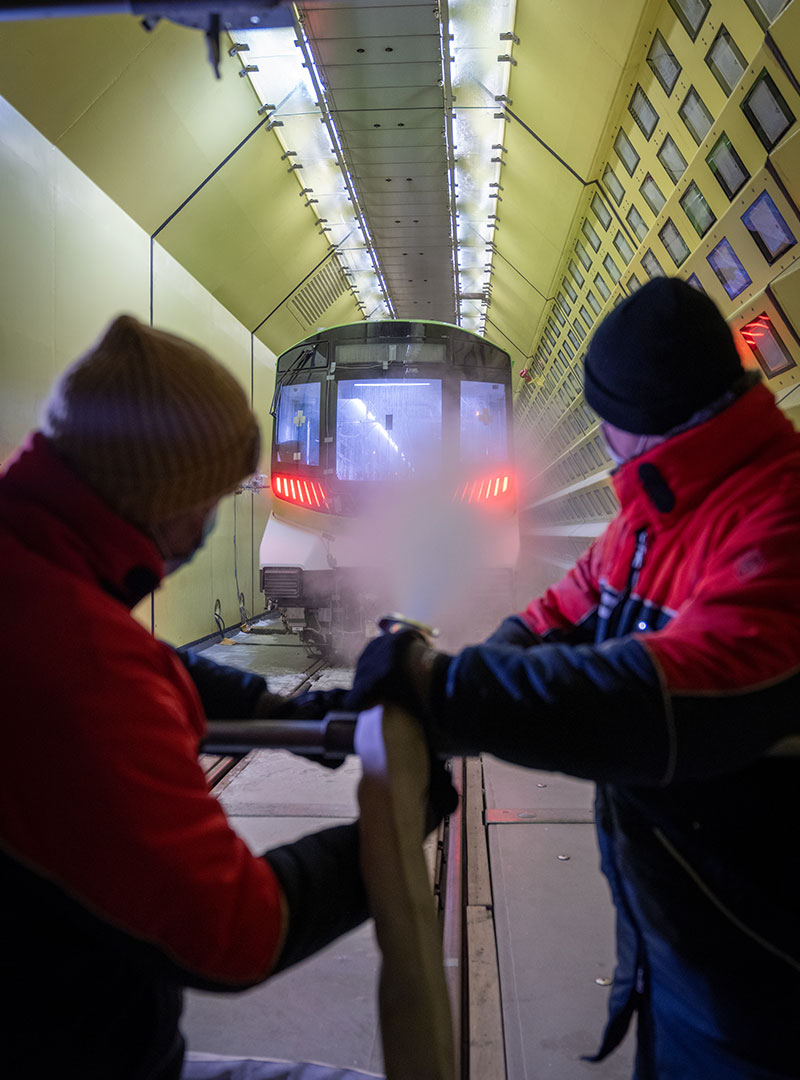 © Alstom / Planimonteur – Léo Trotin
Dynamic tests of the metro system under real conditions
The first REM cars have begun a series of dynamic tests under real conditions on a 3.5 km representative segment between Brossard station and Milan Boulevard.
Before the first segment of the REM is commissioned in 2022, the network will be tested during all four seasons, under a variety of real climatic conditions.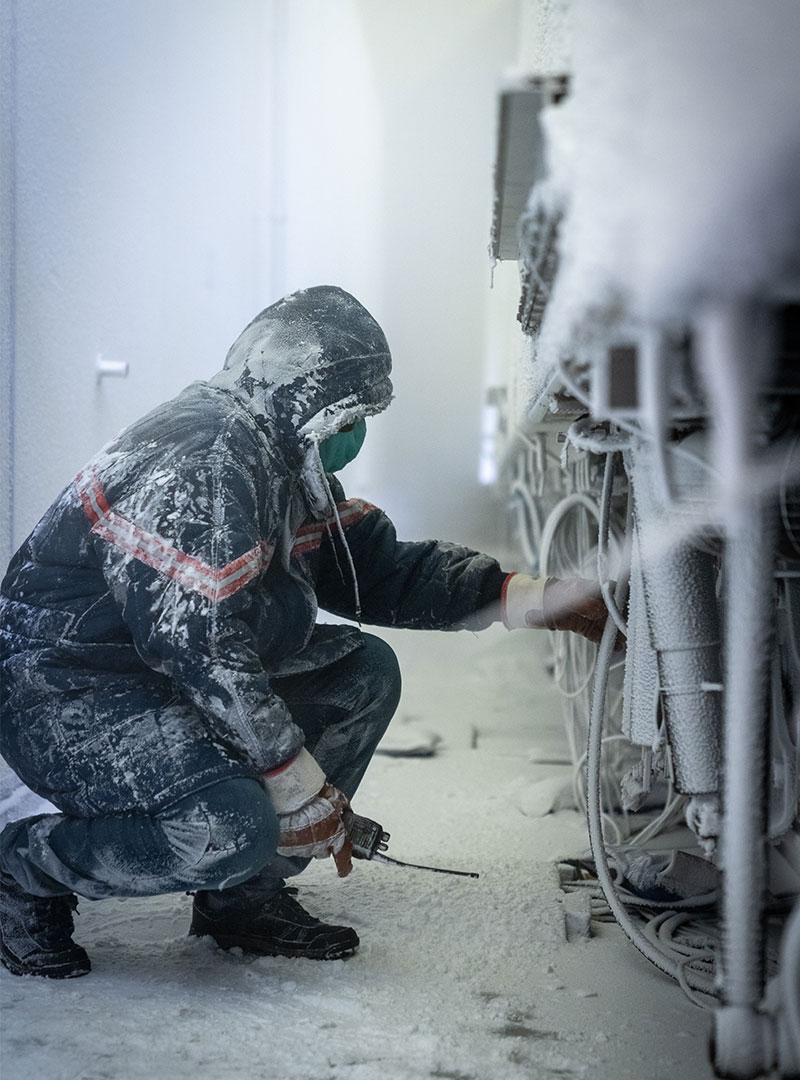 © Alstom / Planimonteur – Léo Trotin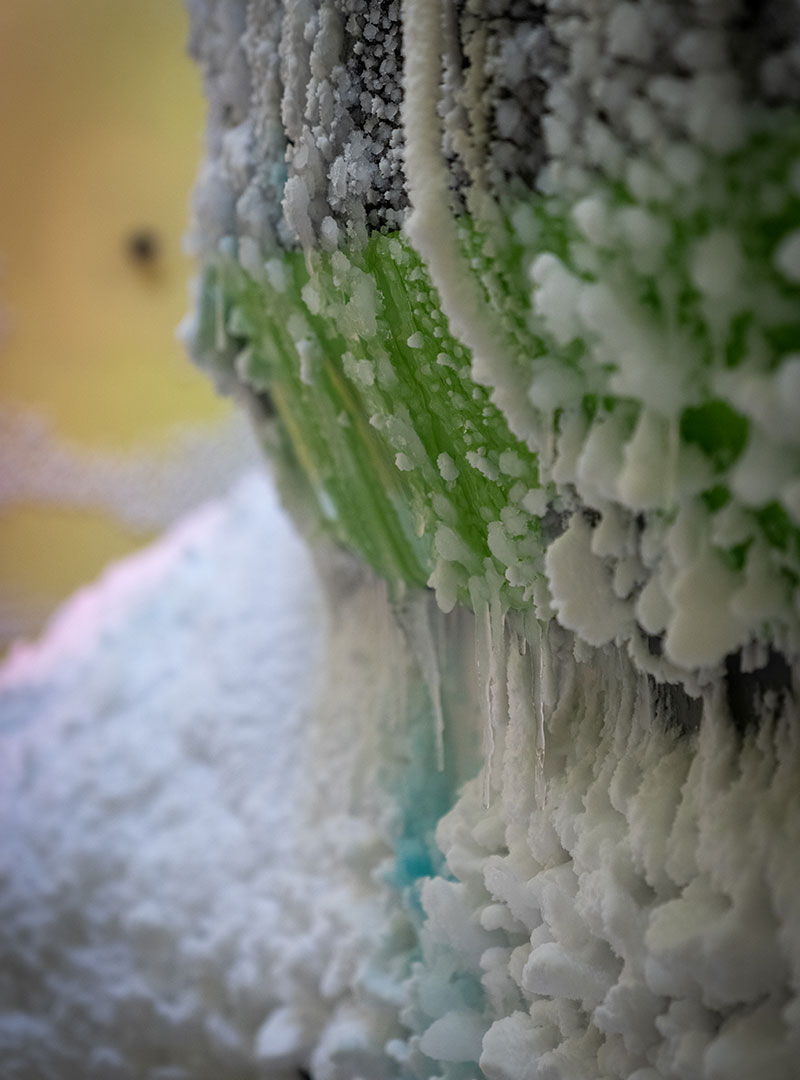 © Alstom / Planimonteur – Léo Trotin
An operation plan for dealing with snow and bad weather
Each morning, prior to the beginning of service, the operations and maintenance crews will prepare the tracks according to existing or forecast weather conditions, such as heavy snowfalls and ice precipitation, using specialized maintenance equipment.
Frequent car traffic, every 2.5 minutes during rush hours on the central segment, will prevent excessive snow accumulation on the tracks during normal operating hours (5:00 a.m. to 1:00 a.m.).
The tracks will also be equipped to cope with the winter. For example, powerful switch heaters driven by natural gas will be installed to clear snow and ice from the switches.
 
Enclosed and heated stations
The REM stations are enclosed and heated buildings. Passengers will wait inside for the next train to arrive, on a platform that is protected from bad weather and from the tracks by a system of platform screen doors that open only in front of the train doors once the train has stopped at the station. This system will, among other things, minimize heat loss between the station and the train.
These doors were designed for winter conditions and have heated thresholds; they were tested in 2018 in a Montréal climatic chamber to confirm the soundness of their design under extreme weather conditions and a prototype performed more than a million opening and closing cycles under real outdoor conditions during the winter of 2019–2020. The tests confirmed that the doors work well.
 
© Alstom / Planimonteur – Léo Trotin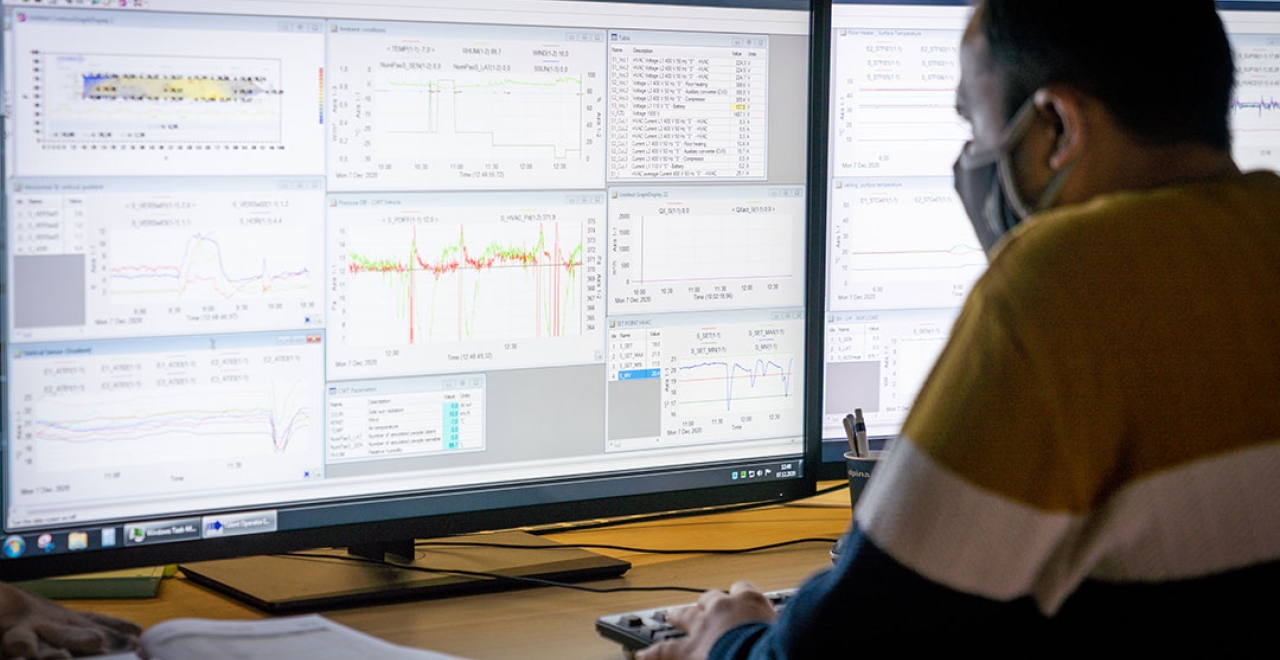 © Alstom / Planimonteur – Léo Trotin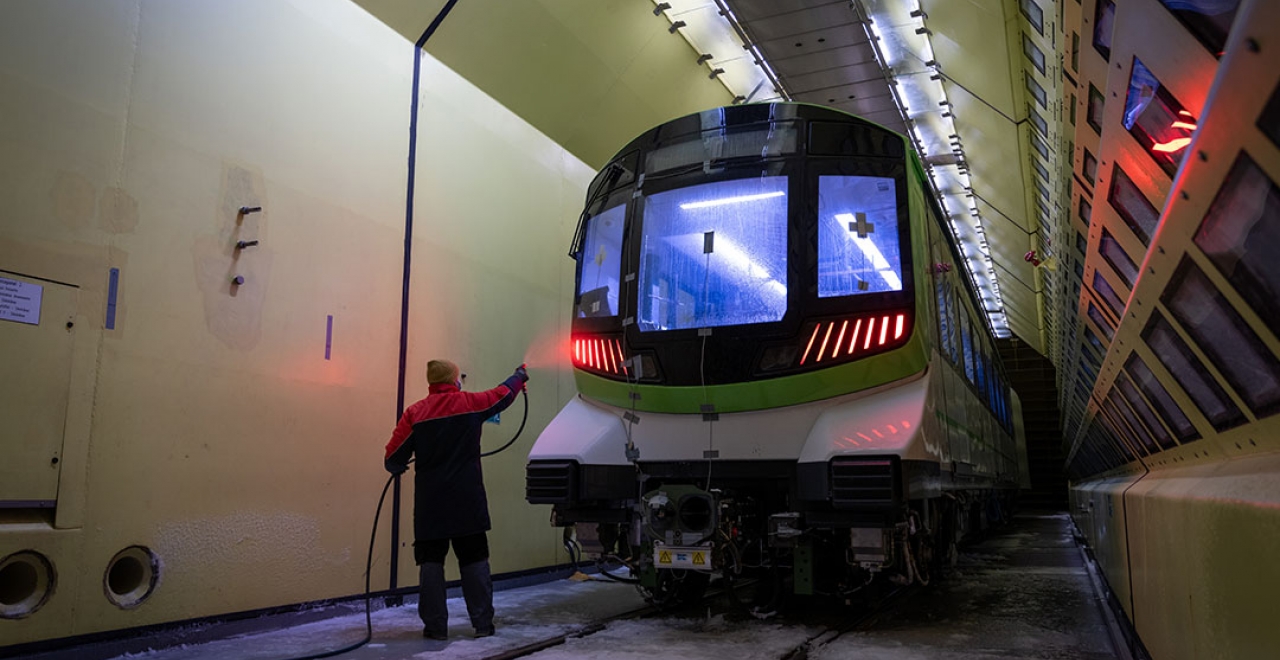 © Alstom / Planimonteur – Léo Trotin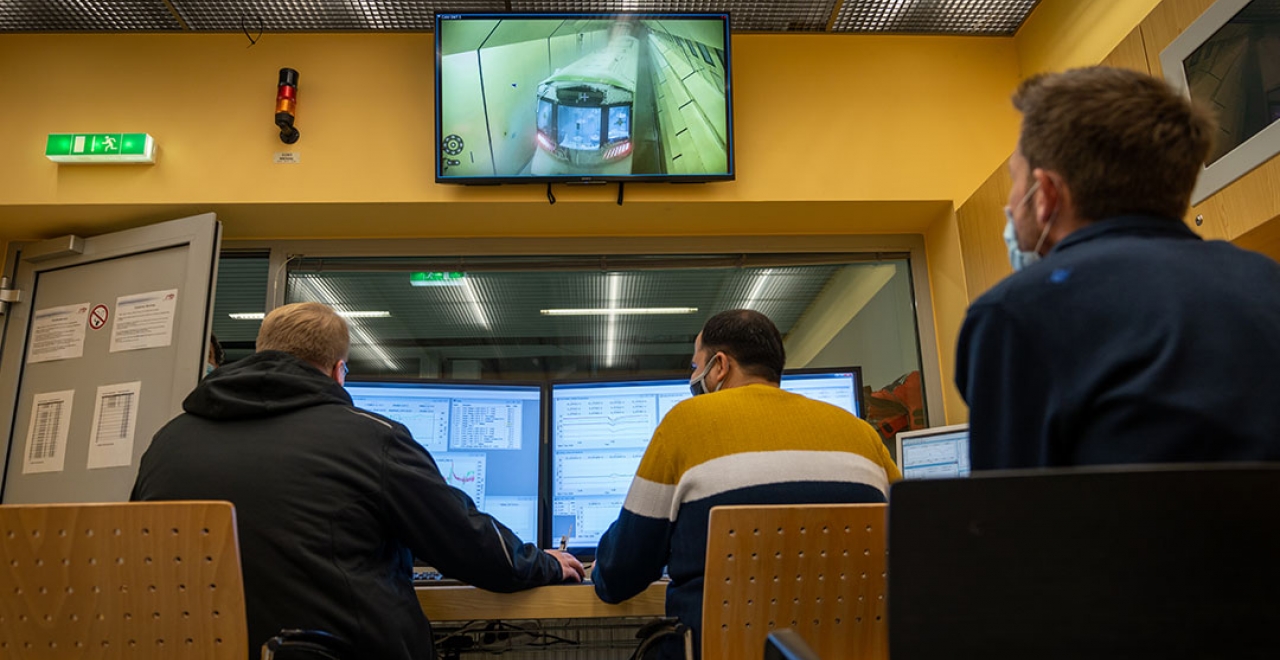 © Alstom / Planimonteur – Léo Trotin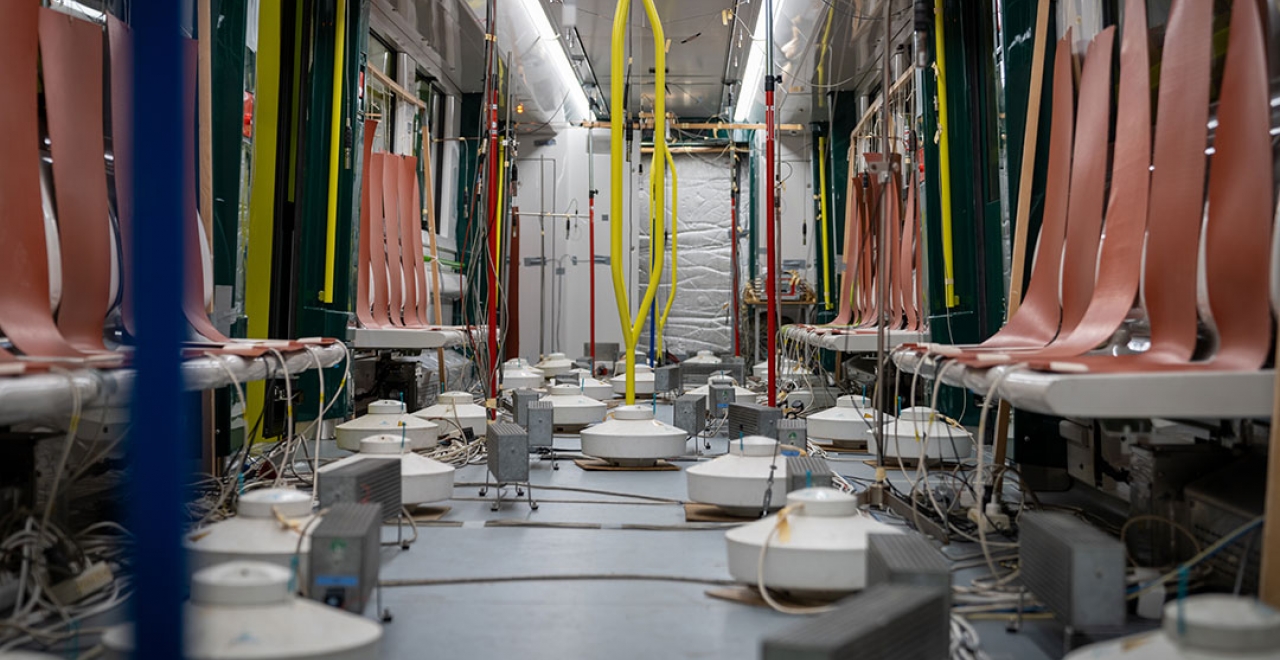 © Alstom / Planimonteur – Léo Trotin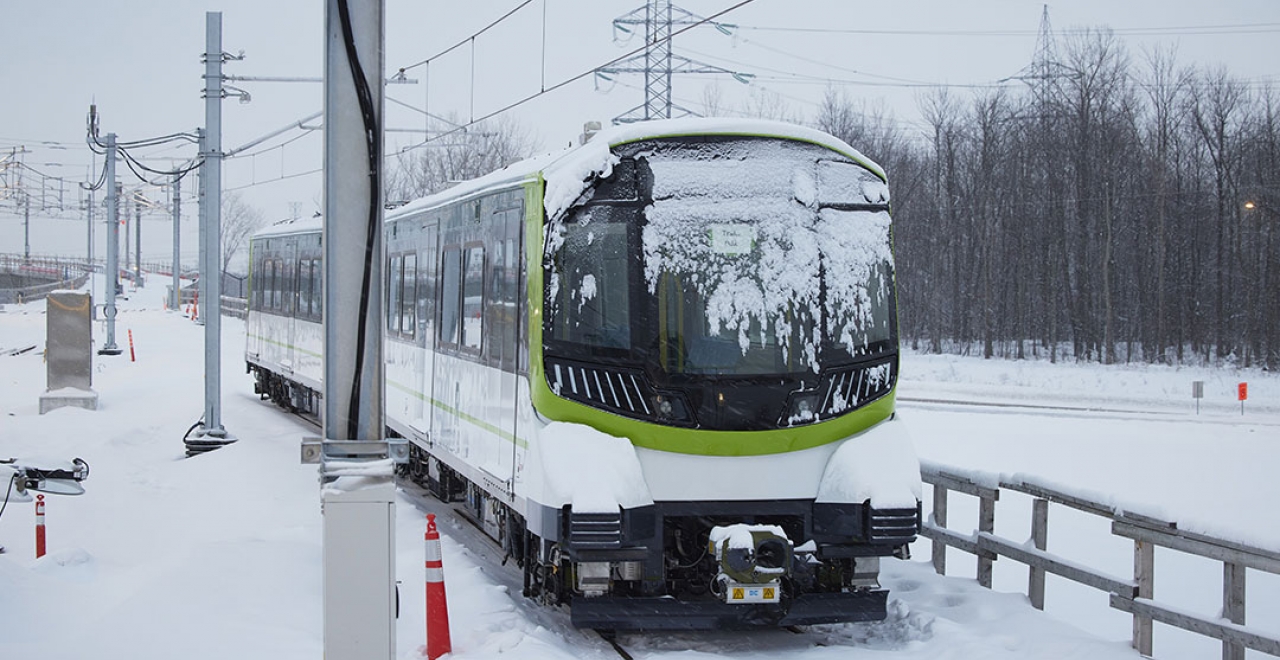 Dynamic tests on the South Shore of Montreal in January 2021 © Alstom / C. Fleury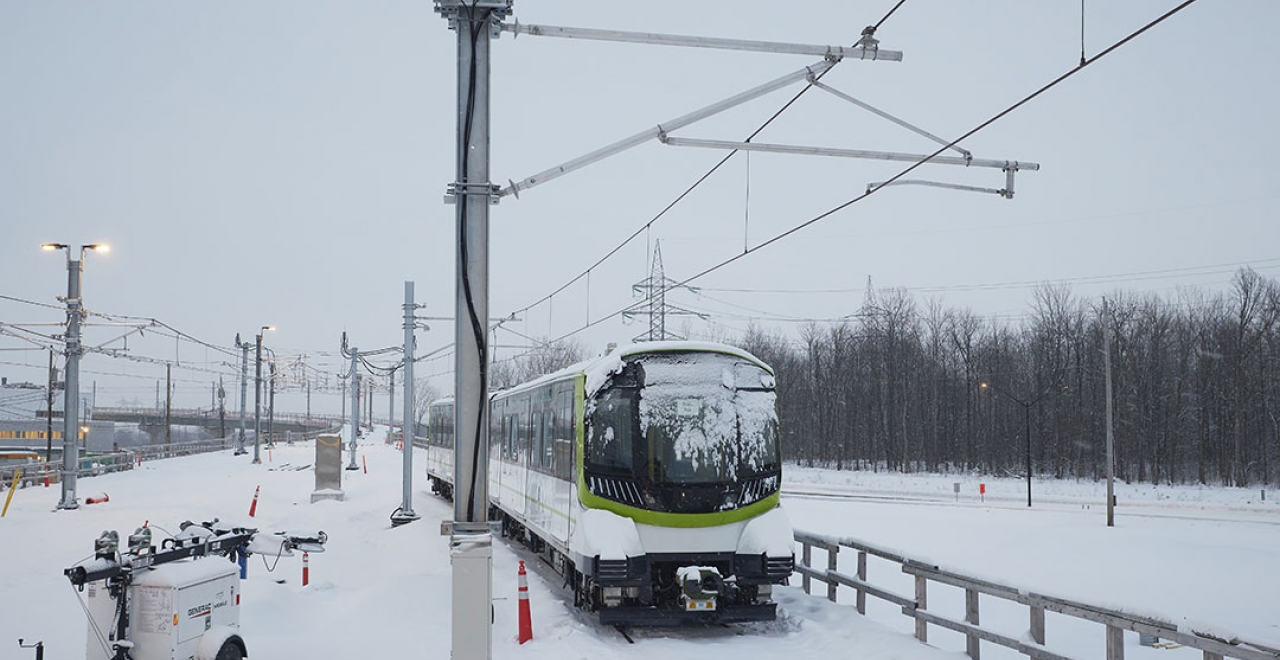 Dynamic tests on the South Shore of Montreal in January 2021 © Alstom / C. Fleury
Dynamic tests on the South Shore of Montreal in January 2021 © Alstom / C. Fleury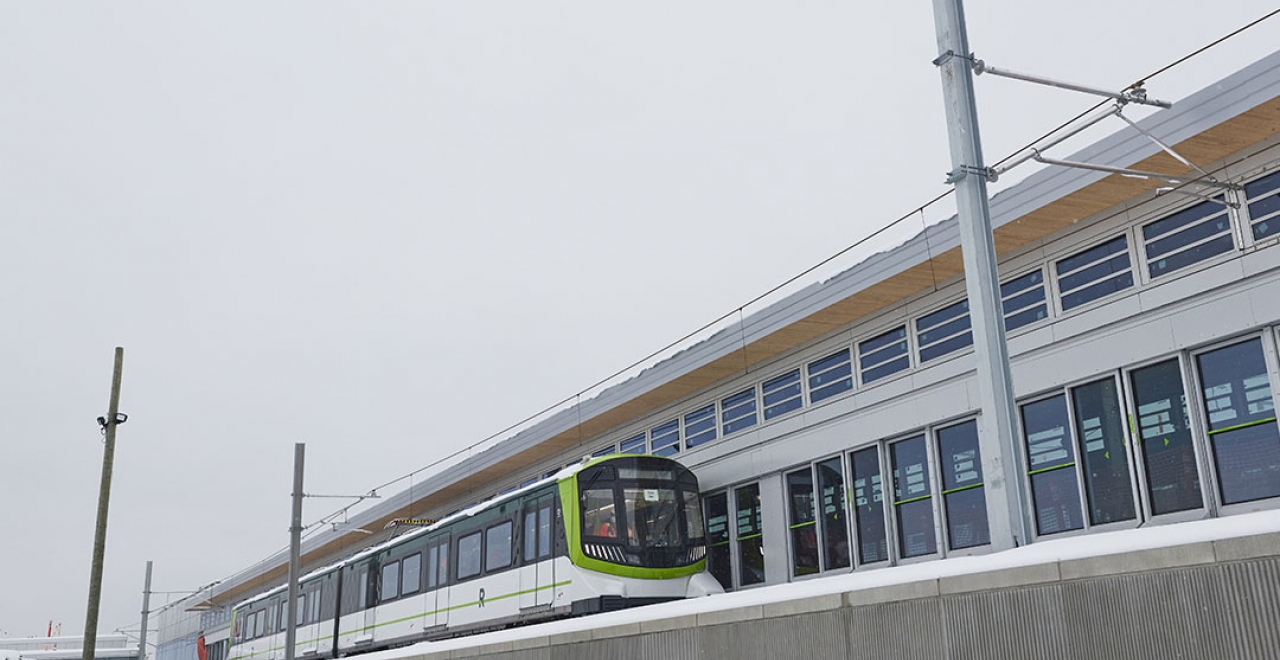 Dynamic tests on the South Shore of Montreal in January 2021 © Alstom / C. Fleury